22 Ways Families Can Volunteer and Donate in NYC for the Holidays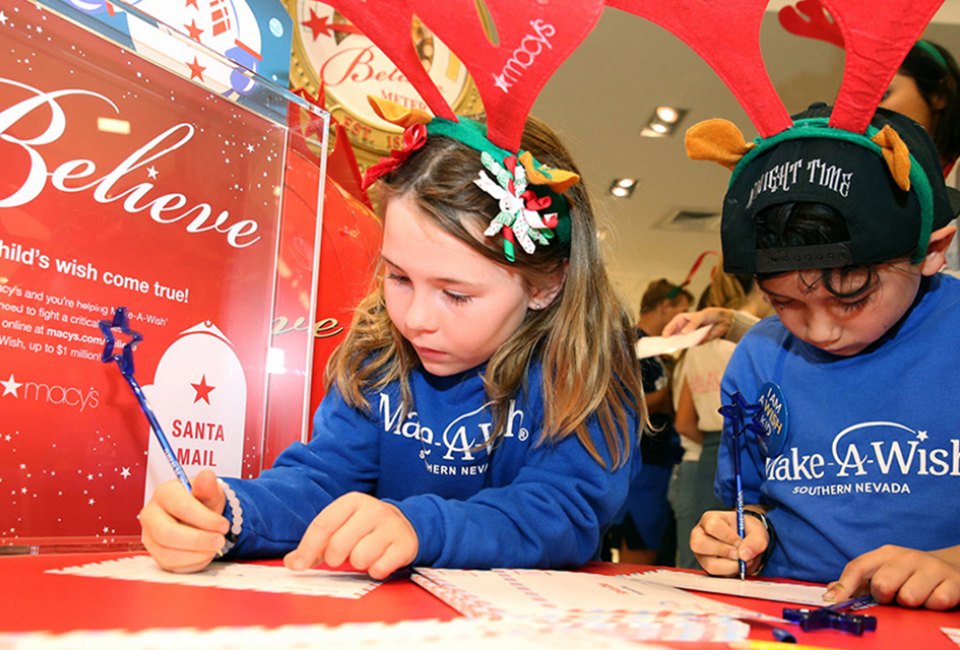 11/11/19
- By
Jody Mercier
During the holiday season, families gather to enjoy delicious meals, exchange gifts, and celebrate the year gone by. But for many New Yorkers, the holidays can be a particularly difficult time. Volunteering is a wonderful way to help others in the community and an ideal opportunity to teach children the true spirit of the season.
We've rounded up some of our favorite kid-friendly volunteering opportunities. No matter where in the tri-state area you live, the age of your children, or your family's interests, chances are there is a program that can use your help.
Season-Long Volunteer Opportunities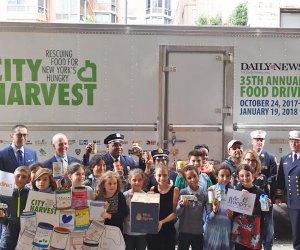 Kids and families work with community leaders and companies to collect food donations at City Harvest.
City Harvest
This nonprofit that feeds hungry New Yorkers has plenty of volunteer opportunities throughout the year. Your family can organize a food drive at your office, school, or place of worship with tools provided by City Harvest. Kids can spread the word and get their friends to donate, too.
RELATED: Where to Volunteer for Thanksgiving with NYC Kids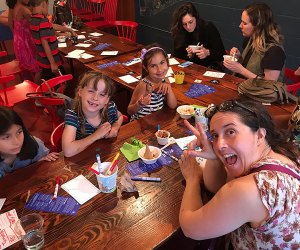 Make it a family affair! Kids and moms make cards for the elderly with Citymeals On Wheels.
Citymeals on Wheels
This long-standing charity's signature program pairs volunteers with local senior centers where hot, prepared meals can be picked up and hand-delivered to homebound individuals within walking distance of the centers. Children, accompanied by adults, can help to deliver meals. Another Citymeals on Wheels program invites children (and adults!) to put on their creative hats to craft handmade cards to be distributed to seniors with holiday meals as well as on their birthdays.
Gods Love We Deliver
While this life-saving meal delivery institution has volunteer opportunities for helpers aged 16 and up year round, during the holidays volunteers of all ages can decorate holiday bags to accompany holiday meals to those they serve. If you are interested in having your child, school, or after-school program decorate bags, email the organization for information at volunteer@glwd.org.
Habitat for Humanity
This well-known organization doesn't slow its home-building efforts over the winter. On the contrary, December, January, and February are the busiest months. Volunteers are needed on building sites throughout the five boroughs. Most Habitat sites have an age minimum of 16 years old, though there are ways to volunteer with the group's other programs for those as young as 14. If you're interested in bringing a group from your school or church, there are opportunities for volunteers ages 5–40.
Macy's Believe Campaign for Make-A-Wish
Macy's is again partnering with Make-A-Wish to help make the dreams of critically ill children come true. Support its work by having your child write a letter to Santa and deliver it to the mailbox in Santaland. For every letter Macy's receives, the company will donate $1 to Make-A-Wish, up to $1 million. Can't get to Macy's? You can also write and send your letter online.
Masbia Soup Kitchen
Masbia operates soup kitchens in Flatbush and Borough Park, Brooklyn, as well as Rego Park in Queens, and welcomes the help of volunteers 12 and older to serve hot meals to its clients. Volunteers are welcome for onsite work, such as playing host in the restaurant-style dining rooms, bussing tables, washing dishes, prepping meals, and working in the kitchen. Volunteers are also needed to distribute fliers to individuals who might need Masbia's services.
New York Cares
Opportunities to volunteer with kids include delivery of holiday meals, wrapping of gifts, caroling, playing bingo with seniors, and more. Search for volunteer projects in your neighborhood, including dozens that welcome children. First-time volunteers go through a brief orientation. New York Cares also operates a Winter Wishes program to fulfill the holiday dreams of more than 35,000 area children and families —registration is now open for Winter Wishes 2019, which is focused on supporting children and teens ages 4-18 from low-income families.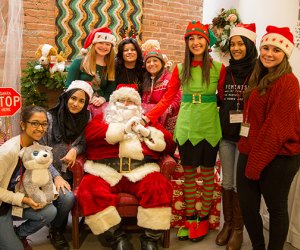 Volunteers come together to distribute holiday food baskets and gifts to more than 2,000 city families through the annual St. John's Bread and Life Sponsor a Family drive.
St. John's Bread and Life Sponsor a Family
This community institution partners with services throughout Brooklyn and Queens to reach out to families in need of help during the holiday season. For a donation of $125, you can sponsor one of the families, providing them with a holiday food basket as well as toys for their children. Aside from monetary donations, you can give your time to the organization, which also runs a food pantry and soup kitchen in Brooklyn, as well as a mobile soup kitchen truck.
Stockings with Care
This non-profit steps in to bring Christmas to underprivileged children in NYC. There are many ways for your family to get involved with this completely volunteer-run organization: You can become a "Santa" and fulfill a child's wish list, make a donation of goods or services, or become an "elf helper," wrapping gifts and helping with overall operations. Check out their website to see how you can best help.
Win Card Library
This nonprofit serves close to 10,000 homeless women and their children each year, providing both housing and support to help end the cycle of homelessness. Win's Card Library allows you to send a card, designed by one of the children in their shelter, to someone on your mailing list (either via snail mail or email), and make a donation to support Win's programs in the process. Each card costs a tax-deductible $25, and by sending, you'll share not only your love and a child's masterpiece, but also information on this charity and its programs.
Toy and Clothing Drives
Little Essentials
This nonprofit collects goods for local families in need year-round. You can drop off items in person at the warehouse during donation hours. You can also host a diaper drive.
New York Cares
This well-known charity operates its annual coat drive throughout the holiday season. Help by donating gently used coats your family no longer needs or through monetary donations. Each $20 you give buys a new coat for a New Yorker in need. You can even give by texting COAT to 41444. Find a drop-off location online or create your own.
New York Foundling
The New York Foundling has been doing charitable work in NYC since 1869. It provides social services to foster children throughout the five boroughs, Westchester and Rockland Counties, and Puerto Rico. Families can get involved by organizing a drive to collect goods for The Foundling. Goods are always needed to create baby bundles (diapers, blankets, onesies, bottles, blankets) and healthy smile kits (toothbrushes, floss, toothpaste).
Operation Santa
This long-running United States Postal Service program allows anyone to play St. Nick by fulfilling the wishes of needy children who write to Santa Claus. New York City's program is one of the largest in the country, with tens of thousands of people adopting letters each year. The program launches this year on November 18. In years past, letters could be picked up in person at the James A. Farley Post Office, 421 Eighth Avenue at 32nd Street. Once you've selected your "Dear Santa" letter, shop for your gift and return to the post office with your wrapped gifts where you'll foot the bill to mail your gifts to the letter's author. Be an Elf, a nonprofit Christmas children's charity, supports Operation Santa and works to spread the news and recruit volunteers.
Sheltering Arms NY
Sign up online to participate in the annual Winter Wonders Gift Drive to help collect presents for more than 5,000 children. You can also sign up to wrap all those presents with the staff!
Toys for Tots
This Marine Corps Reserve program collects new, unwrapped toys during December at locations throughout the city. The items are then distributed as Christmas gifts to needy children. Visit the website to find the drop-off location nearest you.
Wildlife Conservation Society Holiday Toy Drive
Every year, the WCS operates a holiday toy drive to benefit military families and NYC children in need from zoo locations around the city. From November 5 through December 31, drop off a new, unwrapped toy to receive a voucher for one free general admission ticket to the Bronx Zoo or New York Aquarium (up to 4 vouchers per family). Toys will be collected at the Bronx Zoo, New York Aquarium, Central Park Zoo, Prospect Park Zoo, and Queens Zoo. For details, visit the WCS website.
Places to Donate Goods
For families with really young kids who aren't old enough to participate in one of the volunteer opportunities above, you can still help spread good will by donating toys, clothes, and games your children have outgrown. Worried your kids won't be happy with this idea? Try explaining how this is an opportunity to help other children by donating toys and games your kids no longer use. We've put together a short list of places to donate items both new and used, plus lists of even more options in Manhattan and Brooklyn. You can also search the NYC.gov website for local nonprofits.
CAMBA Family Shelters
Donate clothing, household goods, non-perishable food items, and baby gear to one of the CAMBA-run family shelters in Brooklyn or Queens. Needs vary by season, so be sure to call ahead before dropping by with your donation.
GOOD+ Foundation
This charity, formerly known as Baby Buggy, works with a network of more than 100 agencies nationwide to distribute essentials to families in need. The organization accepts donations of gear, diapers, coats, and toys. Motivated to organize your own children's coat drive or a holiday gift drive? The GOOD+ Foundation offers help to get your drive started. Items can be dropped off at its Midtown location or be picked up for a small fee. All items should be new or gently used and appropriate for children up to age 14.
Housing Works
Housing Works accepts donations at any of its thrift store locations throughout the city. Donations of surplus books or DVDs can be made to its Bookstore Cafe. Proceeds benefit those living with and affected by HIV/AIDS.
New York City Mammas Give Back
This volunteer-run organization provides infant essentials and support to agencies and shelters in the NYC area serving homeless pregnant women, and families and children (ages 0–5) living at or below the poverty line. NYCMGB accepts donations of clothing, diapers, formula, books, baby gear, toys, and other essentials. They have two drop off points located in Manhattan.
Room to Grow
This organization provides essentials for babies born to families in poverty. It continues to monitor their progress every three months until the child turns 3. Room to Grow accepts donations of baby gear, clothing, toys, and other essentials. Donations can be dropped off at the Chelsea location or picked up by messenger for a tax-deductible fee. Smaller items can be donated through the mail.
To find additional kid-friendly ways of giving back to the New York City community, subscribe to the FREE Doing Good Together/NY newsletter, a monthly roundup of volunteer opportunities appropriate for families.
All photos courtesy of the organizations.
A version of this post was published in 2018; it is updated annually. Jessica Jones Gorman contributed additional reporting.
Click Here to Sign Up!
i