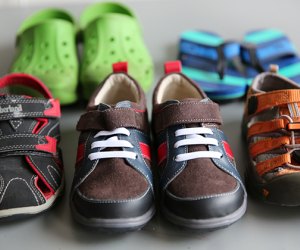 Where to Donate Kids' Clothing, Toys and Gear in Brooklyn
Our children grow quickly and leave behind bags of barely worn clothes and gear. Instead of throwing those non-essentials out, why not let someone less fortunate get more use from them and clear out your closet at the same time? Brooklyn families have a number of options for donating gently used children's items, so you can contribute to a good cause instead of wasting good items.
Read on for eight organizations accepting your donations in Brooklyn.
Brooklyn Family Justice Center — Borough Hall
Supported by the district attorney's office, the Brooklyn Family Justice Center is a safe place for victims of domestic violence. It accepts baby items such as diapers, clothes and maternity wear, as well as toiletries. It sometimes puts out an emergency call for strollers via local parent groups like Park Slope Parents.
CHiPS — Park Slope
CHiPS is a small facility with little storage space. It accepts brand-new children's clothes, so send along those cute outfits your child never got a chance to wear. Diapers are also welcome. Donations to CHiPS go to the young, homeless pregnant mothers and their new babies who stay at its housing, and any overages are sent to the charity foundation Hour Children.
RELATED: 50 Things To Do in Park Slope with Kids
Goodwill — Fort Greene
The Brooklyn location for Goodwill also collects items from around your house. You can drop off your child's clean stuffed toys, gently used clothes and shoes, clean blankets and linen. It does not accept children's jewelry or clothing with metal, painted applique or drawstrings. Goodwill does not offer pickup services, but you can request a pickup for a fee from its partners at College Hunks Hauling, or make your donations at various local bins.
Little Essentials — Gowanus
Little Essentials brings clothes, toys and other baby necessities to low-income families in Brooklyn. The nonprofit accepts open or closed packs of diapers (no swim diapers), breastfeeding pillows, baby carriers and slings, pack and plays and infant car seats in excellent condition (you will need to fill out a waiver for the latter). It collects seasonal clothing and shoes at sizes from newborn through 4 years. You can drop off your donation any Monday or on the third Saturday of each month..
Most Holy Trinity Church — Williamsburg
The Catholic church accepts clothing that it distributes to community members in need or sells in its thrift shop to fund further outreach programs. Gently used children's clothing is welcome.
RELATED: 50 Things To Do in Williamsburg with Kids
Salvation Army — Drop-off locations throughout Brooklyn
The Salvation Army says its clothes remain in the community. You can also donate unused children's furniture such as cribs or high chairs. Pickup service is available on select days only. Some locations can get booked in advance; otherwise, visit a local branch or drop-off spot.
St. Mary's Church — Clinton Hill
St. Mary's Episcopal Church welcomes children's clothing and shoes, but not diapers or gear. The church sponsors a Salvage Bureau that will pick up your donation items.
Wearable Collections — Various locations
Instead of going out to donation locations, why not bring the bin to you? Wearable Collections helps residents and building managers install clothing and shoe collection bins in their buildings to make recycling clothes as easy as, well, recycling anything else. If you can't get a bin in your building, use its website to search for a nearby Greenmarket that is home to one of its bins like the Carroll Gardens market.