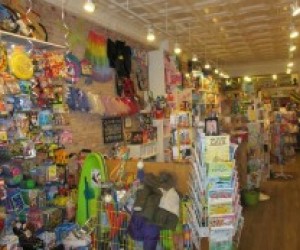 Brooklyn Toy Stores: Best Toy Shopping in Park Slope
[UPDATED: December 1, 2012]
We continue our focus on Park Slope this month with a look at toy stores in the nabe.

Considering how many families live in the area (mine included), it's no surprise that there are lots of shops selling toys. We've rounded up our favorite places to pick up playthings, from well-known boutiques like Little Things Toy Store to unusual spots where you can find fun knickknacks.
Little Things Toy Store
145 Seventh Avenue between Garfield Place and Carroll Street
As we noted in our post about indoor places to play in Park Slope, Little Things is a real kid magnet. Families can't pass by without their preschoolers running off to the large Thomas the Tank Engine and Calico Critters play tables that are strategically set up outside the store. Inside, kids can pick up all kinds of playthings without worrying about being chastised (by the staff at least—mom and dad may not like it). You'll find puzzles, dolls, craft kits, board games, science kits, wooden toys, stuffed animals, children's books and videos, even inexpensive birthday party balloons. If kids could own a toy store, they'd want this one.

Area Kids
99 Seventh Avenue between Union and President Streets
45 Fifth Avenue between Bergen and Dean Streets
With six stores in New York City, including two in Park Slope, Area Kids has built quite the little toy empire. The Seventh Avenue location is well-organized and spacious, with wooden shelving and display cases under a mesmerizing ceiling fan. No Mattel here. The super-cool selection includes Ugly Dolls, knit characters, Haba and Plan baby toys, playthings by JellyCat and Melissa & Doug, and lots eco-friendly items. The stores are on the pricier side but they have frequent sales. Bring your own bag: They don't give them out.

Toy Space
426 Seventh Avenue between 14th and 15th Streets
In addition to this location, Toy Space has a newer, larger outlet on Cortelyou Road in Ditmas Park. Both stores feature toys with a science and technology bent, often from Europe. The Park Slope outpost organizes its wares according to section and age. You'll find zany science experiment kits, ant farms, remote-control vehicles and Rubik's cubes, as well as traditional blocks and bath toys. I particularly like its tiny music section and colorful, soft animal puppets.

LuLu's Cuts & Toys
48 Fifth Avenue between Bergen and Dean Streets
Owned by former fashion executive Brigitte Prat, Lulu's is a toy store and a kids' hair salon. It's a great place for a first cut: A nervous child quickly calms down when he sits aboard the steam-train chair and watches cartoons as his hair is snipped. At the end, he leaves with a balloon or a lollipop. The toy section is beautifully laid out, with wooden shelves showcasing Creativity for Kids arts and crafts sets, Playmobil zoos, puzzle books and stickers, Corolle baby dolls with adorable outfits, Hot Wheels cars and Plan Toys dollhouses. A Thomas the Tank Engine play table (yes, another one) at the door encourages kids to hang out.

Toys
131 Seventh Avenue at Carroll Street
Formerly known as Possibilities on the Slope, the store has a colorful new awning with a self-explanatory name. In its former incarnation, it was the go-to spot for party gear and greetings cards, and you'll still find both in the rear. But the rest of the shop is now devoted to all that is plastic, like a large range of Fisher-Price and V-Tech favorites, Sesame Street, Thomas the Tank Engine and Barbie dolls. It's the place to go for a gift that makes noise and lights up.

Bubblez Toys and Gifts
347 Fifth Avenue at 4th Street
The newest toy store in the Slope opened in September 2011. At first glance, you might mistake it for a candy store with its funky orange-striped awning and colorful items on stainless steel racks. Indeed, eye candy seems to be the store's theme: You'll find an array of novelty gadgets and toys for adult hipster like Whoopee cushions, doughnut-shaped lip glosses, Lego men LED key rings and campy shot glasses. For kids, there are plenty of colorful balls, hula-hoops, Play-Doh factories, Toy Story figurines, balloons and the odd scooter.

Barnes & Noble
267 Seventh Avenue near 6th Street
Although books are ,of course, its focus, the Park Slope outpost also boasts an impressive toy selection on the lower level. Items are organized by age and include some wooden offerings by B. toys and a cool Lego section.

Neergaard Pharmacy
454 Fifth Avenue between 9th and 10th Streets
Upstairs you'll find a ton of toys. It's not that easy to navigate, especially if you have a stroller. But if you make the effort you'll be rewarded with learning toys, and Star Wars, Disney and Barbie products, to mention but a few. The store even manages to squeeze in a few scooters and bikes, too.

Many other Park Slope stores carry toys, including kids' clothing stores like Lolli (169 Seventh Avenue), thrift stores like LuLu's Then & Now (75A Fifth Avenue) and gift shops like Scaredy Kat Cards & Gifts (232 Fifth Avenue).


Read more of our posts about Park Slope.