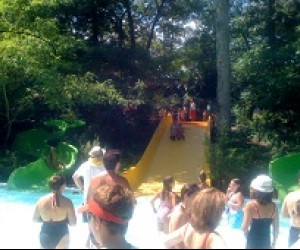 Splish Splash Water Park on Long Island: Where Kids Can Cool Off and Have Fun
[UPDATED: August 1, 2012]

Cooling off in local sprinklers or pools is a rite of summer in the city. But nothing beats the fun of taking a day trip to a nearby water theme park, where families can spend the whole day getting wet and wild.

There are many water theme parks within driving distance of NYC. In fact, Splish Splash on Long Island—which is considered by many folks (including my son) to be one of the best water parks in the country—is just a 90-minute drive from midtown Manhattan. Bonus: You can see it from the the Long Island Expressway, so you can't get lost on the way there!

The 96-acre park has two dozen rides, ranging from tame kiddie pools to dark tunnels of terror. Plus there are other attractions like two wave pools and a bird show.

In addition to being super-cool (in both senses of the word), Splish Splash is immaculately clean and comfortable. The water is pristine and there's a surprising amount of shade. My son and I recently went on our first trip there with a bunch of his friends, and to say we were impressed is an understatement. We closed the park, and my six-year-old and his pals have been begging to go back again before the season ends.
The first thing we did when we arrived was change into our bathing suits. Street clothes aren't allowed in Splish Splash—not even cut-off or baggy shorts. The downside to this: It's hard to bring personal items with you. (We stashed our digital camera in our locker. Hence, no pictures of our trip!) Consider investing in some kind of waterproof carrying case if you want to walk around with your wallet, cell phone, etc.

Our Favorite Attractions
Lazy River – My son couldn't wait to go on this ride, and it always has a long line. Kids (especially younger ones) seem to love floating down a mild river in an inner tube, catching some gentle sprays from the fountains. Personally I like rides with a little more kick, but this is certainly a favorite for a lot of families.
Max Trax – I was totally surprised (and thrilled!) when my son decided to do this exhilarating and slightly scary trip straight down a 50-foot slide without a raft. And he even liked it!
Dragon's Den – After a steep and scary drop down a dark enclosed slide, you end up in a giant cylinder where you spin around a couple of times before popping out.
Giant Twister – Similar to Splash Down but without the luxury of the blow-up raft.
Mammoth River – This is the only slide in the park that can accommodate a group. The kids really enjoyed being able to go together, even though they did need a grown-up to escort them.
There are two wave pools. Surf City Wave Pool is perfect for little kids who want to bob up and down as if they were in the ocean. The Kahuna Bay Wave Pool is great for those looking to body-surf four-foot waves.
Dinosaur Falls
– This tube slide ride debuted in 2012 so we haven't had a chance to try it yet. But it sounds cool: A tube slide ride with rushing water so you can keep ahead of those hungry prehistoric creatures.
Kiddie Cove is just for little ones. In fact, according to the signs posted, children are supposed to be under 44 inches tall to enter. However, no one stopped my 48-inch son from hitting the Elephant Pool, Pirates Cove or the Kiddie Slides. All three are shallow pools surrounded by lounge chairs for grown-ups, and each has a different special feature like a slide or spray.
Splish Splash Tips
Be Prepared to Go Barefoot – No shoes are allowed on the water rides. If the thought of being barefoot in a public place grosses you out, you can sport footwear until you arrive at a slide, then carry them with you on the way down. I opted to go barefoot, since the park is so clean, (there's a no glass and no smoking policy, which helps), plus I knew I'd end up holding my son on many of the rides. Splish Splash also has open cubbies scattered throughout the park for stashing shoes and towels. Regardless of what you opt to do, leave your fancy footwear at home and stick with flip-flops.
Pack Lightly – Carry as little as possible with you, and make sure what you do bring can get wet, or is protected in one of those waterproof cases. (Splish Splash sells those plastic pouches that hang around your neck at the gift shop.) There are two banks of rental lockers where you can keep your dry clothes, towels, car keys, cell phone and other items. I stuck $20 in the pocket of my son's suit, and put everything else in the locker.
Leave the Doritos at Home – For safety, cleanliness and to drive snack bar sales, Splish Splash doesn't allow outside food, beverages or coolers in the park. There is a picnic grove just outside the entrance if you'd like to bring your own meal. Don't even think about sneaking in food: Security checks bags thoroughly at the entrance, and they'll either send you back to the car, confiscate it or offer to hold it—for a fee.
Rent a Cabana – For a luxurious water park experience, try renting a private cabana. Splish Splash has several rental "communities" to choose from, all offering a shaded place to sit, somewhere to keep your stuff, waiter service and other amenities. Cabanas start at $89 per day.
Get Ready to Work – While water parks are definitely fun, they're also exhausting, especially for parents who spend much of the visit changing clothes, lugging inner tubes and other stuff, and corralling super-tired, overstimulated kids. Plus, you have to deal with groups of teenagers. So make sure you get lots of sleep the night before you go.
Big Kids Only – Pay attention to the height requirements posted at each ride. After waiting in a long line, a six-year-old girl in our party was turned away for being a tad too short. Even if your kids are tall enough for a ride, they might not be ready for some of the attractions, especially the ones that dump riders into ten-foot pools and require strong swimming skills.
Splish Splash
2549 Splish Splash Drive
Calverton, NY 11933
631-727-3600
Approximately 90 minutes by car from midtown Manhattan
Open Memorial Day weekend to Labor Day. Hours vary. Click here for the complete schedule and for up-to-date prices.
Enjoy more water fun in the tri-state area, including beaches, water playgrounds, pools and more.