NYC Baby Gear Rentals: Strollers, Car Seats, Cribs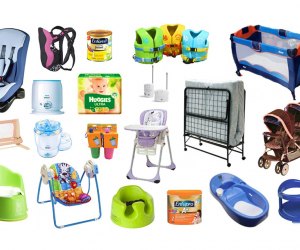 New York City families with babies or toddlers usually have a crib, a changing table and a stroller or two crammed into their apartments. However, if you're visiting NYC with an infant in tow, there's no way you're going to be able to pack all of that stuff in your luggage. Sure, you can try to skip the usual amenities and just co-sleep, change the baby on the bed and wear a sling when running around town. But it would certainly be a lot easier on your body if you could just rent a crib, changing table and stroller—after all, vacation is supposed to be relaxing, right?

After receiving several emails from our NYC Kids Visitors Guide readers asking where they could rent baby gear, we decided to look into it. Turns out there are a number of companies that rent strollers, cribs and other baby equipment in New York City. They even deliver everything to you. So natives, the next time your sister-in-law swings into town asking to borrow your baby wheels, you know where to send her.

Granny's Rental
212-876-4310
This company rents anything you could possibly need when traveling with a baby, including strollers, cribs, changing tables, high chairs, car seats and even rocking chairs for nursing moms. Granny's also offers rental gear for adult overnight guests and kids' parties, and delivers to NYC, the Hamptons, the Jersey Shore and Connecticut.

Baby's Away
800-374-3403
With more than 70 locations throughout the US, this baby gear rental company has a New York City outpost that services Manhattan, Brooklyn, Queens, the Bronx and much of Long Island. Baby's Away offers daily and weekly rentals of cribs; Pack 'n Play®; high chairs; car seats and boosters; single, double and jogging strollers, and even baby toys and security gates. Plus you can book online.

Baby Chic NY
516-746-2442
Another rental company catering to every baby need, with daily, weekly and monthly rates for strollers, changing tables, cribs, toddler beds, baby monitors, bottle warmers, baby carriers, a wide variety of toys and more. Delivery is available to Manhattan, Queens and Nassau County on Long Island, where the company is based.

Bebe Gear Rentals
800-258-0960
The NYC outpost of this company offers it all: strollers, cribs, high chairs, cat seats, boosters, toys, you name it.

Rent the Baby Gear
855-899-7824
Strollers, cribs, high chairs, car seats and more are available from this service. Items are delivered via UPS and a prepaid return shipping label is included.

Breezy Baby
877-273-3994
Talk about limited selection: You can only rent cribs from this company in NYC. But if that's what you're in the market for it's worth a look.

Read our other posts about NYC baby products and services, including local stroller repair places and our favorite double strollers for city babes.
This post was originally published on September 5, 2012.