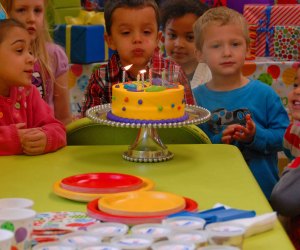 Museum Birthday Parties in the Hartford Area
Does you child have an interest in trains? Do they love science or art? Consider having their next birthday party at one of the many interesting museums throughout Connecticut and you'll be sure it will be a party they will not forget. In fact, there are many children's museums in the Hartford area alone that are not only fun to visit, but are also a great location to celebrate. For even more great party ideas check out our Party Guide.
The Children's Museum - West Hartford
The Children's Museum has a private party room which can be booked for 2-hour time slots. The price of the party includes exploration of the museum, visiting the live animals on-site as well as art and nature activities. The museum offer guests a free return pass to visit again and a choice of fun themes like science exploration, a monkey theme, pirates and more.
950 Trout Brook Dr, West Hartford, CT 860-231-2824
The Imagine Nation Museum - Bristol
Imagine Nation has two great party packages to choose from either in their special party room or a make your own sundae party in their soda fountain café area. The museums has three floors for kids to investigate and the party packages include unlimited access to the museum.
1 Pleasant Street, Bristol, CT 06010 860-314-1400
Connecticut Science Center - Hartford
This centrally located museum in downtown Hartford offers birthday parties on Saturdays and Sundays between the hours of 10 am and 5 pm. They have 3 different packages to choose from that include various benefits all with a day of fun museum exploration and a special museum staff guided exhibit tour.
250 Columbus Blvd, Hartford, CT 06103 (860) 724-3623
Lutz Children's Museum - Manchester
The Lutz offers a cozy feel where a staff educators will offer a party on several themes including: Animals of the World, Mosaic Creation, Tie Dye, Homemade Science and more. Each package include a unique activity as well as the usual party trimming such as goody bags, paper good and cake.
247 S Main St, Manchester, CT · 860-643-0949
New Britain Youth Museum - New Britain
The NBYM has a great party option or you can host it at their sister site at Hungerford Park. Parties can include a 45-minute trail walk or a 45-minute animal program in the Nature Lab.
30 High Street, New Britain, CT 06051 860-225-3020
KidCity Museum - Middletown
A great option for kids 5 and under, KidCity has plenty for kids to do. They have 2 party rooms to choose from and unlimited access to their museum that's perfect for your little one. Children can tour the entire building and enjoy three floor os play.
119 Washington St, Middletown, CT 06457 860-347-0495
New Britain Museum of American Art - New Britain
Enjoy time with friends and family while discovering American art and allow them to create their own masterpieces. The party package includes a scavenger hunt in the museum gallery, hands-on art activity and a half hour birthday celebration. They have amazing themes to choose from like impressionist garden party, animal art safari or a Treasure Island pirate party.
56 Lexington St, New Britain, CT 06052 860-229-0257
Connecticut Trolley Museum - East Windsor
Have your child's birthday party in an air conditioned dining car just like you were riding on a train. In addition, the children take a ride on one of the trolley's and received an admission ticket for use during regular hours.
58 North Rd, East Windsor, CT 06088 860-627-6540
The New England Carousel Museum - Bristol
Enjoy a 2-hour birthday party at the Carousel Museum. Children are led through an art project, given a tour of the museum and have a fun time in a festive setting. Themes include: Carousel, Day Of Knights, Firefighter and Victorian Tea Party.
95 Riverside Drive, Bristol, CT 06010 860-585-5411
New England Air Museum - Windsor Locks
How about an airplane or air travel themed party? Kids will get inside a cockpit, take an educational tour, and do a airplane themed "build and fly" activity. Admission up to 20 guests.
6 Perimeter Rd., Windsor Locks, CT, 06096 860-623-3305
Photo Credit: Imagine Nation
Originally Published: 7-10-12