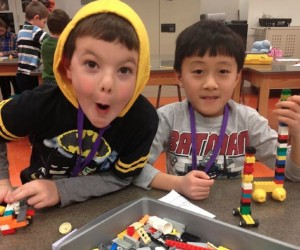 Family Friendly Museums in the Hartford Area
Run through a lifesize whale, milk a pretend cow, build your own rocket, or learn about carousels at one of these interesting Connecticut museums in the Hartford area. Kids of all ages will love visiting these educational places where they are certain to learn all sorts of new fun facts. Exhibits change, so make sure to check each location's website before trekking out to make sure they have something your little one will enjoy. For loads more museum resources in Connecticut check out our Museum Guide.
Starting in the heart of Connecticut with its capital city you can visit the Connecticut Science Center a new museum with over 150 hands-on exhibits to engage young visitors and encourage them to become enthusiastic about science. With a special kids room geared towards preschoolers 3 and up it features water play and magnets sure to invite your toddler to experiment, learn and explore. With many other interactive sections your older child can learn about the earth, forces in motion, outer space, health, energy and much more.
Connecticut Science Center 250 Columbus Boulevard Hartford, CT 06103 General Admission $17, Youth (4-17) $14

In West Hartford you can find one of the oldest museums in Connecticut, The Children's Museum where memories of your own visits there as a child running through the gigantic life size whale out front can now be recreated with your own offspring. The multi level museum has special exhibits like turtle town that is home to a diverse amount of turtles and tortoises of various species or their wildlife sanctuary that has almost 80 species of live exotic animals like snakes, frogs, chinchillas, and rabbits. They even have a state-of the art digital science dome that shows movies and planetarium shows. The special toddler friendly playroom called Critter Crossing features blocks, pretend kitchen play, books and even a nature themed slide.
The Children's Museum 950 Trout Brook Drive West Hartford, CT General Admission: $11 (2-62)
The Lutz Museum is a small museum centrally located in Manchester. Geared towards children between the ages of 2-10 every visit can be new and exciting since the exhibits and special programs change daily. Their Main Street exhibit features a life size town with a trolley, school and store while the farm exhibit has a large cow they can pretend to milk or hens to collect eggs from that all will help to promote imaginative play.
Lutz Museum 247 South Main Street Manchester, CT 06040 General Admission: $5
For your little aviation lover you can visit the New England Air Museum at Bradley International Airport in Windsor Locks. The exhibits are packed with historic aircrafts and many hands-on interactive activities for kids. For your history enthusiast they have a special collection of fighters and bombers from WWII among many other historical pieces. The museum offers many fun activities on the weekends such as building your own parachute or rockets, exploring a cockpit to gain a pilot's perspective, or flying the Wright flyer pedal pushers.
New England Air Museum Bradley International Airport Windsor Locks, CT 06096 Admission: $11 for ages 12 and up, $10 for Seniors, $6 for kids 4-11, 3 and under free!
One of our personal favorites is the Imagine Nation Children's Museum located in Bristol. It is an amazing hands-on exploratorium with various interactive exhibits best suited for children ages 2-10. With three floors full of activities sure to spark your little one's imagination they will feel as if they have entered their childhood heaven. The first floor inspires your budding musician to bang out a tune on the keyboard, bongos or giant Glockenspiel, amuse themselves for hours in the colored sand box, ring the large school bell or pretend to shop for groceries before cooking up a meal in the play kitchen. The fun doesn't end there, when heading to the upper levels your child will engage in even more imaginative play with the ESPN video making station, the new health section where they can dress in real scrubs and check their doll "patients" or sit in a dentist seat. There are water play rooms, a kid zone area featuring a variety of things to build with and even a huge bubble maker you can actually stand in. The only downfall is getting your child to leave! But on your way out you can stop in the old time 1940's soda fountain shop to have ice cream cones, sundaes, nuggets, PB&J or other treats.
Imagine Nation Museum 1 Pleasant Street Bristol, CT 06010 (860) 314-1400 Admission: $7
Explore a magical world of pretend at the Kidcity Children's Museum in Middletown. It has a theater room to play dress up or have a puppet show, a room filled with farm animals and a make believe barn, a cornfield maze to navigate through, a captivating "fishery" and an entire floor with an underwater theme dedicated completely to children 3 and under that encourages your toddler to climb, crawl and slide.
Kidcity 119 Washington St Middletown, CT 06457 Admission: $8
One of the largest collections of hand-carved antique carousal pieces in the country could be found on display at the New England Carousel Museum in Bristol. Its constant rotation of figurines creates a mystical world filling your child's imagination with images of them beautifully poised. They offer various educational programs that include mask making, paper mache or book making while learning about the art and history of the carousal. They even have a "Tour for Tots" program specifically for pre-school age children with craft activities and rides on the tot's carousal.
New England Carousal Museum 95 Riverside Ave. Bristol, CT 06010
Photo Courtesy of CT Science Center.
Originally published 11/12/12.