A Day Trip to Middletown - Kidcity Museum Review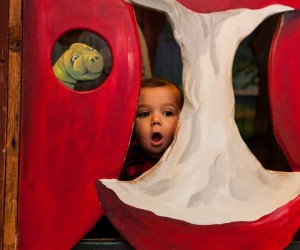 Kidcity, located in Middletown, is a perfect spot for young children aged 1- 7 years old. It's more than just a museum. It's a fun interactive mix between a museum and indoor playground where you and your child can play pretend together, while using your imagination to have fun. Each room has a different theme, like pirate ship, fishery, space age or farm, and is filled with tons of props to play with. The entire lower level has a special sea theme geared specifically towards young toddlers with plenty of areas to crawl through, climb and slide on.
While the museum is on the small side and an older child can easily get bored there quickly my 3 ½ year old loved it! She happily explored for hours playing make-believe in the life size cars and space ships. She built houses with the huge blocks and put on a "show" in the music area. The main new attraction is an exhibit called Middleshire, a medieval castle-building village, which replaced the old Cornfield exhibit. The entire museum is full of color and the walls are adorned with beautifully painted murals. It is such a magical place for creative exploration.
They are open Sunday- Tuesday 11am-5pm and Wednesday- Saturday 9am-5pm. Admission for KidCity is $9 and free for children under 1. Every third Thursday of the month KidCity stays open from 5-7pm and entrance into the museum is FREE!
Located right off Main Street in Middletown, it's conveniently located right next to plenty of restaurants and shops all within walking distance. We like to eat at the vegetarian/vegan restaurant Its Only Natural whenever we're in the area. An artsy spot with original work covering the walls and unique décor, the tables are even covered in chalk paint so your little one can draw right on the table while you wait for your meals to be served. If it's a nice day out walk down to the waterfront where the Connecticut River creates wonderful views that can be seen from the park along the harbor. Also not a very far walk, is the amazing Nora Cupcake Company, by far the best cupcakes I have ever tasted with delicious flavors like Irish Car Bomb, Fluffernutter and Raspberry Lemonade. These cupcakes are highly recommended and definitely a must-try!
Photo Credit: Sassy Mouth Photography
Originally published 2/16/13.