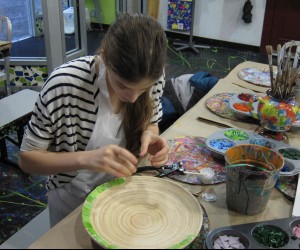 Crafting on the Upper West Side
[UPDATED: JANUARY 24, 2013]
This time of year those languid summer afternoons spent in the park, watching your children engage in endless free play while their imaginations run wild, seem a distant memory. Never fear, the Upper West Side has become the unofficial craft capital of New York City, a place where neither rain nor snow will slow your kid's creativity down. It is teeming with all-weather spots to keep the kids engaged for a few hours, without creating chaos in your home. These hands-on craft activities are just the sticky mess that your child craves, with the added bonus of taking home a handmade keepsake. Here are six places to make your own crafts, perfect for the dog days of winter. And since crafting usually makes my family's stomach growl, nearby spots to pick up a snack are also listed.
Michaels
808 Columbus Avenue at 97th Street
212-865-0813
Open Monday-Saturday 9am-9pm, Sunday 10am-7pm
Upper West Siders now have their own version of the suburbs since Michaels Craft Store came to town. This sanctuary for the crafty is filled with kid-friendly materials to inspire a plethora of projects, without breaking the bank. The store has a full lineup of in-store "make-it, take-it" craft activities for kids led by store employees, many of which are cost-free. Check the website or call the store for an updated calendar. Classes for kids such as Wilton Super Cakes and Friendship Bracelet Class are scheduled regularly. Craft-themed birthday parties for children are also possible, please call the store for details.

No food or drinks available here, but Whole Foods is a few steps away and offers a kid-friendly buffet and plenty of snacks.
Little Shop of Crafts
711 Amsterdam Avenue at 94th Street
212-531-2723
Open Monday & Tuesday 11am-6:30pm, Wednesday-Friday 11am-10pm, Saturday 10am-10pm, Sunday 10am-6:30pm
This casual neighborhood hangout aims (and succeeds) to provide an artistic experience in which guests receive hands-on instruction from the knowledgeable and friendly staff. The craft choices suit a variety of ages. Toddlers can create a cuddly stuffed animal while tweens and teens can fashion their own mosaic masterpieces by decorating picture frames or plates using colored tiles. There is also beading, and a large selection of pottery available for painting. Plastercraft offers tons of kid-friendly plaster superheroes and classic character figurines (think Mickey Mouse) to paint and take home the same day. A soothing soundtrack of classic rock may have you singing along as you create with your kid. The least expensive crafts start at about $16, and there is no time limit, so you can stay as long as you like. Birthday parties include karaoke, along with the craft of your choice.
Make Meaning
Unfortunately, the Upper West Side outpost of this crafts mecca closed in October 2014.
Entering Make Meaning's spacious digs will have you feeling like you're traveling first-class when you usually fly JetBlue. The décor is elegant and chic, similar to a SoHo gallery, and this place definitely takes crafting up a notch. Choose from seven craft areas: cake decorating, ceramics, candle, glass, jewelry, soap and paper. One of the many helpful Associate Creativity Enthusiasts (ACE's) will help you select your materials and get started, ensuring that your chosen craft will look like it was made by a pro. When hunger strikes, you're in luck—the on-site café serves a delectable assortment of sweets. Daily fees are $12, plus the cost of whatever materials your child chooses. Membership options are also available. There are artist-led classes each week for a variety of ages, including Mommy and Me Mornings featuring creative projects inspired by children's stories. Birthday parties include two activities and can be customized to suit your child's interests.
The Cathedral Church of Saint John the Divine
1047 Amsterdam Avenue at 112th Street
212-316-7490
Children's Workshops are offered on Saturdays.
Activities ranging from a Medieval Arts Children's Workshop to Weaving Stories: A Textile Workshop are regularly scheduled. Workshop costs generally range from $5-10 and reservations are recommended so please call in advance to book your spot. These workshops are offered year-round, so check the website for the latest information. Medieval-themed birthday parties are also available, please call for more information.
Winter is a peaceful time to stroll the Cathedral's gorgeous grounds and search for the resident peacocks. There is no food for sale at the Cathedral, but cross Amsterdam Avenue and head to the Hungarian Pastry Shop (1030 Amsterdam) for a European-style sweet treat. For a more substantial bite, join the Columbia University students at V & T Pizza (1024 Amsterdam), but come hungry as only whole pies are served.
Knitty City
208 West 79th Street between Broadway and Amsterdam Avenue
212-787-5896
Open daily
An after-school "Kids Club" for young knitters takes place on Wednesdays. Each session costs $25, plus $10 for materials. Classes need a minimum number (usually three) of school-aged kids to be green-lighted, so always call ahead to check if the class is running. The staff here, helmed by owner Pearl Chin, is very encouraging to young knitters. Novice hands will be expertly guided through the basics and although it is often packed with crafters, it still maintains a mellow vibe. If your child isn't ready to commit to a class, purchase some yarn, take a seat, and you're sure to find advice from this welcoming clan of knitters. They also have lots of community knitting groups, including a popular weekly men's knitting night.
After a spell at Knitty City, we often stop by Cafe Lalo at 201 West 83rd Street. They serve many wonderful desserts, including delicious cakes, cookies and tarts, as well as light meal options like sandwiches and salads.
Yarntopia
Unfortunately this store has closed.
For more craft inspiration, check out Mom's Night Out: Feeling Artsy? and our other fantastic craft posts.
And for more indoor activity ideas, check out our Indoor Activity Guide.