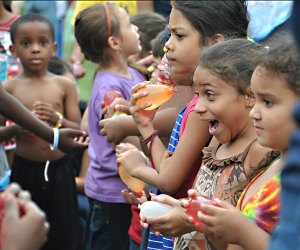 Weekend Fun: Summer Streets, Dragon Boats, Kids Rule Fest
And just like that, it's August! But summer is far from winding down for New York City kids. Proof? Two words: Summer Streets. For three straight Saturdays beginning August 3, Manhattan blocks traffic on an unbroken route from the Brooklyn Bridge to the Upper East Side and replaces it with fun outdoor activities—even a climbing wall and a zip line—at stops along the way. See our full lowdown on Summer Streets.
Kids Rule Weekend returns to Lehman College in the Bronx with pony rides and water slides for the toddler and preschool set. The Lincoln Center Out of Doors Family Day kicks off with World Roots music. The Rockaways' Water Fest is wet and wild as ever. Theatro SEA's Arts for All Fest pops up on the Lower East Side with a weekend-long celebration of Puerto Rican plena. And Hong Kong Dragon Boats race through Flushing Meadows Corona Park.
There's lots happening on NYC's riverfronts this weekend, too: Light a lantern for peace at the Hindu Lamp Ceremony in Brooklyn Bridge Park, or show off your dance moves at the Sweet Spot Festival at West Harlem Piers Park. Grab an oar and try your hand at Community Rowing, or learn to kayak or canoe at Hallets Cove.
Our August GoList has all the must-do events for families coming up this month, and don't forget the Summer Fun Guide, bursting with cool stuff to do, including how to get to the beach in a hurry, water park day trips, and even FREE splash pads.