< Event Calendar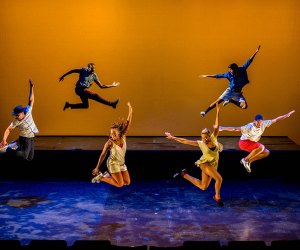 Lincoln Center Out of Doors Family Day
Sat Aug 3, 2019
11:00am to 3:00pm
Lincoln Center Out Of Doors celebrates its 49th season of free performances with family-friendly music and dance performances on its spectacular outdoor campus.
11am: Brown Rice Family
Hearst Plaza
A fresh world roots band jamming towards global solidarity, Brown Rice Family provides the masses with distinctively organic global music, which encompasses reggae, hip-hop, dancehall, Afrobeat, jazz stylings, rock, Brazilian, Latin, and funk.
12n: Move the Crowd - A Day of Hip-Hop and Culture
11am Live graffiti by Lola Lovenotes
12pm Najee Omar
1pm VIBEZ by SOLE Defined
Brooklyn-based poet and educator Najee Omar opens an exuberant afternoon of hip-hop and culture with a powerful spoken-word performance. Then, transforming their bodies into drums, the high-energy dancers from SOLE Defined add a jolt of electricity to the traditional Broadway musical format. Combining tap, step, and other forms of percussive dance with acting, singing, and multimedia projections, they invite audiences into a their wholly original form of free-flowing storytelling.

Working to uplift marginalized communities, New York City–based muralist and visual artist Lola Lovenotes, an alias formed at a young age through her submergence in Bronx graffiti culture, brings her street-art skills to Hearst Plaza with live art creation throughout this fun-filled afternoon.
Lincoln Center for the Performing Arts
Hearst Plaza
New York, NY
** Event dates/times are subject to change. Please click through to the event website to verify.