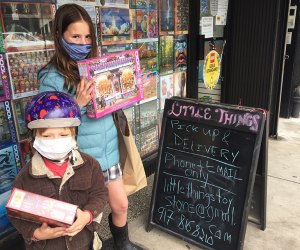 Toy and Book Stores Offering Curbside Pickup and Delivery for NYC Kids
For parents struggling to work and care for children at home during the pandemic, a couple of new toys or books may just encourage a little independent play and provide some precious quiet time. We've rounded up 17 toy stores and bookstores in NYC that are offering contactless curbside pickup and delivery of their goods. So, whether you're trying to celebrate a birthday during the quarantine, marking another of these 30 daily celebrations, sending a package to a loved one, or just sprucing up your collection at home, these shops are delivering some serious fun. The curbside pickup and free local delivery keep wait times to a minimum, too.
For more fun ideas to pass the time in quarantine, be sure to visit our Stay-at-Home guide, where you'll find tons of boredom busters, plus 64 mind-blowing science experiments, and 100 craft ideas using materials you likely have at home.
OUR LATEST VIDEOS