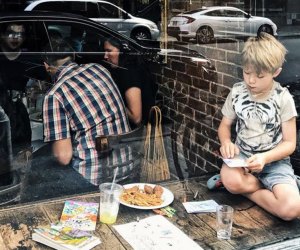 Family-Friendly Restaurants in Tribeca
Tribeca has no shortage of great places to eat with the family. In general, places to eat in Tribeca either tend to be upscale or little holes-in-the-wall, with a handful of options in between. Since Tribeca is such a family-oriented neighborhood, many eateries welcome kids and even offer children's menus. Plus there's a wide range of cuisine to try, from good old American comfort food to French bistro dishes to authentic Cuban eats, plus incredible bakeries. Read on for our favorite places to eat with kids in Tribeca.
Bubby's
120 Hudson Street at North Moore Street
A longtime neighborhood favorite, this onetime pie company is beloved for its desserts and its scrumptious comfort food—think meatloaf, fried chicken, biscuits, fried okra and buttermilk mashed potatoes. The children's menu includes burgers, spaghetti and hot dogs, and comes with a variety of sides. And the vibe is so boisterous, no one will notice if your kids forget to use their inside voices.
OUR LATEST VIDEOS

A family can hang out in a cozy nook at A Summer Day Cafe for a relaxing meal.
A Summer Day Cafe
109 West Broadway at Reade Street
This adorable new addition to the neighborhood is the perfect antidote for cooler temps. They serve contemporary versions of some classic American dishes. The avocado toast and lobster roll are not to be missed. The atmosphere is carefree and the space is breezy. It is truly a place to spend a long leisurely lunch with the family.
RELATED: Best Hudson River Park Playgrounds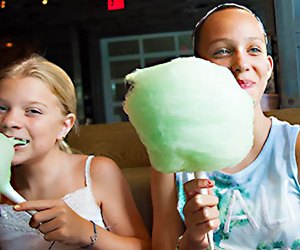 A great kids' menu and special desserts make Landmarc a fun spot for a fancy yet family-friendly meal.
Landmarc
179 West Broadway between Leonard and Worth Streets
Yes, Landmarc is great for date night or celebrity spotting, but it works for a fancy family meal, too, with its down-to-earth children's menu, which includes pigs in a blanket, peanut butter and Nutella, and green eggs and ham (thanks to spinach and pesto).
Sophie's Cuban Cuisine
96 Chambers Street between Broadway and Church Street
Don't over-order: The massive plates of delicious (and greasy) Cuban food at this local mini-chain are so massive, you'll probably want to share. The atmosphere is no-frills but kids love sitting at the lunch counter, where they can peruse the dishes before ordering.
Serafina
95 West Broadway at Reade Street
The Tribeca outpost of this Italian chain is always filled with families. Known for their awesome pizza, pasta, and salads, this is the perfect place for a weekend lunch or dinner or a fun place to go on a school night after sports practice. Service is great and the food is always delicious.
Walker's
16 North Moore Street at Varick Street
This bar and restaurant is one of the few good old joints left in the neighborhood. Along with hearty dishes such as burgers and fries, there's also a children's menu and crayons so kids can color the paper covering the tables.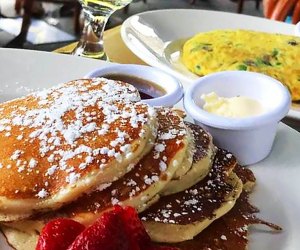 You can't go wrong with Sarabeth's simple, but delicious pancakes.
Sarabeth's
339 Greenwich Street at Jay Street
This popular chain is best known for its brunch, and the Tribeca location often has a line out the door. While there isn't a children's menu, kids should get a kick out of options like Baby, Mama and Papa Bear porridge (each with different toppings), plus pancakes, waffles, French toast and all kinds of egg concoctions.
'wichcraft
397 Greenwich Street at Beach Street
Sandwiches are raised to an art form at this popular chain. The children's menu has your standard grilled cheese or PB&J, but more exciting combos include roasted pumpkin, hazelnut brown butter, sage and mozzarella; or goat cheese, avocado, celery, water pesto and watercress.
Zucker's Bagels & Smoked Fish
146 Chambers between West Broadway and Greenwich Street
Head here to grab good hand-rolled bagels, smoked fish and other classic deli staples before heading up to the Pier 25 Playground for a morning of picnicking and playing.
Whole Foods
270 Greenwich Street between Murray and Warren Streets
This branch has a huge prepared food section with everything from pizza to sushi, Indian dosas to falafel. The large dining area upstairs includes free Wi-Fi and a children's play zone.
Ninja New York
25 Hudson Street at Duane Street
We reviewed this special occasion restaurant a few years back and there really is nothing else like it. Of course with lots of live ninja action and magic tricks, a meal here is more about the experience than the food. There is a kids' menu, but dinner for four can easily run you a few hundred dollars.
Tribeca Grill
375 Greenwich Street at Franklin Street
This upscale Tribeca staple is a the perfect place for a family celebration or special holiday meal. The cavernous space allows kids to be able to talk freely and the weekend brunch is always a hit.
Snacks
Duane Park Patisserie
179 Duane Street between Greenwich and Hudson Streets
This sweet spot is a great place to drop in for a quick treat. We're partial to the signature magic cupcakes, chocolate with cream filling.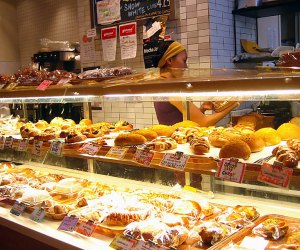 Try Japanese pastries, snacks and sandwiches at Takahachi Bakery.
Takahachi Bakery
25 Murray Street between Broadway and Church Street
Sample Japanese pastries and snacks, like savory buns, or delicious Asian-inspired ice cream flavors.
Baked
279 Church Street at Chambers Street
This newcomer to the 'hood is friendly and charming and serves some of the best sandwiches and baked goods in town. We are fans of their granola and brownies—and don't forget to try them for a cake for your next special occasion!
Read all of our posts about exploring Tribeca with kids.
Unless noted, photos courtesy of the restaurants.
A version of this post was published in 2013; it has been updated. Amy Meader contributed additional reporting.