Four New Indoor Play Spaces to Try This Season in NYC
You're faced with another chilly, dreary, rainy day and your kids are climbing the apartment walls. You've done all of the fun seasonal activities and the playgrounds are out of the question. That's when NYC's indoor play spaces can be real lifesavers. We're always on the hunt for the latest and greatest indoor play spaces, and a handful of new spots have opened up this year that are definitely worth the trip. Pack your socks, because here's the scoop on four new spots where the kids can get all of their energy out—and you can regain your sanity (and even have a cup of coffee).

Visitors are welcome to come check out the Union Square Playspace before it officially opens in January 2019.
Union Square Playspace — Union Square, Manhattan
36 E. 18th Street
We're fans of the latest family-friendly hang to open in Union Square. While the playspace is currently in "soft launch" phase, formally opening January 2019, visitors are welcome to come check out the open play space, made up of entertaining equipment and toys. Drop-in classes include art, music, sensory play, and movement.
The space is open Monday through Friday, 9am to 5pm. Class costs range from $30 to $45 and open play is $18 for three hours. After the grand opening, this will increase to $30 for two hours. You can cancel any class or open play slot without penalty up to 1 hour in advance of your enrollment time. Socks are required.
RELATED: Best Indoor Play Spaces in Manhattan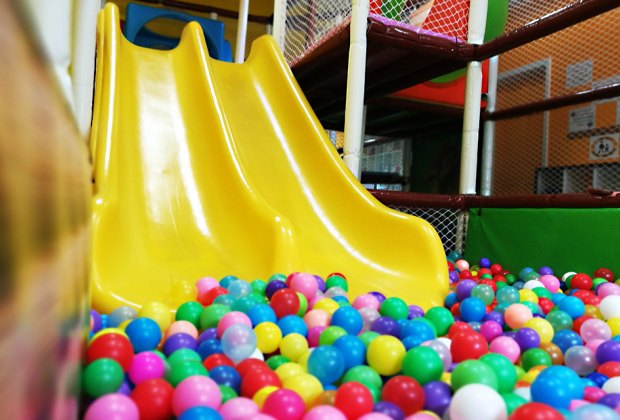 The Little Chubbs Playground offers a great admission price for families who have to pay for multiple children!
Little Chubbs Playground — Bensonhurst, Brooklyn
7205 16th Avenue
Brooklyn's newest indoor play space is open to children ages 1 to 10 years old and features slides, ball pits, trampolines, and a space for toddlers. This spot also offers private birthday parties and events.
The indoor playground is open Monday through Friday, 9am to 6pm, and Saturday and Sunday, 11am to 7:30pm. The price is lower than most, at $10 admission for two hours of open play. Snacks are available for purchase and socks are required.
RELATED: 19 Great Indoor Play Spaces in Queens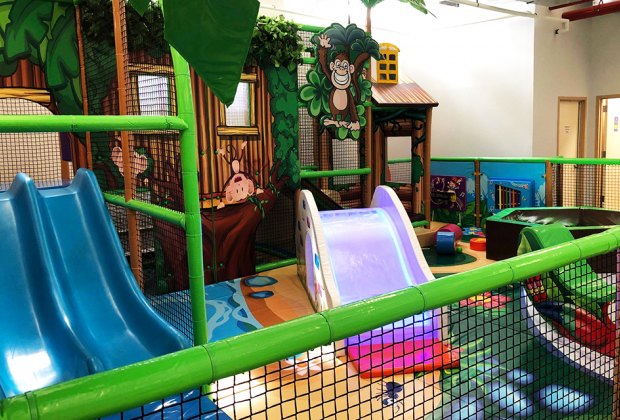 Kanga's, a new Long Island City hotspot, is designed for children ages 1 to 11.
Kanga's Indoor Playspace — Long Island CIty, Queens
32-15 37th Avenue
This new Long Island City hotspot is designated for children ages 1 to 11. Highlights of this Queens play space include a multi-level indoor playground, a merry-go-round, inflatable bouncy attractions, plastic ball pools, and a dedicated toddler play area. They also host birthday parties. Parents can chill at the cafe or get in on the fun in the play center. Children are given wristbands that correspond with their guardian's ticket number for added security.
Kanga's is open seven days a week from 9am to 6pm. Adult admission is $5 and children's admission ranges from $13 to $20, depending on height and weekday versus weekend play, and children under 1 are FREE. Socks are required.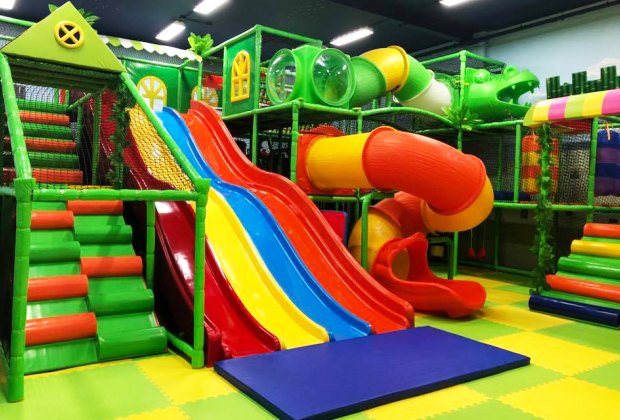 Crawl, climb, slide, and jump at Jungle Adventure.
Jungle Adventure — Whitestone, Queens
149-13 14th Avenue
This indoor playground, intended for children 12 years and under, invites little ones to jump on the trampoline, and crawl, climb, slide, and wriggle through a colorful maze of play equipment.
Jungle Adventure is open Sunday through Thursday, 10am to 6pm, and Friday and Saturday, 10am to 7pm. Admission is $15 to $32, depending on how long you want to play and day of the week. Children under 2 are FREE with a paid child and each ticket includes one adult. Additional adults are $5. Package deals are also available. Socks are required.
Photos courtesy of the playspaces