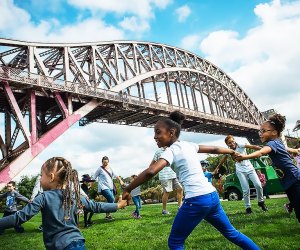 50+ Free Things To Do with Kids This October in NYC
Now that we're fully into the back-to-school groove, families might be looking to escape the weekday routine with some festive—and better yet, FREE!—NYC weekend events. This October is brimming over with autumn activities, including lots of Harvest fests and of course, heaps of Halloween fun.
This month also boasts some great fall festivals like the Little Red Lighthouse Festival and the Greenbelt Pumpkin Festival. The FREE family fun doesn't stop there: October brings lots of non-Halloween events like the Blessing of the Animals, Pickle Day, plenty of arts workshops, and Skate Night on the Upper East Side.
Read on for over 50 FREE things to do this October in New York City, including events in Brooklyn, Queens, and the Bronx. Find more top events in our October GoList, or our always-packed daily NYC event calendar and don't forget to sign up for our FREE newsletters to get the best local events and reviews delivered right to your inbox.