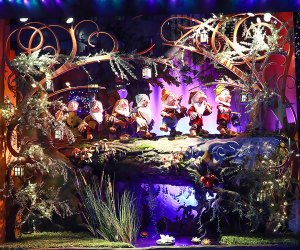 NYC Holiday Store Windows Sparkle in 2017
You don't have to go far in NYC to see gorgeous holiday lights and festive Christmas displays. Right here in Midtown Manhattan, the big department stores, such as Macy's and Saks Fifth Avenue, light up the streets with gorgeous gratis holiday window displays. They're playful, colorful, whimisical, and even interactive in some cases.
Take a family stroll down Fifth Avenue to see the 2017 windows—it's one of our favorite FREE holiday activities in the city! But first get a sneak peek of this year's fun with our video and photos of the the top displays.
Be sure to visit our Holiday Fun Guide to find other activities and things to do along the route and throughout the season, including Santa pictures, tree lightings, and train shows.

Video by Terraform Entertainment for Mommy Poppins.
The windows are unveiled throughout November, with most all of them complete just before Thanksgiving. The displays and light shows typically stay up through New Year's Day. So grab a hot chocolate, and maybe another sweet treat from one of the many holiday markets around town (Grand Central, Bryant Park, Union Square, and Columbus Circle are the most popular Manhattan spots), and then hit the sidewalk.
You won't want to miss the show at Saks Fifth Avenue, which lights up the Fifth Ave facade of the building. This year, the upscale store partnered with Disney to celebrate the 80th anniversary of the Snow White and Seven Dwarfs fairy tale. All fourteen of its Fifth Ave-side windows are decked out in gorgeous woodland Snow White scenes. You'll see the dwarfs, of course, and the evil witch too.
RELATED: Dyker Heights Holiday Lights: A Must-See Brooklyn Christmas Display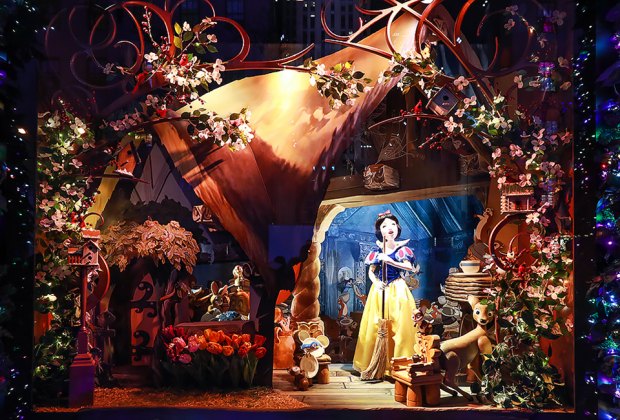 Snow White stars at Saks in 2017. Photo courtesy of Saks Fifth Avenue
Macy's is always a good stopping or starting point for this walk, as it's the furthest south on our list. Plus, if you feel up to it, you could always book your Santaland reservation to coincide with the walk.
The theme at the Herald Square Macy's is "The Perfect Gift Brings People Together." You'll catch fun Santas, snowman, ice skating, and more Christmas scenes at Macy's, on both the Broadway and 34th Street, but it's the six Broadway window displays that are always more over the top.
RELATED: 21 NYC Holiday Activities Every Kid Should Try Once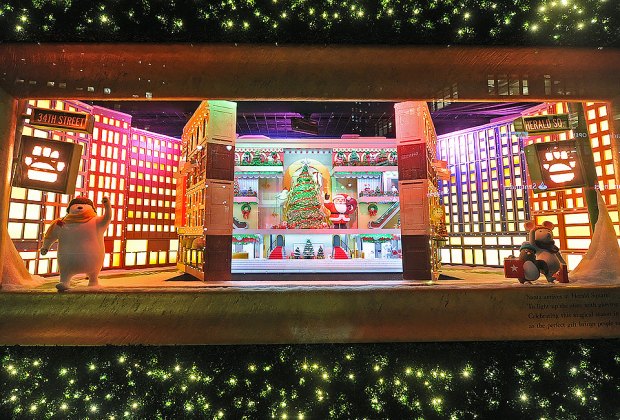 See classic Santa and winter scenes at Macy's. Photo by Kent Miller for Macy's
One of my favorites this year is Henri Bendel where the scene is filled with birds and more nature scenes, rather than Christmas decorations. In the center of the store, more than 30,000 paper butterflies flutter from above. Step inside to get the full effect.
Lord & Taylor is sure to charm kids with its five animated holiday scenes, including polar bears, Santa, a circus, and even a NYC landscape. Tiffany & Co. and Bergdorf Goodman are memorable, too, with loads of sparkle and twinkly things, including crystal-encrusted dinosaurs at the latter. Not to be outdone, Bloomingdale's teamed with Swarovski to place 7.6 million crystals among its six Lexington Avenue displays. The retailer's window vignettes retell pieces of the new movie, The Greatest Showman, celebrating the life of P.T. Barnum, founder of the Barnum & Bailey circus.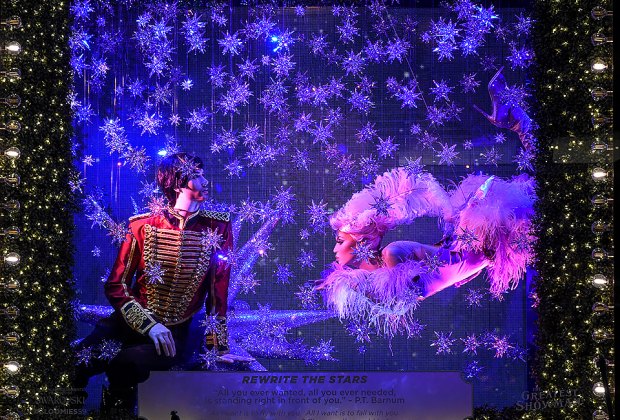 Bloomingdale's windows celebrate The Greatest Showman movie with glitz, glam and acrobatics. Photo by BFA Joe Schildhorn/courtesy Bloomingdale's
Need more? Check out our reviews of the 2016 and the 2015 NYC holiday windows.
Top photo courtesy of Saks Fifth Avenue