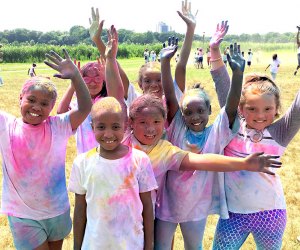 Best Summer Camps in Queens: 16 Camps Catering to Diverse Interests
We've sprung forward and that means summer is just around the corner. With that in mind, it's time to find a great summer camp for your kid.
For starters, you've got to figure out whether your kid would like to spend all day doing sports, or art, or mixing it up in a traditional camp. If your kid's a bit adventurous, they might want to take advantage of summer to try something new—say, surfing or game design. Good news, though, when it comes to camp opportunities options abound in Queens.
With that in mind, we did a little winnowing, looking for programs that have consistently delivered great reviews from participating families. Read on for some of the best summer camps in Queens!
Note that summer camp information for the 2020 season is changing daily. Please click the links to the individual camps below to see which ones are offering programs this year.