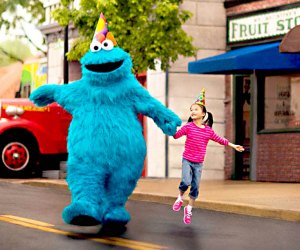 Enjoy a Family-Friendly Day Trip to Celebrate Your Kid's Next Birthday
Birthdays are big business in New York City, but there comes a point when the last thing you want to do is throw another big blowout party, especially in a small city apartment. Perhaps, then, it's time to consider a new way to celebrate: the family-friendly day trip.
From cool outdoor explorations to awesome animal adventures, water fun, and skiing, we've rounded up 13 family-friendly day trip spots within two hours of city limits—some are even accessible by public transit—to celebrate your kid's next trip around the sun. Read on and start planning an epic birthday, no goodie bags required.
1 hour via car from Midtown Manhattan
Well known for the stretch of Appalachian Trail that traverses it, Bear Mountain State Park is a beautiful destination no matter the season. Whether your kid is outdoorsy and wants to explore the hiking trails and stunning views, or loves animals and wants to visit the on-site zoo dedicated to native species, or has ridden every carousel in the city and needs a new one to conquer, there's something for everyone and all ages here. Pack a birthday picnic, or splurge on a meal at the Bear Mountain Inn and while the rest of the day away in the great outdoors.

The birthday kid can race around the track at Grand Prix New York before checking out all the other fun to be had!
1 hour via car from Midtown Manhattan
If your birthday kid has a need for speed, this Mount Kisco raceway can fulfill it. Tracks here are suitable for drivers ages 8 and up (younger kids can be passengers). When you've had your fill of the raceway, there's still plenty of fun to be had. A 12-lane bowling alley and virtual reality arcade are big draws, and FUEL, the on-site restaurant, can serve a birthday meal of all-American favorites.
RELATED: Science and Natural History Museum Day Trips Near NYC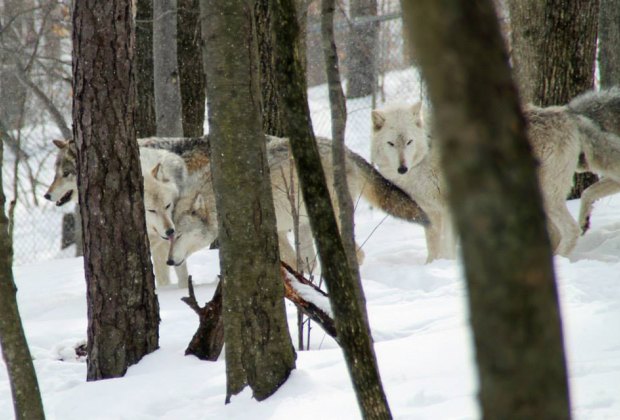 At the Lakota Wolf Preserve observation area, visitors can catch a glimpse of four different packs of wolves.
1 hour and 30 minutes via car from Midtown Manhattan
The largest wolf preserve in the Northeastern U.S., Lakota Wolf Preserve makes a fantastic educational destination for a curious animal lover. While a visit requires some planning—you can't just show up, but must schedule a tour on weekdays or arrive 1/2 hour in advance to register on weekends—you'll view the majestic animals from a safe distance. Knowledgeable guides fill you in on the social structures of wolf society, school you on their complex communication skills, and offer interesting facts. All the while, you'll be in the observation area surrounded by four separate packs, plus the foxes and bobcats who call the preserve home. Be sure to bring a camera so you can record some memorable shots.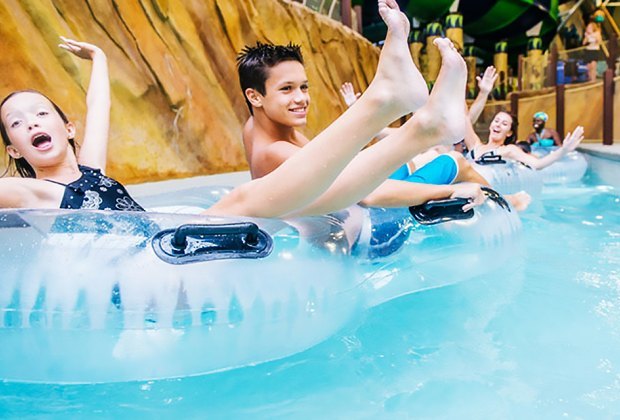 Head to Kalahari and grab some day passes for a thrilling birthday.
2 hours via car from Midtown Manhattan
Kalahari Resort offers day passes for its indoor water park, reportedly the biggest in the country. Here your water lover finds 22,000 square feet of wet-and-wild fun, ranging from thrill-inducing giant slides to the zero-depth entry Coral Cove play area for little ones. Mom and dad appreciate the swim-up bar, indoor/outdoor spas, and lazy river. Little ones under 48 inches are required to wear life jackets. Consider adding on a swimming lesson to train your kid to become an attack shark or graceful mermaid. If you visit during warm weather, the retractable roof may turn your indoor adventure into an outdoor one.
RELATED: 12 Inexpensive Winter Weekend Getaways Near NYC

There is so much to do at Legoland Discovery Center that the birthday kid is sure to be happy!
40 minutes from Midtown Manhattan
Little Lego lovers will flip over this play center in the ultra family-friendly Ridge Hill shopping center. Gawk at the creations in Miniland, enjoy some mild thrills on a pair of rides, build brick creations, or take lessons from a Master Builder, plus you can try your cars on the test track or buildings on an earthquake table. There's a Lego factory to tour and a 4D theater where you can catch a Lego mini-flick. As if that's not enough, there's also a Ninjago-themed indoor play area. If your kid thinks this is fun, just imagine their reaction when you spring for a trip to the giant Legoland Amusement Park this summer.

Take a behind-the-scenes tour of the Long Island Aquarium and meet the penguins.
1 hour 45 minutes from Midtown Manhattan via car; accessible via LIRR from Penn Station
With more than 100 exhibits and its close proximity to the Long Island Sound, the Long Island Aquarium is definitely worth the trek. Celebrating a birthday here is extra special with a FREE admission offer within seven days of your kid's big day. Use those savings to splurge on an exclusive tour or behind-the-scenes encounter, like Penguin Preschool, where your kid can get up close with the birds!
1 hour 25 minutes via car from Midtown Manhattan
Winter birthdays can be hard to celebrate outdoors, but embrace the weather and head to this family-friendly resort. With four mountain peaks and 1,000 snow-making machines, there's plenty of terrain to cover on a board or skis. Spring for a lesson if it's the birthday kid's first time. Another wintertime option: Head for the tubing hill instead. Summer kids aren't left out, either; there's a mountain coaster, zip-lining, and a water park to fulfill summer thrills.
Sesame Place – Langhorne, Pennsylvania
1 hour 30 minutes from Midtown Manhattan
Visiting this ultra-kid friendly theme park is almost a rite of passage. Delight your preschooler by beginning the day with a special meal with Sesame friends, then take in all the kid-friendly rides. Summer means the water park is open, too. Make sure to leave time for a special parade or show before you head home. Sesame Place celebrates its 40th birthday in 2020, so each day's parade will pay tribute to the theme park's birthday!
1 hour 45 minutes from Midtown Manhattan via car; accessible via N.J. Transit from Penn Station
Silver Ball Museum Arcade dubs itself as a "living, breathing, and blinking tribute to our pinball and video gaming past." Even Fortnight-addicted teens should get a kick out of this gaming mecca, where (good news for parents!) unlimited gameplay is included in the price of admission. Games (both pinball and arcade) dating from the 1950s to the present are on display. Post-museum, you can explore the rest of the boardwalk in this charming beach town.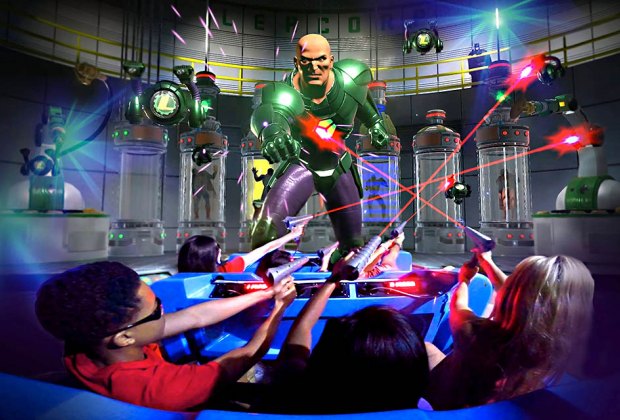 Bring the birthday party to Six Flags for a special day of rides and fun.
1 hour 25 minutes from Midtown Manhattan via car
The largest theme park in the state, Six Flags Great Adventure has plenty of surprises, no matter your birthday kid's age or interest. Little ones find plenty of tame rides to tackle in Bugs Bunny National Park. Big kids enjoy the heart-stopping, thrilling roller coasters and there are plenty of all-ages attractions like family-friendly rides and the on-site Safari Adventure, where you can get up close with some wild animals. The adjoining Hurricane Harbor water park is an adventure (and ticket) all its own.
1 hour 30 minutes from Midtown Manhattan via car; accessible via Metro-North Railroad
Though there are many family-friendly water parks near NYC, this one is my favorite day trip pick. Goldilocks would approve: It's not too big; it's not too small ... it's just right for a day of family-friendly fun. There are thrills for young and old and plenty of adventures for the entire family to enjoy together, too.
1 hour 15 minutes from Midtown Manhattan
This massive art space spans more than 500 acres of beautiful grassy hills, wooded areas, and most-of-all, awe-inspiring sculptures. Young art connoisseurs appreciate a birthday visit here, especially if it comes with a new sketchbook and some freshly sharpened pencils. Modern and contemporary sculptures, many grand in scale, dot the landscape. If you're celebrating in fall, the views of the foliage prove Mother Nature's an artist, too.
1 hour from Midtown Manhattan via car
White Post Farms is one of our favorite local petting zoos. Located on Long Island, it's almost a mini zoo housing a variety of animals, domestic and exotic, including Patches the giraffe. After feeding barnyard friends, plan to visit the free-flight aviary, where you can hand-feed small birds, including budgies, lorikeets, and cockatiels as they fly overhead. A newly redesigned primate barn allows you to feed marmosets, lemurs, and squirrel monkeys. Pony rides are also available, and the farm hosts seasonal attractions, such as water slides, hayrides, and animal shows on weekends.
Bonus: Now that you've finished planning a perfect birthday for your kid, why not book your own at one of these family-friendly wineries? Hey, parents deserve to celebrate, too.
Find more party and family-friendly day trip planning tips in our helpful guides.
Photos courtesy of the venues