The Very Hungry Caterpillar Show
DR2 Theatre

NYC Easter Brunch Cruise 2023
Event Cruises NYC

Easter Fun Cruise with Egg Hunt 2023
Event Cruises NYC
Sign up for our free newsletters.
21 Things to Do in Bushwick With Kids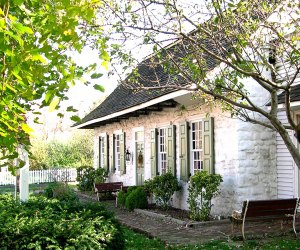 3/27/19
- By
Katie Nave
We're sure you've heard about the cool factor of Bushwick, home to an abundant artistic community and boldly graffitied streets, but the latest hipster neighborhood, bordering Williamsburg, Bed-Stuy, and Ridgewood, actually offers loads of family fun. The once-abandoned warehouses have been transformed into artist studios, galleries, and pizza spots, making the vibrant streets feel like one big adventure.
The rapidly-changing, post-industrial neighborhood of Bushwick offers numerous parks, playgrounds, destination restaurants, and cultural experiences. Plus, it's easily accessible by subway from the L, J, M or Z trains, so even if you don't call Bushwick home, you can still experience this colorful and cool destination. Here are some of our favorite things to do in Bushwick with kids.

Kids can run free at the playground at Maria Fernandez Park. Photo courtesy of NYC Parks.
1. Relax and let the kids go wild on the rainbow playground in Maria Fernandez Park, where locals come to lounge, play and skate. Rest under the large shade trees or shop for groceries nearby and support local vendors at the farmers' markets.
RELATED: 35 Things to Do With Kids in Williamsburg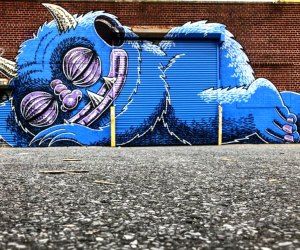 Kids will love to wander through the outdoor art gallery in Bushwick.
2. Take a walk through The Bushwick Collective, a vibrant outdoor gallery of street art.
RELATED:

My kids go crazy for the pizza at Roberta's!
3. Grab a pizza pie at Roberta's, a staple in the neighborhood. Maybe you'll even see Beyoncé stop in for a slice?
RELATED: 15 Fun Things to Do With Kids in Bed-Stuy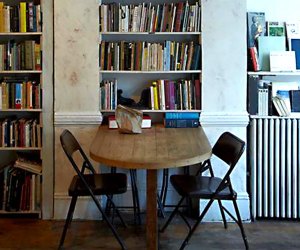 After hitting the playground, take a rest with books at Molasses Books.
4. Cozy up in Molasses Books, the hood's original bookstore, one block from Maria Hernandez Park.
5. Grab tacos, tortas, or taquitos at Tortilleria Mexicana Los Hermanos, an authentic taco stand loved by locals and visitors alike.
6. Let off some steam by taking the kids to Irving Square Park to swing and shoot hoops.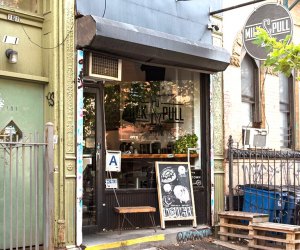 Kids will love picking a treat at Milk & Pull.
7. Stop in Milk & Pull for our fave Dough doughnuts.
8. Get adventurous and sign up for a kids' aerial silks class at The Muse.
9. Catch a movie at Syndicated, a warehouse turned bar and theater, where they've been known to host Harry Potter marathon weeks!

Visit the community garden space, Known Waste Lands.
10. Drop your compost at Know Waste Lands, the community garden space along Myrtle Ave.
11. Tour the gallery at NURTUREart and appreciate the local art.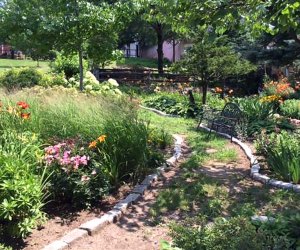 The Vande-Ende Onderdok House was a prominent marker in the 1769 settlement of the boundary dispute between Bushwick in Kings County and Newtown in Queens County.
12. Step back in time by visiting the Vande-Ende Onderdonk House, the oldest remaining Dutch Colonial house in the state.
13. Take a stroll down Central Avenue, taking in the street art.
14. Snag a souvenir from the Shops at the Loom, Bushwick's version of a mall housed in a renovated textile mill.
15. Indulge in a classic cannoli at Circo's Pastry Shop, where the bakery uses the same recipe as it did when it first opened in 1945.
16. Stretch it out at The Cobra Club's baby, toddler and little kid yoga classes.
17. Hang on the patio at Fine Time. Adults come for the signature frozen margaritas, kids stay for the free popcorn and hotdogs.
18. Stop in at the city's friendliest bodega, Los Primos Grocery, for a delicious one dollar toasted bagel with cream cheese.
19. Grab a Caribbean brunch at local fave Sally Roots.
20. Savor a warm chocolate chip cookie from L'imprimeries bakery.
21. Catch a play at The Bushwick Starr, a not-for-profit theater in the heart of Bushwick.
Read all of our posts about exploring Brooklyn with kids for additional ideas!
Unless noted, photos courtesy of the venues/shops