PaleyLand Holiday Weekend: Meet Santa, Trolls, and More!
The Paley Museum

NYBG Glow
The New York Botanical Garden

Gingerbread House Decorating Holiday Event
BASIS Independent Manhattan (Lower School)
Camden Children's Garden Welcomes Little Explorers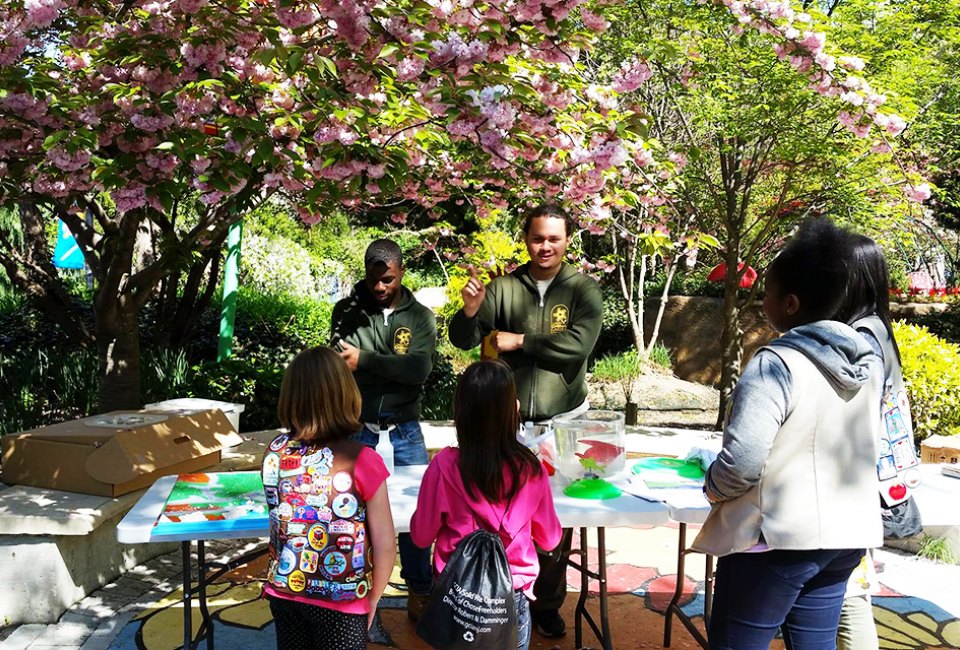 4/26/18
- By
Lindsay Li
On the New Jersey side of the Delaware River, tucked right next to Adventure Aquarium, is a darling outdoor play space and garden center that makes for a perfect afternoon. Whether you live in New Jersey, across the river in Philadelphia, or are just passing through, the Camden Children's Garden is truly a special place, as my 5- and 1-year old children and I discovered on a recent visit.
The Camden Children's Garden pairs the natural world with themed activities and play spaces, and it's wonderful for young children ages 10 and under. Kids can explore the huge space, which is broken up into manageable zones that appeal to a variety of interests, including dinosaurs, plants, and insects; and it also offers plenty of opportunities for climbing, hiding in tunnels, digging, and sliding.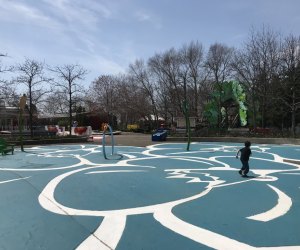 Which way should we go? So many possibilities for exploration.
A few of the themed spaces were a big hit with my 5-year-old, including the dinosaur garden, which has a huge sandbox, and the KaBoom playground. As you can see below, my younger child enjoyed the outing, too!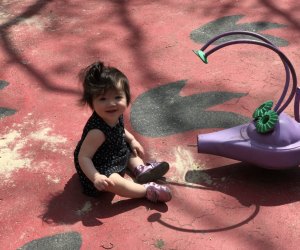 Digging the giant ants in the dino garden.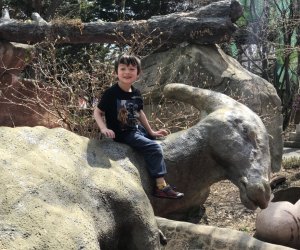 A dino explorer in his element.
Another big highlight is the butterfly house, where butterflies fly around a greenhouse and children have the opportunity to try to hold one with the guidance of a very experienced butterfly guide. The guide taught us the differences between a cocoon and a chrysalis, as well as the important role butterflies play in pollination. My 5-year-old was delighted to learn all of these new facts about his favorite winged friend.
RELATED: Grounds for Sculpture: A Hidden Gem in New Jersey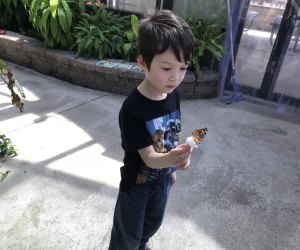 Concentrating on holding a delicate butterfly in the Butterfly House.
Kids can also go for a spin on the Garden Carousel, catching a ride on a shark, hummingbird, and even a sea dragon; or take a trip on the Arrow River Train.
Family programming is provided from March through November, with events happening nearly every weekend, and there is a Santa breakfast in December. Upcoming events include Earth and Arbor Day and Butterflies and Birds festivals, and other happenings include the Peach, Princess & Pirate Celebration, holiday themed weekends, and more. A small amphitheater hosts demonstrations and storytelling, and in the warm months kids can cool off in the main plaza's spray ground.
Families can plan to bring a picnic and enjoy many of the outdoor scapes and spaces, or eat at tented picnic tables.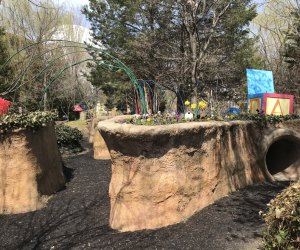 The tunnels and maze captivated both kids.
A few things to note:
There is a fee to enter, and an additional small fee for the train and carousel. Guests 1 and under enjoy free admission.
If you are planning to visit Camden Aquarium that day as well, you can get a discounted rate into the play garden.
The garden shares a parking lot with the aquarium but does not have discounts for the parking there.
Dress in costume on themed event days and get a discount on admission.
In case of inclement weather, there are a few indoor spaces to explore.
You are welcome to bring in your own food and make a picnic day of it.
The Camden Children's Garden is open Wednesday to Friday from 10am to 2pm and Saturday and Sunday from 10am to 4pm. Want to bring a friend? Share this post with a buddy who might want to tag along for an adventurous afternoon.
Top photo courtesy of the Camden Children's Garden. All other photos by the author
Places featured in this article:

Sign up for our free
newsletters.
Mommy Poppins is a family activity website that helps people find things to do with kids.
©
2023
MommyPoppins. All Rights Reserved.
mp-prod4-v4.32.99
We use cookies and other data collection technologies to provide the best experience for our customers.
Learn More
t Click Here to Sign Up!