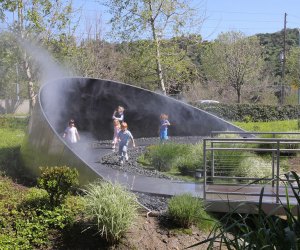 28 Things To Do in LA this Weekend: The Skirball Reopens, Lavender Fields, and Virtual Bug Fair
Okay Moms, you had your day. Now it's back to business as usual, and we mean that in the best possible way. Life in Los Angeles is inching ever closer toward normalcy, as one by one all of our favorites return. This week the big news is the Skirball, which is once again opening its doors and welcoming visitors starting Saturday.
And it looks like it's going to be one sizzling summer! ​Hot off the presses we have the 2021 schedule for the Hollywood Bowl. Get ready for what are sure to be some memorable nights, starting with a celebration for July 4th with Kool and the Gang—tickets go on sale this week.
Virtual options still abound for those taking a more cautious approach: The Natural History Museum's Bug Fair is presented on Saturday as is the Musco's Heartbeat of Mexico Mariachi Fest, and two series debut on streaming services. And for those who want to escape from LA (just for a quick day trip), a visit to these lavender fields looks enchanting.
It's business as usual, so keep reading for our usual list of (utterly amazing) picks for the weekend...
Editor's note: If you arrive at an event that feels too crowded (or the wait is too long for your kids!), try using the "nearby" search feature on our Event Calendar to find something else to do. And remember to plan outings in advance, as many venues require timed-entry tickets or reservations to limit crowd size.