SPONSORED
New Immersive CAMP Store Opens Los Angeles Flagship with RVshare Experience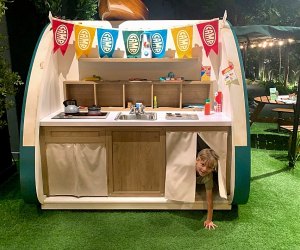 By now, you may have seen videos of a toy store with a magical world of play behind a hidden door—especially if you have friends in NYC, Boston, Dallas, or the other areas lucky enough to have a CAMP store. If your FOMO has been on fire, we have great news for families in LA: On April 23rd, the first West Coast CAMP store opened its doors at the Westfield Century City in Los Angeles! The new flagship destination opened with its signature Base CAMP immersive experience and partnered with RVshare to create a one-of-a-kind, camping-themed experience that kids of all ages will love.
Always on the hunt for the coolest and latest for Los Angeles families, I headed over to the new flagship store with my 3- and 6-year-olds to see what all the buzz was about. Read on to find out what we discovered through the magic door at the new CAMP store in Los Angeles and what you'll want to know before you go. Spoiler alert: It's uh-mazing!

Use your own magic to open the magic door... Photo courtesy of CAMP
Behind CAMP's Magic Door
From the moment you enter CAMP, you'll find a completely reimagined retail experience with a unique combination of shopping, play, and programming. We started in the colorful toy store stocked with a great selection of high-quality, engaging options for children of all ages. When we asked a CAMP "counselor" for the magic door, we were directed to use our own magic to reveal a speakeasy-type pivoting wall that led to the immersive Base CAMP experience.
While the experiences at CAMP stores rotate seasonally, the new Los Angeles location opens with the signature Base CAMP theme, an interactive summer camp-themed experience where kids explore camp cabins with different activities in each one. Base Camp is like a retro summer camp—without all the bugs, messy games, and camp drama—and has the vibes of an afternoon of exploring in the Redwoods. The goal of Base Camp is to introduce travelers of all ages to experiential play and discovery, and invite families to experience the wonders of the great outdoors.
Try out the other camping-themed activities and a little "van life" imaginary play. Photo courtesy of CAMP
The first big Base Camp attraction is the adorable RVshare campsite. If you've never heard of RVshare, it's the largest peer-to-peer marketplace for RVs (think Airbnb for everything from travel trailers to luxury motorhomes). The RVshare camping trailer fit right in with the Base CAMP theme, and my boys rushed in to play tic-tac-toe, color, and try out the other camping-themed activities and a little "van life" imaginary play.
Base CAMP also features a Barbie-themed disco cabin, complete with a tube slide and sequin walls that change color when you move your fingers over them. Other highlights are the musical dock where you run across wood planks to play them like a piano and jump into a shimmering (but not wet!) pond, and the Pony Cycles and MicroMini Scooters that you can actually ride around the store!
Night falls at CAMP, so you can experience evening camping rituals. Photo courtesy of CAMP
After CAMP, plan your next camping adventure
If all the CAMP experience has you itching to take a family trip, you can explore RVshare beyond the walls of the store and maybe even get inspired to plan your next vacation. On RVshare.com you can search over 100,000 RVs with options like fully-stocked kitchens, air conditioning, comfy beds, and outdoor living areas.
My husband and I love the outdoors but have no experience with RVs, so I love that RVshare does all the heavy lifting for you, whether you're a newbie ready to try your hand at "glamping," or just a practical camper interested in taking out a trailer or fifth wheel. As another huge plus, in my opinion, there's even an option to have the owners drive the RV to your designated campsite, set it up, and explain all its features. This way your family can drive your own car to your destination—saving lots of gas and giving you the option to use your own car, too—and you don't need to stress about maneuvering an oversized vehicle.
Kids who love camping will love CAMP.
As Californians, we're also lucky to have so many great camping destinations nearby, making RVing an affordable vacation option (yes, even with gas prices on the rise). You can search the RVshare site by destinations like Yosemite National Park or Joshua Tree to find RV rentals nearby, as well as lists of campsites and trip tips.
One of our writers actually tried out RVshare with her family last year, so you can get the inside scoop in our RVshare review.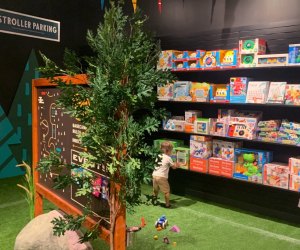 Stroller parking is clearly marked, and there are games, crafts, and toys for kids of all ages.
Know Before You Go
If you want to check out the new CAMP store in Century City, here are a few final tips: Visiting the store and the Base Camp experience is free, although there are some fees for crafts, the Splatter Cabin, and special workshops. There is stroller parking and a family bathroom on-site, and all of the staff at CAMP are fully vaccinated and wear masks, but masks are currently not required for visitors.
We need to talk about the Splatter Cabin. You need to check out the Splatter Cabin. Photo courtesy of CAMP
If you're ready to explore the idea of camping with RVshare, check out RVshare.com to find seriously fun and affordable vacation options that will have you and your family on the open road living your best life this summer.
Unless otherwise notes, photos by the author