SPONSORED
RVshare Makes Renting a Camper or RV So Easy—And Now My Family Wants to Do It Every Year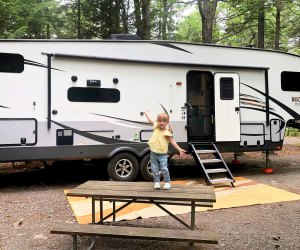 The second I told my kids we were renting an RV to spend a weekend in the woods, they raced for their unicorn suitcases and started packing! Ok, so it took a little creativity to explain what an RV was to my two-and-half and five-and-a-half-year-old daughters who, like me and my husband, are born and raised New Yorkers. But "a 36 foot long house on wheels with bunk beds" was enough to get them counting down the days to our big camping getaway.
We booked our camper through RVshare—the first and largest peer-to-peer RV rental website. It's like Airbnb for RVs and campers, offering families a totally memorable travel experience while also helping RV owners make money renting their motorhomes when they aren't using them. From affordable travel trailers to decked out "glampers," the site features more than 100,000 options to fit every families' needs and budget. And, to make borrowing a motorhome even easier, many vehicles can actually be delivered right to your door or—even better, if you ask me—directly to your campsite.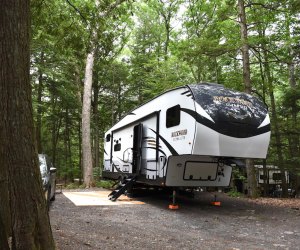 The owners of the RV we rented handled the entire set-up and breakdown.
Renting a Camper or Motorhome with RVshare
When I first sat down to scroll through RVshare, I had never even set foot inside a motorhome. And it honestly hadn't occurred to me that you could park one at a campsite for a weekend and call it a vacation. I've always imagined an RV trip to be a long-distance adventure where you drive all day and pull over wherever you can to eat or sleep. My husband and I wondered where we should go, and how we would find a vehicle small enough that we'd feel safe driving it but large enough for the four of us to sleep comfortably for two nights. It wasn't until I connected with an RVshare rep who explained that we could pick a campground and have a nearby RV delivered there that the whole trip started to take shape.
If you opt for destination delivery like we did, you can easily limit your RVshare search to only those that fit the bill. However, you'll need to choose a destination before you book (if you need some help, RVshare has helpful lists of top campgrounds, national parks, and more). Personally, I turned to my local parenting listserv for campsite recommendations, and was lucky to snatch up someone else's last-minute cancellation at a popular spot in the Woodstock area. Pro tip: If you can help it, don't wait until the last minute to book an RV spot at a campground because the pandemic has caused the popularity of camping to skyrocket.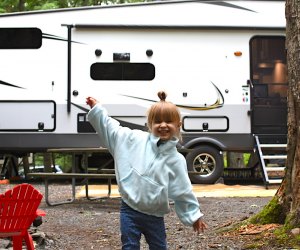 A picnic table and fire pit made hanging out at our campsite a lot of fun.
While searching for a destination, I had already done some RV browsing and, after looking at a number of listings, had started to get a feel for what felt like the right fit for us. As first-time motorhome users with no camping experience, I decided to go the glamping route, limiting my search by destination, model year (2018 and newer), and size (at least 25 feet). I quickly found a beautiful 2021 camper—that may or may not have been nicer than our Brooklyn apartment—with a three night minimum. Since we only had two nights for the trip, I used RVshare's messaging platform to see if the owners had any flexibility and, sure enough, they said they'd allow us to book and immediately sent a customized quote. From there, the booking process felt easy and secure, and RVshare's Worry-Free Rental Guarantee helped put my mind at ease.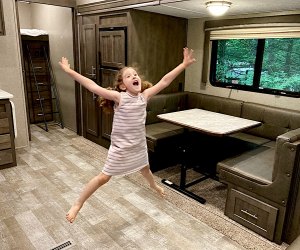 The kids couldn't believe just how much fit inside the RV—and neither my husband and I.
On day one of our trip, we met the RV owners at the campgrounds at check-in time and they had already gotten our camper hooked-up and ready to go. They gave us a quick tour, showing us how to operate the outdoor kitchen, the electric awning, the flatscreen TV, the indoor fireplace. The RV was spotless and spacious, with a couch, dining room set, and full kitchen in the main area; a bedroom with bunk beds at one end; a bedroom at the other end with a queen size bed; a bathroom (with a flushing toilet and a shower, I might add); and a ton of hidden storage space.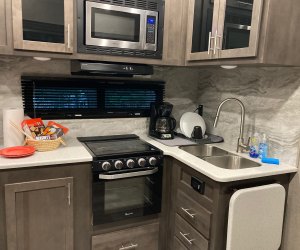 The full kitchen made meal prep—and morning coffee—super easy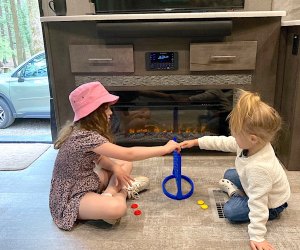 The owners left some boardgames in one of the cabinets, which we played by the electric fireplace.
The kids loved the camper so much that they didn't want to leave for other activities, and my husband and I were thrilled that with the door to their bedroom shut, we could actually stay up past their 7:30pm bedtime hanging out in the living room without waking them. Plus, at $200 a night, the RV was likely less than half the price of a comparable hotel suite in the Woodstock area.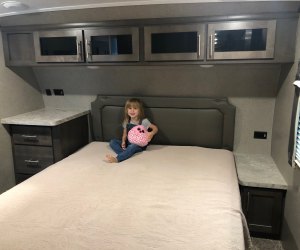 One bedroom actually had a queen size bed, plus tons of storage, outlets, and an en-suite bathroom.
For us, a stationary RV trip at a campground turned out to be a perfect fit. The kids couldn't get enough of the novelty of eating breakfast at the dining room table in the RV and playing board games by the fireplace—and they were completely obsessed with their bunk bed! My husband and I loved that we could spend the morning taking the girls to the on-site playgrounds and swimming hole and we could make s'mores over the campfire at night, but we could also head into town, where we checked out the farmers market, bookstores, and a couple of nice coffee shops and restaurants. Honestly, we had such a good time that I just wish we'd made the trip longer, but we all walked away agreeing this would make a perfect new annual tradition for our crew. In fact, next time, we might even try convincing some friends to come along too.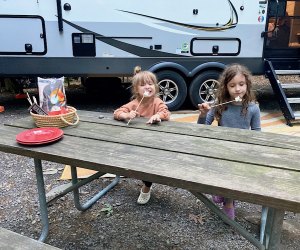 Of course, s'mores were a highlight of the trip for these city kids.
If you're itching to finally get a fun family vacation on the calendar or you've got a long-distance drive ahead of you, I cannot recommend an RV trip enough. And with COVID restrictions still in place, it feels like a really safe option. Just hop on RVshare and start searching by destination, amenities, cancellation policy, or whatever meets your needs. I am so sure you'll find a great fit—and I will try to contain my RV envy!