Cemetery Lane at Heritage Square Is a Candy-Filled Historical Haunt for All Ages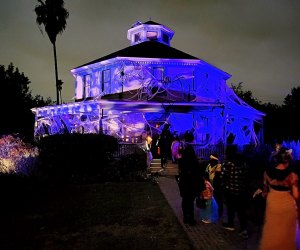 For most of the year, Heritage Square is a living, open-air architectural museum that hosts guided tours of the buildings—and while they are purportedly haunted, visiting is not a spooky experience. However, when mid-October rolls around, Heritage Square transforms into Cemetery Lane. It's a land of monsters, ghosts, games, and, of course, candy. The ghouls have a lighthearted approach to spooking, focused on handing out candy and not terrifying small children. Open until Halloween night, Heritage Square's Cemetery Lane is a perfectly unique way to celebrate both Halloween and Los Angeles.
I took my two little girls, and our whole family had a wonderful time. This taste of LA will become part of my family's Halloween tradition for years to come. Here's why...
And if you're looking for more Halloween outings that are great for kids of all ages, check out our reviews of Haunt O' Ween and Nights of the Jack. You can find those reviews, and loads more fun activities for the spooky season, in our Halloween Fun and Activities Guide for Los Angeles Kids.

Yes, we wore our matching family pajamas.
Wait, What Is Heritage Square?
Heritage Square is a gated neighborhood of historical buildings from the earliest days of Los Angeles. Located just east of the Arroyo Seco and 110 freeway in Montecito Heights. The Victorian-era buildings were not originally part of the same neighborhood, however, they were transported to the museum site from Palms, Downtown, and other neighborhoods across the city.
Trick-or-Treat Among LA's Oldest Buildings
This is a very different, much more family-friendly experience than Knott's Scary Farm or Halloween Horror Nights. The website assures parents that there are no jump scares, instead relying on a spooky atmosphere that's buoyed by the literally haunted Victorian buildings (if you believe in that kind of thing). And it's true; no jump scares, no one touches you, and my kids were able to go home and sleep through the night!
After entering the front gate, a ghastly performer warns visitors of a real-life alien crash and that the only way to stay safe is to carry candy—in your bag or your tummy, as both approaches repel the little green men. The alien theme is carried throughout the experience and at one point a performer dressed as an extraterrestrial ran wailing down the pathway.
RELATED: Amazing Free Haunted Houses and Halloween Displays in Los Angeles
A candy a day keeps the aliens away!
Each building is themed and decorated for maximum spookiness, with costumed performers enthusiastically handing out candy. The costumes range from silly to a bit scary, and there's absolutely no gore here. All told, there are 13 trick-or-treat stops along the lane. An appropriately spooky number.
At the Carriage House, a group of wilderness scouts led some carnival games like fishing for a prize, ring toss, and knocking down milk bottles. Naturally, the prizes were all candy—and whether you won or lost, you received a prize.
There are no rides or bright lights or flashy tricks, but this is a genuinely wonderful old-fashioned Halloween event, taking place on a spot that's a bit of LA history. I'm hoping that giving my girls happy Halloween memories here will make them interested when we come again to take a historical tour!
RELATED: Spooky Halloween Trains near Los Angeles
Just hanging out with her new buddy, Bones.
Know Before You Go
Tickets are timed, and as long as you arrive within an hour of your entry time, you'll be admitted. (Clearly this is an LA haunt, and one that knows LA traffic doesn't even obey the ghouls and ghosts.) Once you arrive, there's no time limit on how long you can stay. Cemetery Lane is less than a mile long and we spent around an hour there, though architecture enthusiasts may want to spend more time exploring the historic buildings or even joining a guided tour.
We arrived via the L (Gold) Line, with the Heritage Square Station just a five-minute walk from the entrance to Cemetery Lane. This entrance, located on the south side of Heritage Square, is new for 2022 and shaves nearly 15 minutes off of what was previously a walk of over 20 minutes to the north entrance. In fact, there's no entry or parking on Homer Street (the usual entrance to Heritage Square). I highly recommend taking the Gold Line!
RELATED: Best Places to Trick-or-Treat in Los Angeles: 21 Safe and Spooky Neighborhoods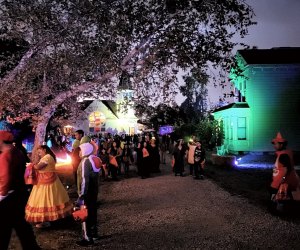 Cemetery Lane at Heritage Square is a new annual tradition for our family. How about you?
If your little goblins need something to eat besides sugar, there are vendors selling typical carnival food like hot dogs, plus a taco truck and a dessert truck. A pop-up shop was set up within the Lincoln Avenue Methodist Church, with vendors selling Halloween-themed gifts and apparel. At the end of Cemetery Lane is the Heritage Square gift shop that sells year-round gifts from local artisans, focusing on items crafted by women and POC. It's a great place to start to stock up on holiday gifts!
There are portable bathrooms, so if you have small children make sure they go before you head out to Cemetery Lane, as these are best for emergencies only.
The paths in Heritage Square are dirt and gravel, but they're flat enough that you won't have a problem with strollers.
Cemetery Lane is open until October 30. Tickets range from $27 for daylight hours (up to 5pm) to $32 for nighttime hours (after 5pm). Admission includes a plastic trick-or-treat bag and plenty of candy. A commemorative cloth bag can be purchased at Cemetery Lane for $15. Children under 2 are free.
All photos by the author