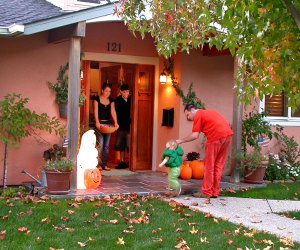 Best Neighborhoods to Trick-or-Treat in Orange County on Halloween
Orange County is home to plenty of family-friendly attractions (including the country's biggest theme park haunt) so it should come as no surprise that California's third biggest county is also one of the hottest spots for trick-or-treating on Halloween night. Tons of planned communities with homes a short stroll from one other give kids ample opportunity to satisfy a sweet tooth, in a climate that doesn't require covering up cool costumes with coats. The OC is also one of the wealthiest counties in the country, which translates into bigger candy bars, more elaborate decorations, and no-holds-barred block parties.
We scoured the county to come up with a list of the top OC spots to take your ghouls and goblins trick-or-treating this Halloween. If you're visiting one of these generous neighborhoods, please show your appreciation by being extra considerate about candy wrappers and other litter on the ground. And wherever you head on Halloween night, carry lights and watch out for traffic.
Balboa Island
Walk the boardwalk in this waterfront Newport Beach neighborhood and you'll see plenty of homes adorned with vampires, skeletons, ghosts, and ghouls. The shops on Marine Avenue also go all out with spooky décor, and most business owners hand out candy. Don't miss the Grim Reaper at 802 South Bayfront or the Balboa Island Medical Clinic and Butcher at 115 Diamond. Just be sure to arrive early since parking gets packed.
Nellie Gail Ranch
Located between the 73 toll road and Cabot Rd. in Laguna Hills, Nellie Gail Ranch is home to some of the largest houses in South Orange County. Most streets host large block parties, but houses are far apart, so it's a good idea to pack bikes or scooters..
Old Towne Orange
The historic Orange Circle is a natural backdrop for Halloween. The streets between Orange and Harwood Streets transform into a spectacle that could send even the bravest Stormtrooper or Ghostbuster heading for the hills. Not only do homeowners deck out their Victorian and Craftsman homes with spooky decorations; they also dress in scary costumes, host festive parties on their front lawns, play spooky music, and hand out an average of 2,000 pieces of candy each year.
Aliso Viejo
Renaissance is a walkable housing development, and the easiest spot for trick-or-treating covers the streets between Da Vinci and Cedarbrook. Luckily most of the streets are short—and that means lots of stops for collecting candy. While young kids may struggle with the incline on Da Vinci, there's plenty of street parking, so go ahead and hop in the car if little feet get tired.
RELATED: Best Neighborhoods for Trick-or-treating in Los Angeles
Huntington Harbor Homes
This Huntington Beach hotspot is home to waterfront properties ranging from townhomes to multi-million dollar estates. But one thing they all have in common is Halloween spirit, which they show with haunted houses, Disney-themed decor, and homemade graveyards. Trick-or-treaters appreciate the close proximity of houses – meaning more bang for your buck – and parents appreciate plentiful parking.
Fountain Valley
Every year, the residents at Magnolia and Nightingale pick a theme to celebrate Halloween. Kids and kids-at-heart come from all over town just to see the elaborate décor. Previous years themes have included Star Wars, with dozens of people dressed as Luke Skywalker, Princess Leah and Darth Vader, as well as props like the Death Star, X-Wings, and even a Millennium Falcon.
Brea: Treats on the Street
Downtown Brea rolls out the candy corn and bite-size treats for Halloween each year. All participating merchants will have a pumpkin in their window.
Trabuco Road
Irvine is consistently ranked as one of the safest cities in America, so you can rest easy bringing little ones here to trick-or-treat. It's also home to some of the biggest tech giants in the world, and several of them happen to live on Trabuco Road. This affluent neighborhood hands out great candy, plus there's plenty of cool decorations to admire as you stroll the streets. Can't wait until you get home to count your candy? Head across the street to Balloon Park, a local favorite, to add up your haul.
West Katella Avenue
This neighborhood is right down the street from Disneyland, so it should come as no surprise that it's a hotspot for trick-or-treaters. The must-see attraction? Don't miss the Empty Grave, a maze and haunted house designed to scare you silly. There are also plenty of houses handing out candy on side streets, and local businesses get in on the fun doling out treats to kids of all ages.
Originally published October 15, 2016
Top photo by Archibald Jude/CC BY 2.0