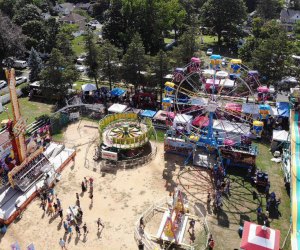 Weekend Events: Summerfest, Retro Gaming Expo, Boat Race
Join Planting Fields Arboretum for a relaxed Neighborhood Night this Saturday. Stroll around Sayville during its annual Summerfest or get into retro mode at the Long Island Retro Gaming Expo.
The Westhampton Beach Historical Society hosts a free Revolutionary War Living History event on the Great Lawn in Westhampton Beach, complete with re-enactments, horses, cannons, and more. These are just some of the exciting events and activities going on for kids and families across Long Island this weekend.
Elsewhere, join Bowlero, AMF, and Bowlmor Lanes across Long Island for two free games on National Bowling Day. Or head outdoors to a boardwalk, beach, pool, sprinkler park, or perhaps to cool off at a water park.
Visit our Summer Family Fun Guide and our August GoList for the best in seasonal entertainment, including day trip ideas and plenty of FREE events and activities. As always, our Event Calendar is loaded with fun, daily happenings for Long Island kids.