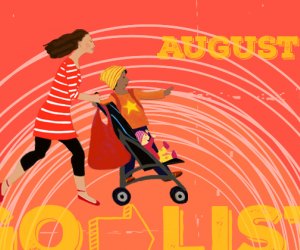 August GoList: Best Things to Do with Long Island Kids
They call them the dog days of August, when it might seem impossible to enjoy yourself in the hot and sticky outdoors of a Long Island summer. Nonsense, we say. In fact, we here at Mommy Poppins think there's plenty to bark about in the final full month of summer.
This month, we're highlighting family events such as street fairs and summer festivals, family days, cultural celebrations, history, and more. Discover nature at Garvies Point in Glen Cove, watch as your kids cast a line at Captree State Park, or perhaps return to a time when games were played minus the iPad.
Whatever you choose, cherish this month, because kids know what's coming in September—back to school. This just might be your final chance to take advantage of our 50 FREE things to do with LI kids this summer.
In the meantime, check out our guide to FREE summer outdoor movies and concerts. And remember, our Long Island Events Calendar offers exciting family options as they develop throughout the month.
Sign up for our FREE newsletters to get posts like this delivered to your inbox.
Things to Do on Long Island in August, 2019
Fairs, Festivals, and Community Celebrations — Islandwide
All month long
August is street fair month on Long Island. With community celebrations in Garden City, Glen Cove, Patchogue, Riverhead, and elsewhere, there's no excuse not to get outside and party with your neighbors. Better yet, make a day trip of it and discover a new destination. Wherever you are and whatever you're into, check out our roundup of August fairs and festivals on Long island for a guaranteed good time.
Outdoor Movies and Community Concerts — Islandwide
All month long
With a return to school looming next month, why not enjoy a FREE night out with your kids and neighbors? Many Long Island communities sponsor free movies and music concerts for families throughout August. For details, see our guides to outdoor movies and community concerts. So spread a blanket, bring a few lawn chairs, pack some snacks, and enjoy the show.
RELATED: Sports Centers and Fun Zones for Kids on Long Island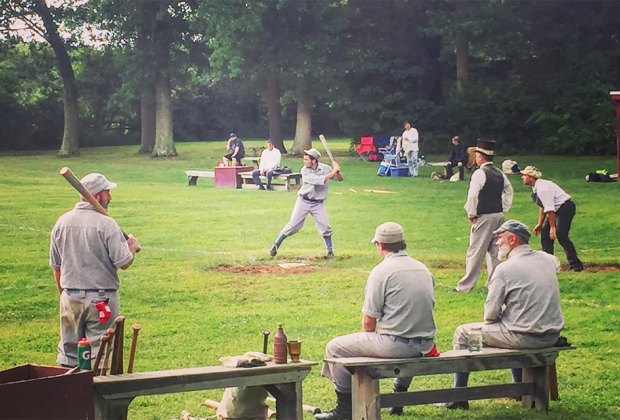 Watch the game as it was played in 1864 at the Doc Adams Old Time Base Ball Festival. Photo courtesy of Old Bethpage Village Restoration
Doc Adams Old Time Base Ball Festival — Old Bethpage
Saturday, August 3
Fan of the national pastime? Or maybe just a fan of all things retro? Either way, you'll want to check out this vintage "base ball" celebration at Old Bethpage Village Restoration, where the game is played (and spelled) as it was in 1864. Enjoy players in vintage uniforms complete with food, beverages, and more. Not a baseball fan? Maybe you'll want to check out the village's Baking Day on Saturday, August 10, where kids 9-12 make lemonade, French toast, pickles, ice cream, and more.
Garvies Point Museum Day — Glen Cove
Saturday, August 3
Enjoy nature walks, a wildlife presentation from the staff of Tackapausha Preserve, a bird watching demonstration from the staff of the North Shore Audobon Society, garden tours, insect studies, nature crafts, and more at Glen Cove's research facility and preserve.
RELATED: Destinations on Long Island Where Kids Can Learn About Diversity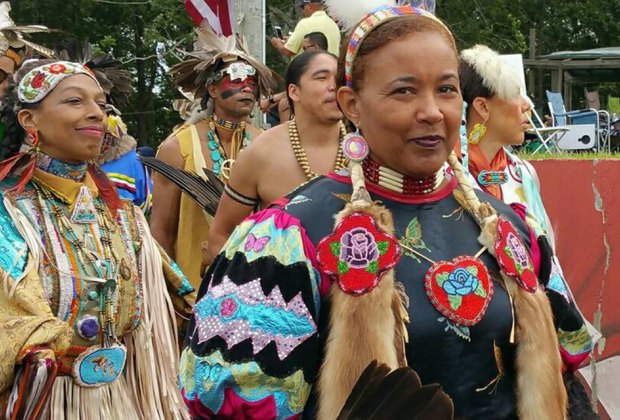 Learn about the culture of Long Island's indigenous people at the Shinnecock Powwow. Photo courtesy of the event
Native American Celebrations — Lindenhurst, Southampton
Paumanauke Powwow, Saturday, August 10-Sunday, August 11
Shinnecock Powwow, Friday, August 30-Monday, September 3
Celebrate Long Island's indigenous peoples at these two great cultural celebrations. In Lindenhurst, enjoy Aztec dress, music, and food in an event full of audience participation. In Southampton, join the 1,300-member Shinnecock tribe in one of the country's largest celebrations of Native American culture, held every year on Labor Day weekend. Marvel at the pageantry of the grand entry every day then enjoy native food, dance, crafts, and more.
RELATED: Long Island's Best Water Parks, Slides, and Amusement Parks for Kids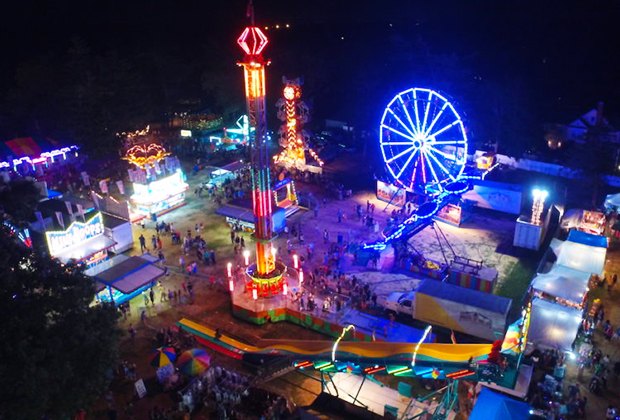 Enjoy the carnival atmosphere at Sayville Summerfest. Photo courtesy of Sayville Chamber of Commerce
Summerfest — Sayville
Friday, August 9-Sunday, August 11
It's carnival time in Sayville with thrill rides, kiddie rides, food, entertainment, and more. Admission is FREE, but you pay for rides. Pay-one-price bracelets are available on Friday night, and a classic car show headlines Sunday. Also enjoy live music, an art exhibit, vendors, and an international food fair.
RELATED: Nature Centers Sure to Delight Long Island Kids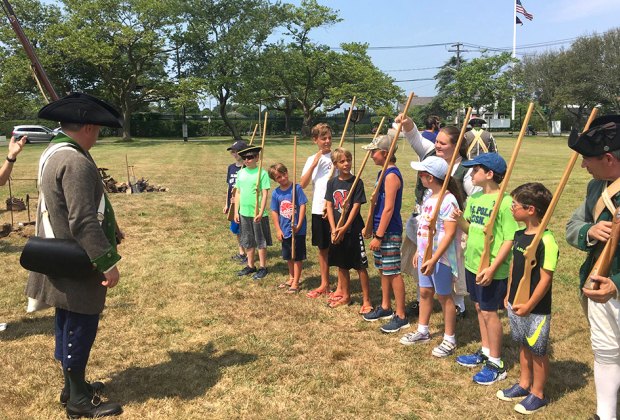 Tap into your revolutionary spirit at American Revolutionary War Living History at the Westhampton Beach Historical Society. Photo courtesy of the society
American Revolutionary War Living History — Westhampton Beach
Saturday, August 10-Sunday, August 11
Join in the revolution with re-enactors from the American and British regiments. Get a glimpse of camp llfe, thrill to horseback drills and artillery demonstrations, and watch as the regiments skirmish at day's end.
Long Island Retro Gaming Expo — Garden City
Saturday, August 10-Sunday, August 11
Play your favorite tabletop board games, enjoy tournaments, vendors, and costume play at this fifth annual event at the Cradle of Aviation Museum. New this year is a sensory calming room for children who need a break from the afternoon's activities.
Snapper and Crab Fishing Derby — Captree State Park
Saturday, August 10-Sunday, August 11
Kids 16 and younger can bring their own fishing equipment or rent on site at Captree State Park. Prizes are awarded for the heaviest snapper (juvenile bluefish) and crab caught in age categories 7 and younger; 8-12; and 13-16. Catch and release is encouraged in this state program designed to introduce kids to fishing. FREE
BeachFeast — Port Washington
Saturday, August 17
Enjoy fun, food, and music on the waterfront in North Hempstead Beach Park. FREE
Lighthouse Weekend — Montauk Point
Saturday, August 17-Sunday, August 18
Fun facts about the Montauk Point Lighthouse: 1) It was commissioned by President George Washington in 1792 as an aid to navigation; 2) It's annual Lighthouse Weekend is a kid-friendly celebration of that Colonial spirit with games, pottery and leather making, the return of 3rd Regiment of the 1776 New York Militia, and, of course, Kings of the Coast pirate shows.
RELATED: 100 Things to Do With Kids on Long Island Before They Grow Up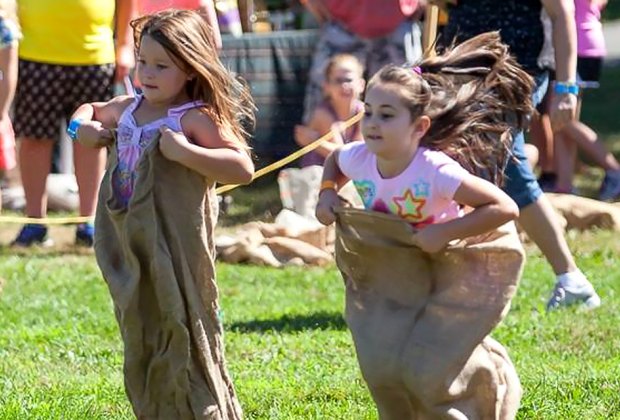 It's not all bagpipes at the Long Island Scottish Festival and Games. Photo courtesy of the event
59th Annual Long Island Scottish Festival and Games – Old Westbury
Saturday, August 24
After some discussion that it might be canceled due to site-fee issues, a compromise was reached and the annual Highland celebration will go on. Watch the caber toss, putting of the stone, and the tossing of the sheaf. Enjoy bagpipe music, Highland dancing, a shortbread baking competition, petting zoo, and more.
Hampton Classic Horse Show – Bridgehampton
Sunday, August 25-Sunday, September 1
This weeklong, world-class equestrian competition features some of the finest riders in the world and is a fixture on the Hamptons social calendar. And it is surprisingly affordable with tickets for some sessions as low as $10 per person and $20 per carload. General admission is FREE for the Monday, Aug. 26 competition, and seniors are FREE Tuesday, August 27-Thursday, August. 29. The event climaxes with the $300,000 Hampton Classic Grand Prix on Sunday, September. 1.