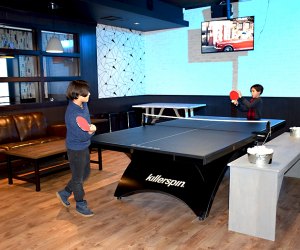 SMASH Ping-Pong House Serves Up Big Fun for LI Families
SMASH, a new ping-pong house, kitchen, and bar, is serving up a unique indoor activity for Long Island families or couples seeking some out-of-the-box date-night fun. Head over to the Levittown hot spot for a smashing good time.
For more active fun, check out our guide to kids sports centers and fun zones on Long Island.
Keep your eyes on the flying balls as you walk into this ping-pong hall with a nightclub feel. Your kids will feel uber hip at this joint, which means bonus cool-parents points for you. Geared toward families during the day and adults in the evening, SMASH lets players of all ages and experience levels "paddle" it out on one of its 11 high-end Killerspin tables.
RELATED: Go-Kart and Slot Car Racing Destinations on LI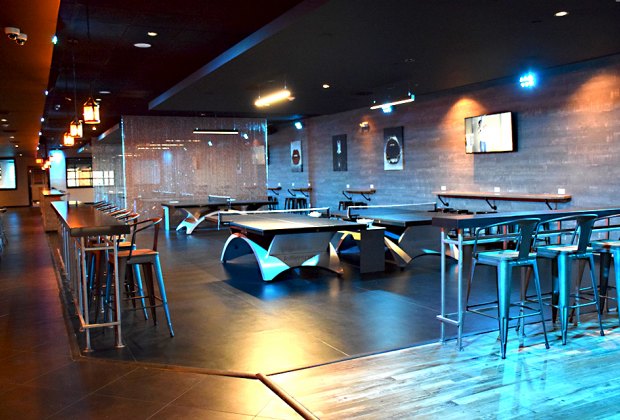 SMASH boasts 11 high-end Killerspin tables.
New to the game? Sign up for lessons. Want to make it a social event? Sign up for a league. Got the competitive itch? Compete in one of its tournaments.
Two spacious private rooms in the rear of the facility hold up to 30 people and are ideal for birthday parties, bar/bat mitzvahs, sweet 16s, and other events. Or bring the family to the main game area that's elaborately decorated with shiny and chic chandelier-esque semiprivate room dividers. Don't fret about the countless errant balls: There's a ball collector wandering around to retrieve them.
After working up a sweat, grab a bite from the kitchen, with aptly named apps such as Dropshot Dip and Smash Wings or Sidewinder Curls Fries and a Backhand Burger. Kids favs. including chicken tenders, mac and cheese and sliders, also are available.
RELATED: Sports-Themed Birthday Party Venues for LI Kids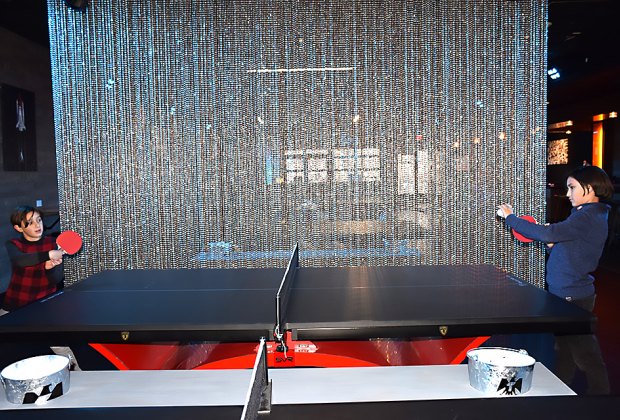 Luxe chandelier dividers offer semiprivate table areas.
Families and children are welcome on afternoons and weekends. However, once the clock strikes 8pm, it's strictly a 21-and-older crowd. Reserve tables ahead of time online or via phone. SMASH is closed Mondays, but open Tuesdays through Thursdays, 4pm to midnight; Fridays, 4pm to 2am; Saturdays, 2pm to 2am; and Sundays, 2pm to 10pm.
Pro appearances are scheduled soon to wow audiences. A pro shop will help you up your gear and game. After one session, I was eyeing a jewel-encrusted paddle handle. A mother can dream.
SMASH is located at 2953 Hempstead Tpke. in Levittown, just east of the Wantagh State Parkway. The phone is 516-629-5600.
Photos by Jaime Sumersille