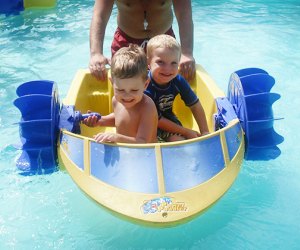 10 Long Island Summer Camps for Preschoolers
Finding a fun, enriching summer camp close to home that is a good fit for your preschooler (or, soon-to-be preschooler) can be nerve-wracking. You want your child's first camp experience to be safe and memorable, but not overwhelming. So where to begin?

Here's a list of 11 Long Island preschool camps that offer a well-rounded summer experience filled with outdoor time, games, arts, sports, and socialization. All offer summer experiences for kids of all ages, so check out their offerings for older children and teens as well.

Remember: Every camp has its own philosophy and program emphasis, so explore the camp's websites, call the director and, if possible, attend an open house. Be sure to also explore our Long Island Summer Camp Guide, or browse through the listings in our Camp Directory.
Benner's Farm — East Setauket
Ages 3-6
Preschoolers can attend Kindercamp at this 15-acre farm for a half-day (9am to noon or 1pm to 4pm) or full day from 9am to 4pm. Campers enroll in one to seven weeks of activities, including garden work, crafts, hikes, swings, water play, and sprinklers. Campers learn about life on the farm and enjoy live shows and visits from animal friends. The camp offers a 6-1 camper-to-counselor ratio and parent/guardian transportation.
RELATED: Half-Day Camps on LI for First-Time Campers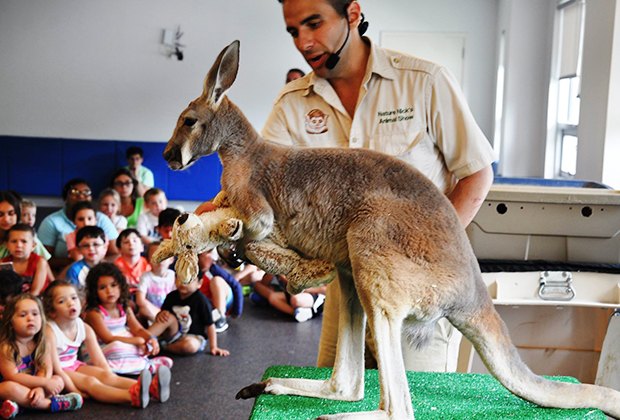 "Nature Nick" Jacinto visits BSDC each year with an assortment of exotic animals.
Beth Sholom Day Camp — Roslyn Heights
Ages 3-5
This camp offers a full-day program (9am-4pm) with the option of a mini-day (9am-1:45pm) for 3- and 4-year-olds. Kids age 5 entering kindergarten attend full day as junior campers. Group leaders are experienced early childhood teachers. Campers participate in age-appropriate outdoor activities as well as arts and science programs in addition to weekly special events. Children receive American Red Cross swim instruction in pools specifically designed for preschoolers. Transportation and car seats are provided. (Campers must be potty trained.)
Buckley Day Camp — Roslyn
Ages 3-5
Parent-and-child program (18 months to 30 months); junior camp (3 to 5 years)
A mommy-and-me-style program is available for toddlers. The Bumblebees parent-and-child program runs Tuesdays and Thursdays for six weeks of the summer and includes yoga, storytime, swimming, science, and more. The camp's preschoolers can enroll in a junior mini-day program, which runs three days a week from 9am to 1pm or the mini-day program, which runs Monday to Friday, also from 9am to 1:30pm. There's also a full day, five-day a week pick. For tots, mom or dad can enjoy the half-day program with their child!
Camp Jacobson — Old Westbury
Ages 3-4
Campers here enjoy a 4-1 camper-to-student ratio and activities that include swim instruction, sports programs, arts and crafts and more. The mini camp in the Early Childhood program run from about 9am to 2pm. Sessions run from two to eight weeks and parental pickup and drop-off is available.
Camp W — Melville
Ages 4-5
Kiddie Camp for the coed "wallabies," the 4-year-olds entering pre-K offers these young campers their own outdoor play arena, including a water slide, separated from the older kids. Expect swim, sports, arts and crafts, and more. Summer guests include musicians, jugglers, farm animals, and more. Two indoor, air-conditioned Kiddie Korner rooms have play kitchens, blocks, trains, construction tables, and other toys. Bus transportation is provided to local children to and from the Birchwood Intermediate School location.
Carousel Day School — Hicksville
Ages 2-2.8 years (toddlers); 3-4 years (not entering kindergarten)
At this 5-acre facility, the youngest campers enjoy a 3-1 camper-to-counselor ratio. Kids swim every day in a kiddie pool, using toys and floats for instructional swim, and enjoy pee wee sports, music, ball pit, playground play, zip lines, and more. This camp offers full-day programs from 930am to 4:30pm only, with early dropoff and pickup options. Children can attend for four, six, or eight weeks with the option of three, four, or five days per week. Sibling discounts are available. Door-to-door transportation is provided and kids receive a camp T-shirt, backpack and group picture.
Crestwood Country Day School — Melville
Ages 2½-4
Preschoolers can enroll for three or five days per week, and either half days or full days. All groups are supervised by a licensed nursery school teacher, usually from Crestwood's private school, and a college student. Kids engage in one period of instructional swim inside and one period of free swim per day. Activities include zip lining, jumping pillow, Ferris wheel, and paddle boats. Four-year-olds use some of the more challenging playgrounds, including the playscape (two-story playground) and playland (big red slides) and generally attend for a full day. Transportation is available.
North Shore Day Camp — Glen Cove
Ages 2½-5
In the Stepping Stones program, kids enjoy an array of age-appropriate softball, sand play, tumbling, and pee wee tennis. There's also swimming in a heart-shaped kiddie pool for kids, counselors and trained instructors. Every Monday, campers are welcomed back after a long weekend with TGIM (Thank Goodness It's Monday), featuring magic shows, music, and more. A new mini-day program runs from 9am to 1:30pm, or you can opt for the full day. Parents can enroll their kids for three- to eight-week sessions. Transportation is provided.
Oasis Early Start Imagination Camp — Port Washington, New Hyde Park, Brookville
Ages 3-5
Oasis, the popular day camp for older kids, also offers an Early Start Imagination Camp, a modified version of its high-energy activities for the preschool set. Tots enjoy arts and crafts, dancing, music, swimming, and sports in shorter periods accompanied by snacks and nap breaks. Oasis offers three locations on Long Island (as well as camps in NYC and elsewhere). Check out the "Ready for September" program, which takes place for one camp period each day with early childhood educators leading the preschoolers through a session of kindergarten readiness.
RELATED: Indoor Play Spaces for Little Ones on Long Island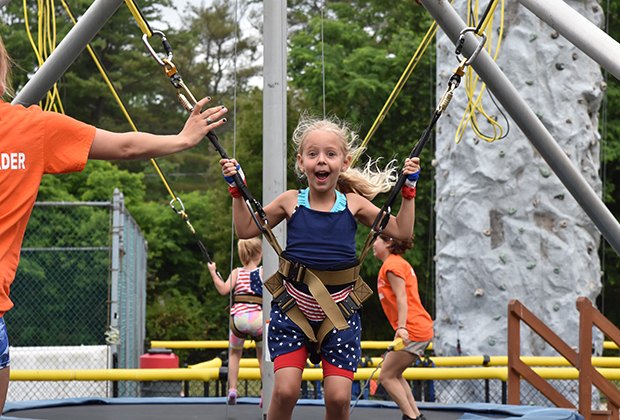 Kids enjoy rock climbing and more at Park Shore Camp in Dix Hills.
Park Shore Country Day Camp — Dix Hills
Ages 2-3 (toddler); 3-5 (preschoolers)
Toddler day camp for 2- and 3-year-olds includes instructional swim, storytime, music, dramatic play, arts and crafts, and cooking. Two- to eight-week sessions run from 9:20am to 12:30pm. Preschoolers (3-5) enjoy athletics in the junior field, trampoline, free swim, crafts, and a skills-based "early enrichment" program each day from 9am to 4pm. The toddler group is coed while preschoolers are grouped by age, grade, and gender, Parents can enroll children for three or five days per week.Transportation and lunch are provided.

A child's camp memories are often their fondest memories. Here's wishing your young ones a joyous, enriching camp experience.
Top photo: Beth Sholom Day Camp in Roslyn Heights offers swimming, sports, music, arts and crafts, and more. Photos courtesy of the camps.