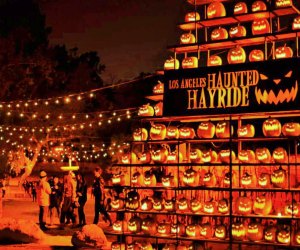 Halloween's Best Ghost Trains and Spooky Rides for LA Kids
So you've already been to the pumpkin patches, and you're ready to take Halloween to the next level; you're ready, in fact, to put it in motion. We know several deadly ways to take this haunt on the road before it's time to trick-or-treat, with everything from an old-fashioned train ride through fields of pumpkins, to a spooky tour through the bowels of a haunted ship, or even a scream-filled hayride through fields of zombies. Whatever Halloween means to your family, you can make it a ride at one (or more) of these vehicular annual haunts. After all, the family that hunts down armies of zombies together stays together.
Note that this post is currently being updated for 2020.

Orange County Halloween Rides
Irvine Park Railroad Pumpkin Patch
Daily September 14 - October 31, 2019
Admission free; Each activity $6
1 Irvine Park Road
Irvine, CA 92862
714.997.3968
This train isn't haunted, but it spends 12 minutes meandering autumnally among the pumpkins. In addition to the Pumpkin Train, kids can jump in a moon bounce, go on a hayride, play carnival games, get their faces painted, and pick pumpkins at Irvine Park Railroad (most activities $5). Be sure to check the coupon page before heading over.

The Pumpkin Patch is located just behind the train station, and admission is free, but the County of Orange charges a gate entrance fee ($5 on weekends) to drive into Irvine Regional Park.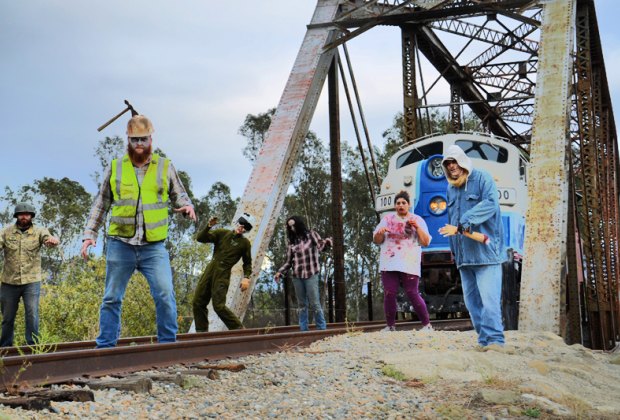 Photo courtesy of Zombie Hunter Train
Ventura County Halloween Rides
Zombie Hunter Train
Weekends October 5 - October 27, 2019
$55; Ride only $25
351 Santa Clara Street
Fillmore, CA 93015
800.773.8724
If you've done a wholesome, moderately spooky Halloween train ride at Fillmore and Western in the past, you can get that one right out of your head; the Zombie Hunter ride is just what it sounds like. Board the train, grab a paintball gun and be prepared to gun down zombies for 90 minutes. Snacks and – wait for it – Bloody Marys are available on board. Children must be at least 8 years old to fire the paintball guns. Younger kids can ride without firing, but, honestly, anyone younger would probably be happier on the Pumpkinliner instead.
Pumpkinliner
Every Sat & Sun in October beginning October 5, 2019
Adults $22; Children (ages 4-12) $15, (ages 2-3) $10, Infants in lap free
Another offering by Fillmore and Western each October is the Pumpkinliner, a daytime family ride on a vintage train to the railway's own pumpkin patch. There's nothing spooky about this ride at all - just a family outing on a Halloween-themed train to a pumpkin patch that feels wonderfully far from town.
Los Angeles County Halloween Rides
Los Angeles Haunted Hayride
$33 and up
Fri-Sun (+ two Wed and two Thurs) September 28 - November 2, 2019
Griffith Park (Old Zoo)
4730 Crystal Springs Ave.
LA, CA 90027
310.993.8289
This is not your mama's hayride. The Haunted Hayride, a vehicular source of thrills and chills not for the faint of heart, causes adult screams through Griffith Park each year. This is an event best shared with teens and no one younger – but boy will your teens think you're cool. If you have kids of different ages, the Halloween carnival set up at the ride's starting point offers options for family members not ready to be scared witless.
Halloween Train Night Run
October 25-26, 2019
Advance $5; Door $7
Wilson Park
2100 Washington Avenue
Torrance, CA 90510
For two nights only, the train folks at Southern California Light Steamers in Torrance gussy up their railway for the holiday. The spook factor is mild and appropriate for pretty much anyone who fancies a Halloween trip through Wilson Park on a model train.
Queen Mary's Dark Harbor
Thu-Sun (and the occasional Wed and Tue), September 26 - November 2, 2019
$20 and up (best prices are online)
1126 Queens Hwy
Long Beach, CA 90802
562.435.3511
The motion here is only side-to-side — or perhaps straight down to the ocean floor depending on which maze you're in. There is no young kids' version of this haunt, but kids 12 or older who like to be scared will love braving the ghosts and zombies of the deep with their cool, slightly freaked-out parents. The historic, purportedly haunted Queen Mary hosts this Halloween Terrorfest on board ship in its Long Beach port, featuring several spooky mazes that wind their way through the hull and bowels of the ship. There is even an add-on tour through the art deco cruise liner's most famously ghost-infested sections. More mazes and fun spill over into the area around the ship, including one maze that creates the illusion of a haunted train ride to Scotland. Costumes are not permitted.
RELATED: LA's Best Neighborhoods for Trick-or-Treating

Photo by Henry Burrows via flickr
Riverside County Halloween Rides
Pumpkin Patch Express
October 12-13, 19-20, 26-27, 2019
Adults $25; Kids (ages 2-11) $15
2201 S. A Street
Perris, CA 92570
The good news is your kids are guaranteed to find the Halloween spirit on this train, and once they do they can visit the petting zoo, jump in the bounce house, enjoy a concert by Nick & Jan, watch a ventriloquist, and have fun with Mister Twister the balloon guy. New this year is the Spooky Caboose -- and be sure to dress up for the costume contest.
Subscribe to our free weekly newsletter to keep up with all of the Halloween fun coming up this season!

Originally published October 2, 2012