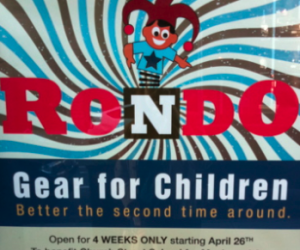 Second Hand Children's Gear Pop-Up Store in Tribeca
I stumbled upon this children's used clothing and toy store that is opening today, April 26, 2010 for just 4 weeks. Rondo says it is to benefit the Church Street Music School, a great music and art school with preschool alternative in Tribeca.
I don't know if they are taking donations or selling on consignment (I assume they are taking donations), but I love shopping for kids gear second hand and it looks like they already have lots of cute stuff in the window.
Take a peek:
Rondo, Gear for Children
74 Warren St, Tribeca, NYC
I assume you can call the Church Street School for more info if you want: (212) 571-7293