Science, Technology, Engineering, Arts and Math (STEAM) Classes for Boston Kids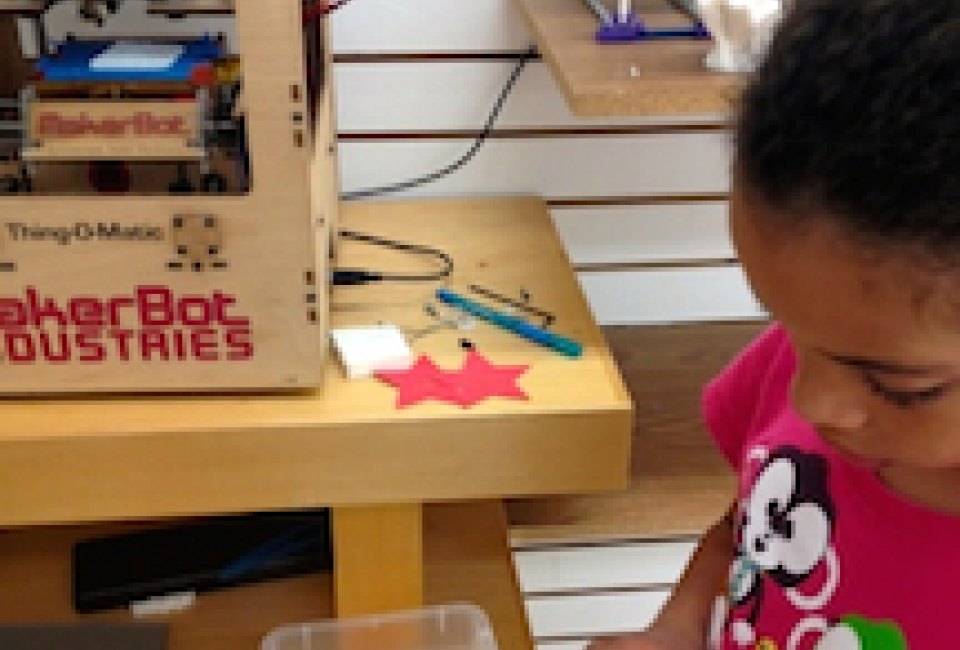 8/20/14
- By
Tara D
Summer is coming to an end, and your kids want to continue to do the amazing things they were introduced to in a STEM summer camp. They're in luck, because the STEM/STEAM (the A adds Arts) offerings for kids in Boston extend into the school year. Check out these places offering unique classes that encourage them to use their creativity while learning STEM-related skills. (Take a look at some really cool places for STEM birthday parties, too.)
​Makerbot Retail Store
144 Newbury Street, Boston, MA 02116
617-307-7828

At the new Makerbot Retail Store on Newbury Street in Boston, kids can take single classes for an introduction to 3D printing. This is a great place to start if you're not sure about committing to a long-term class. And while the kids are in class, you'll definitely want to browse the Makerbot Store, where you can buy unique and inexpensive gifts, have a 3D bust of yourself printed, and explore the maker world.
---
Harvard Museum of Natural History
26 Oxford Street, Cambridge, MA 02138
617-495-3045

Science meets art in the classes for kids offered at the Harvard Museum of Natural History. Students in the HMNH drawing classes learn to draw animals from the museum's collection using a variety of media. Birds of prey, big cats and dogs are captured on paper in single classes, while multi-week sessions feature a variety of members of the animal kingdom.
---
MuckyKids Art Studio
Mucky Kids Art Studio, 1776 Massachusetts Avenue, Cambridge, MA 02140
617-354-0540

MuckyKids Art Studio is really on board with the STEAM movement. A science class in an art studio? Yep. MuckyKids Science Studio challenges kids' preconceptions about the physical world. As they make catapults, explore the physical properties of water spheres and balloons, and discover circuitry, kids will experiment, observe, collect data and generate theories.
---
Parts and Crafts
577 Somerville Avenue, Somerville, MA 02143
617-207-8016

Providing a makerspace/hackerspace for kids and families long before most of us even knew what the term "makerspace" meant, Parts & Crafts is continually evolving and changing to fit the needs of the community. This year, Parts & Crafts has moved away from a traditional classes schedule to a more open, accessible, membership-based afterschool program. Kids and families can drop in during after school hours to take workshops in electronics and programming, use the space to work on independent projects, and connect with other makers.
---
Empow Studios
1776 Massachusetts Avenue 2nd Floor, Lexington, MA 02420
617-395-7527
In addition to the tried and true Game Design with Gamemaker and LEGO Robotics classes, Empow Studios now offers classes in Minecraft Animation, Website Design, 3D Modeling and Printing, App Design, Digital Music Production, LEGO Animation, and Game Design with Unity. There's also an After-School Club for kids in grades 2-8 that offers kids a chance to work on engaging, empowering projects and get their homework done. Bonus: After-School Club members can take any Studio class for free.
---
Einstein's Workshop
25 Adams Street, Burlington, MA 01803
781-202-5645
If I could send my kids to every one of the classes offered at Einstein's Workshop, I would. I've seen the amazing things the kids make there. At Einstein's Workshop, students get to explore the creative side of science and technology with classes in Robotics, Minecraft, and 3D printing. They build with LEGO, create simple machines, construct virtual buildings and civilizations in Minecraft, design puzzles and jewelry using open-source CAD software that they then fabricate using a laser cutter and 3D printer, and program games using Scratch and Arduino. Awesome.
---
The Innovation Institute
288 Walnut Street, Suite 300, Newtonville, MA 02460
617-340-9907
The Innovation Institute is a science & engineering enrichment program for grades K-12. Courses range from Computer Programming and Renewable Energies to Neuroscience and Mechanical Engineering. Students learn alongside professional scientists, engineers and educators.
---
Click Here to Sign Up!