Fidget Spinners, Fidget Toys, and Ways to Help Kids Focus on Remote Learning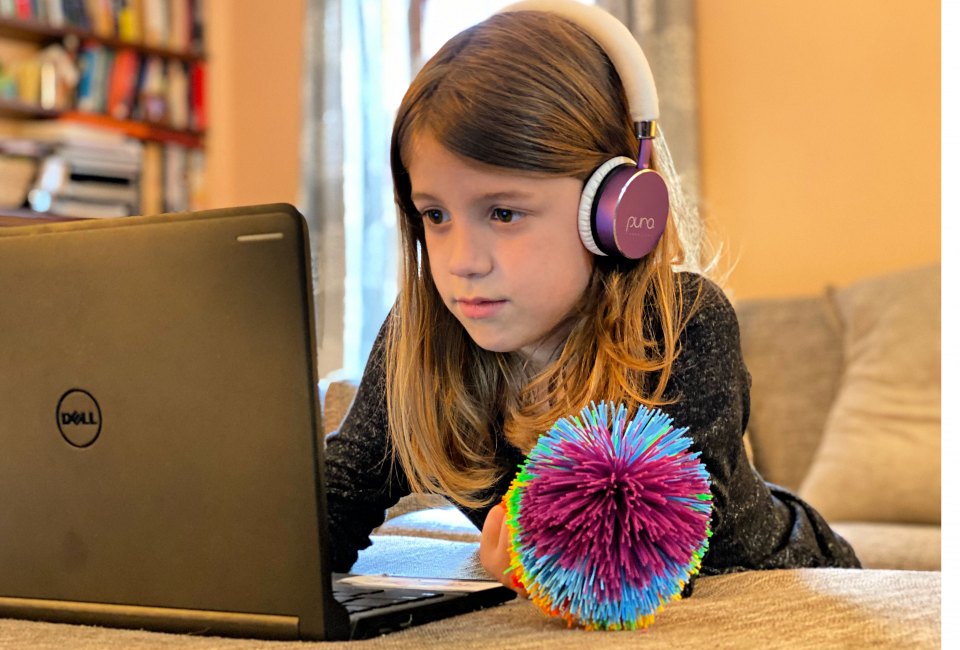 10/8/20
- By
Rose Gordon Sala
Remote learning is now the norm for many American schoolkids, whether that's temporary, part-time, or a yearlong reality. As the year grinds on, parents may be struggling to find ways to keep kids from wandering away from the screen but also to just focus and actually absorb the daily online classes. One thing that some educators and children's therapists are recommending is the use of fidget spinners or fidget toys, as well as sensory items and flexible seating that allows for wiggling and movement.
"You want things they can fidget with but aren't super interesting so that they then become consumed in it, so I would avoid building materials — Magna-Tiles, Legos — or art supplies," says Nina Essel, LSW MS Ed, owner and founder for Balanced Kids, a parent coaching and consulting company in New Jersey.
As a mom to two virtual learners, I asked Essel and several other therapists and educators for their top tips to help parents trying to set kids up for success in remote learning. Here are the fidget spinners, tools, and tips they offered. Find more resources in our Homeschooling & Remote Learning Guide.
Top Tips for Remote Learners
Types of Fidget Toys
"I like the traditional [fidget] spinners, and the Tangle fidget toy, or pencil toppers," says Dr. Stacy Haynes, Ed.D., LPC therapist and owner Little Hands Family Services in New Jersey. "I also teach children to use their own hands, strings on clothes, or their own bracelets if they cannot get an actual spinner. Everyone can benefit from a spinner. I might suggest clay or a handheld spinner for a very active child."
Beth Tyson, MA, a Pennsylvania-based psychotherapist for children and families who specializes in grief and trauma, agrees that simple, often inexpensive items, can put kids in the best mindset for learning. A handful of pom-poms might do the trick for some kids, while kneading silly putty works for others. Tyson also loves attaching velcro stickers under their desk, allowing for a quiet, low-key fidget toy, or Calm Strips, a new sensory texture strip designed with classrooms and kids in mind.
Tyson also suggests asking your child what they think might help them to "feel calm and ready to learn." "They might surprise you with some unique ideas, and it will help them feel in control, which allows children to feel autonomous and safe," she says.
Ground Rules
However, before you hand over the fidget items, make sure to set some ground rules, says Casey O'Brien Martin, a school counselor in Massachusetts and owner of
Whole Child Counseling
. Teach them the item is not actually a toy but rather a tool to help them focus. "Give them some rules and structure around it," she explains. "It stays in your lap. If they're getting to silly with it, then we have to put it away. It's a tool, not a toy." She also suggests keeping fidget items in a special bin that only comes out for school time to ensure these tools remain special.
Movement breaks will also ready kids for learning, everyone interviewed agreed. "Moving their bodies allows them to regulate their emotions, and if their brain is regulated, they have a better chance at learning and comprehending what they are being taught," explains Tyson.
Essel of Balanced Kids recommends gross motor, aka big movement breaks, such as running up and down the sidewalk and jumping jacks before online class begins or during breaks.
Teachers have also advised me as the parent to two young gradeschoolers to minimize distractions in the learning space and to incorporate timers and reward systems to create attentive learners. Read on for more tools and fidget spinners to help kids stay focused during remote learning.

Fidget spinner pens let you click while you work.
Fidget Spinners and Toys for Kids
This fidget spinner is built right in to one of a student's most basic tools: the ballpoint pen.
These balls don't bounce or make any noise, but kids can shake 'em, pull on the threads, and otherwise fidget with them out of sight of the camera. (See top photo.)

Therapists love twisty Tangles.
These classic brain toys come in a variety of textures, sizes, and colors, but all allow kids to twist and manipulate the toy in their hand.
Fidget spinners come in endless varieties, but the basic idea is a simple hand toy to beat stress and keep the holder focused.
A gel timer is soothing to watch but might also serve a dual-purpose to keep everyone on task.

Placing a weighted stuffed animal into a child's lap will help some to remain seated for class.
No pet at home? Try a weighted stuffed animal for a calming effect that might help some wigglers focus in on storytime.
Little hands can stretch this no-mess string into shapes.

Ark Brick Stick
Some kids may benefit from these oral sensory tools that they can nibble while listening to class.
A fidget cube delivers a palmful of mini fidget toys with each side of the cube offering a little button to press or a new texture to examine.

A bowl of Kinetic Sand might be just the right amount of sensory input.
Kids can dig their fingers into this sand or even squeeze it, because Kinetic Sand holds its shape.
Move the marble back and forth in this finger-catcher like fidget toy for a quiet distraction.
Stretch it, shape it, or just roll it around in your hand. Silly Putty also makes less mess than its slime or Play-Doh counterparts, making it just right as a fidget toy.
RELATED: Essential Back-to-School Supply Lists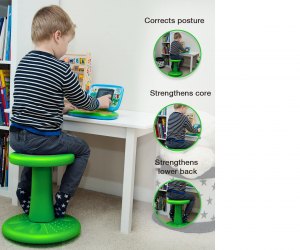 Kids who wiggle while working might prefer an Active Kids Chair.
Flexible Seating for Kids
A portable seat cushion for wigglers, this certainly takes up less space than a yoga ball.
Many kids just need to wiggle a bit to learn. These chairs offer support but also the option to move.

The Kore Wobble Chair comes in toddler and kid sizes.
Another flexible seating option. This stool comes in many sizes and colors.
Convert any seat, floor or chair, to a wiggle spot with this cushion.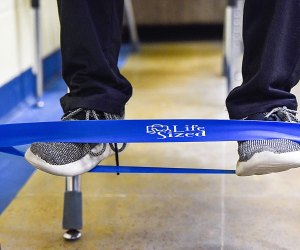 Chair bands let kids bounce away that nervous energy.
Wiggly feet find an outlet with chair bands that tie around the legs of the chair.
Rocking Chair
The gentle rocking motion can soothe and calm kids at any age.
Bean Bag Chair
Sitting in a bean bag chair can almost feel like a relaxing hug, explains O'Brien Martin.

Active kids might appreciate a break with this seat.
Let 'em bounce — quietly and steadily with this balance ball seat.
Best for Movement Breaks

Preschoolers can take an active break with the Wobble Balance Board.
This Montessori-favorite lets kids rock back and forth, balance, slide, and get creative in their movements.
Break away from the scream with a quick bounce session on the Little Tikes indoor trampoline.
A 10-minute bouncing break is sure to settle them down in time for the next lesson.

Spin and rock with the Bilibo toy.
Part toy, part spinning chair, this popular Swiss-designed item can be flipped every which way while kids twirl, tip, or just sit in it. Be aware: It is less chair, more creative muse for the preschool-set. My kids even use it to carry things around the house.
From popcorn push-ups to a round of freeze dance, these exercise games can let kids
Note: The learning tools and products above were all recommended by those we interviewed. Some may contain affiliate links, which means we might earn a small commission if you make a purchase. There is no extra cost to the reader.​
Photos courtesy manufacturers.
t Click Here to Sign Up!