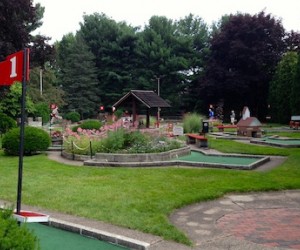 Places to Play Mini Golf in the Hartford Area
Nothing says summer like mini golf -- it's pretty much a requisite activity, along with swimming and ice cream. One of these courses, Farmington Miniature Golf & Ice Cream Parlor, marries two of these things perfectly! There are several other courses in the Hartford area and each have their own unique flavor, so when you are ready to try out your putter, check this guide to choose one your kids might be most interested in. Better yet, work your way down the list and then report back which one was your favorite! We've also rounded up mini golf in Fairfield County.
Farmington Miniature Golf & Ice Cream Parlor
I have been bringing my now five- and seven-year olds to this classic 18-hole mini golf course for two years now and it never disappoints. You will find the windmill, the church with the closing door, the bridge over water (with net to fish your ball out), the deceptively difficult holes with ramps, wavy paths, and funny angles, which my kids are now old enough to start experimenting with. It is manageable for kids, yet provides challenge to adults.
Adjacent to the course is an old-fashioned parlor that serves over 40 flavors of hard scoop ice cream (my favorite is pumpkin; my kids prefer cake batter) along with soft serve ice cream and frozen yogurt. It is priced according to weight.
Both the mini golf and ice cream parlor are open 7 days a week, from 10 am to 10 pm.
1048 Farmington Avenue (Rte. 4), Farmington, CT 06032 / (860) 677-0118
This brand new, Swiss-themed course just opened this summer in Canton. While I have not visited it yet, it has been getting very positive feedback and pictures of the course look beautiful. You will learn interesting facts about Switzerland and Swiss lifestyle as you play holes such as one where you play the ball into a goat shed while avoiding goat droppings and another dedicated to the famed Hadron Collider. There is a large replica of the Matterhorn on the course and employees even dress in traditional Swiss attire. Groups of five can play together.
The course is open from 10 am - 10 pm. .
Route 44, Canton, CT 06019 / (860) 795-0234
Glow Cove Black Light Mini Golf
Also in Canton, a year round option is the glow-in-the-dark mini golf course with black light effects inside Canton Indoor Golf Center. This 18-hole course has a pirate theme. After, kids can hit the arcade and concession area for a slice of pizza and ice cream. Adults and older kids might want to head back for the sports simulators and golf lessons also offered at the Golf Center.
Hours begin at 2 pm Tuesday through Friday (Mondays they are closed) and 10 am on weekends. Close times vary so check the web site.
220 Albany Turnpike, Canton, CT 06019 / (860) 693-4404
Safari Golf offers a unique hillside course with a jungle theme, featuring life size animals, cascading waterfalls, streams, and a cave. My kids always got super excited whenever we drove by the course, saying with amazement, "Mommy I just saw a giraffe on the side of the road!" They were very excited when they were able to finally play the course and adored the animals, especially the elephants. The holes range from fairly easy to difficult. The course is manageable for kids yet reasonably challenging for adults. The main attraction, however, is the cool safari setting.
Summer hours are 10 am - 10 pm.
2340 Berlin Turnpike, Berlin, CT 06037 / (860) 828-9800
Just across the street from Safari Golf is Putter's Paradise at the Berlin Batting Cages. Putter's Paradise offers two courses: the Fun Course, with the traditional windmill, bucketwheels, and wishing well, and the Challenge Course, with rock traps and breaks in the green. Putter's Paradise is part of an adventure complex that also has bumper boats, batting cages, and Go-Karts. There is something for everyone here!
Hours are 3 pm - 8 pm on weekdays and 11 am - 8 pm on weekends.
1823 Berlin Turnpike, Berlin, CT 06037 / (860) 829-0316