12 Parks for Bounce House Birthday Parties in LA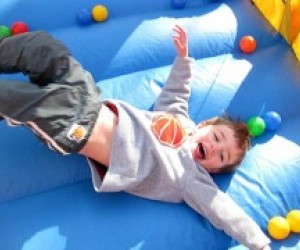 Sometimes we want our kids to have birthday parties teeming with enriching activities and professional party entertainment from start to finish. Other times, we just want them to go outside and jump somewhere far away from the sofa. Families with sprawling back yards might be fortunate enough not to need the information below, but for the many, many LA families raising kids in smaller homes than they ever imagined they would, our wonderful city parks are our life support system; the parks that allow bounce houses can be even more so. Check out 12 great parks we love that let kids enjoy bouncers at their birthday parties.
Note that parties with bounce houses, moon bounces, or other inflatables always require permits. Permit fees vary widely, depending upon the community, the size of the party, and the size of the bouncer, etc. Often local residents get a lower price. Some parks do not allow generators; these offer use of the park's electricity for an additional fee. What with one thing and another, the bounce house permit fee can range from $20 to $200, so be sure to inquire with as many specifics as possible, using the phone numbers below. Also note that some parks have a list of approved bounce house rental companies, so it can be best to start with the park, then choose the company.
Our 12 picks are listed alphabetically below, or geographically on the map to the right:
Arroyo Seco Park - Highland Park
5566 Via Marisol, Los Angeles, CA 90042
323.255.0370 or 213.485.5520
Barrington Park - Brentwood
333 S. Barrington
310.476.4866
Brookside Park - Pasadena
360 N Arroyo Blvd. Pasadena, CA 91103
626.744.7275
Pirate themed playground
Castle Peak Park - West Hills
24220 1/2 Clarington Dr., West Hills, CA 91304
818.883.3637 or 818.883.8531
El Retiro Park - Torrance
126 Vista del Parque, Torrance, CA 90510
310.618.5982
Griffith Park - Los Angeles
4730 Crystal Springs Road
323.665.3051 or 323.913.4688
Holmby Park - Bel Air
601 Club View Dr., Los Angeles, CA 90024
310.276.1604
Lake Balboa / Anthony C. Beilenson Park - Van Nuys
6300 Balboa Blvd., Van Nuys, CA 91316
818.785.5798
Palisades Park - Pacific Palisades
851 Alma Real Dr., Pacific Palisades, CA 90272
310.454.1412
Permit application - range $115-$200 - includes $20 staff fee. SO lowest in any park would be $100 or so. Deopends on number of people etc.
Palms Recreation Center & Park - West LA/Palms
2950 Overland Ave., Los Angeles, CA 90064
310.838.3838
Approved vendors.
Verdugo Park - Glendale
1621 Cañada Blvd., Glendale, CA 91208
818.548.2184
Woodley Park - Van Nuys
6350 Woodley Ave., Van Nuys, CA 91436
818.756.8187
Is your favorite park for bounce house parties not listed here? Please share it with other readers in the comment section below!