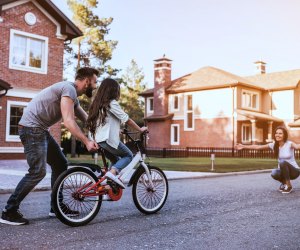 The Best and Worst States for Raising a Family
Everyone wants to raise their family in a healthy, safe, and yes, fun community. But, how do you go about finding the right corner of this country for your family? Trial and error perhaps, but WalletHub is also throwing a little data our way on just this subject. The credit report and personal finance site just released its ranking of the best and worst 50 states in which to raise kids.
It weighed a number of factors to determine the top family-friendly states, looking at schools, housing, crime, childcare costs and quality, parental leave options, salaries, and of course, the amount of family fun per capita, including access to parks and playgrounds.
Read on to find out how your state stacks up—and where you might want to consider relocating to with the kids!
After examining 49 key indicators (more on that later) in each state, here are the top 10 best states in which to raise a family, according to WalletHub's data analysis.
Best States for Families
1. Minnesota
2. Massachusetts
3. North Dakota
4. Vermont
5. New Hampshire
6. New York
7. Wisconsin
8. New Jersey
9. Rhode Island
10. Nebraska
...And bringing up the rear:
Worst States for Families
41. Georgia
42. Oklahoma
43. South Carolina
44. Arkansas
45. Nevada
46. Alabama
47. West Virginia
48. Louisiana
49. Mississippi
50. New Mexico
We dove deeper into the data to find out how some of the states with the most Mommy Poppins readers fared.
Our Boston families are no doubt happy to see Massachusetts in the runner-up slot. It was helped by top scores in education/childcare, and health and safety. But all those strong schools and daycare options aren't cheap, of course. It ranked 21st in affordability overall, which isn't too bad, but 45th in terms of the affordability of its childcare costs. Ouch.
The New Yorkers nabbed sixth place buoyed by its second-place ranking in terms of family fun opportunities and third in overall affordability. The latter looks at debt rates, salaries, college and retirement savings, paid family leave, and other financial statuses and opportunities of its residents. New York state ranked 22nd in education and childcare and 17th in health and safety. But again, it isn't a cheap state to live in. New York ranked 48th in terms of affordable housing and dead last in terms of median family salary when adjusted for cost of living. Yep, that checks out.
New Jersey, which enjoyed the No. 8 slot overall, offers the third highest median family salary, has low divorce rates and infant mortality rates, and it scooped up second place rankings in education, childcare, and affordability. It ranked 26th in terms of family fun. Seems the garden state is what we might call the utility player! The NJ Mommy Poppins team actually found 30 Reasons Why New Jersey is the Best Place to Raise Kids.
Lucky No. 13 on the ranking was Connecticut, which scored very well in education and childcare, but 37th in terms of socioeconomics, which includes factors like divorce and foreclosure rates, unemployment numbers, and job opportunities and satisfaction. It ranked 29th in terms of family fun, which measures the share of families with young children, number of attractions, fitness and recreational sports centers per capita, and share of children who live in neighborhoods that have a park or playground.
Pennsylvania came in 21st with a high family fun ranking (sixth place) and all-around affordability (15th place).
California eked out a position in the top 20 with a 19th ranking overall. Its low infant mortality rates, numerous families with young kids, and first place ranking in the "family fun" category helped it climb upward. Yet it scored 49th for median family salary when adjusted for cost of living and last place for affordable housing options. Unsurprisingly, it also had some of the highest childcare costs.
Texas ranked 31st overall and came in third place when it comes to family fun but dead last for health and safety. It also came in 36th for affordability.
Illinois scored 18th overall with a high family fun ranking (fourth place) and 19th in terms of affordability. It ranked 27th in health and safety and 23rd in education and childcare.
While Washington, DC, wasn't included in the survey, its neighbors, Virginia and Maryland were. Virginia took home 20th overall with a 13th ranking in education and childcare, and 16th for affordability. Virginia also came in fourth for fewest violent crimes per capita.
Maryland ranked 29th overall with a strong showing in education and childcare (14th ranking) and family fun (23rd place). The state tied for Minnesota for second place in the category of lowest number of families in poverty.
Check out WalletHub's number crunching methodology on its site, where it explains how it compared states according to five specific categories: 1) Family Fun, 2) Health & Safety, 3) Education & Child Care, 4) Affordability and 5) Socio-economics. Wallethub evaluated those dimensions using 49 relevant metrics. Factors like number of pediatricians per capita, life expectancy at birth, public high school graduation rates, number of children ages 0-17 who live in a neighborhood with a park or playground, and violent crimes per capita were all in the mix, and then graded and weighted to find the most favorable conditions for family life.