NYC School Zones: Where to Find Accurate Public School Zone Maps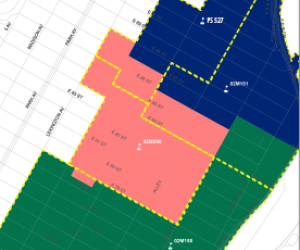 2/23/12
- By
Anna Fader
New York City got an F in geography this month as news got around that 311 (the official New York City info line) has been giving out inaccurate information about elementary school zones. Over the past few years, there has been an unprecedented amount of school rezoning due to the introduction of several new schools to help ease overcrowding. Apparently even the DOE and NYC.gov can't keep up with the changes, so what are parents supposed to do—especially with the deadline for kindergarten applications looming?

I spent several hours sussing out where NYC parents can find accurate school zoning maps. It was not an easy task as there literally is no one place to find accurate school zoning maps for NYC... until now. Read on to see how you can get the right information when looking up your zoned schools.
How to Find Accurate NYC School Zone Maps
NYC DOE School Search Website
The NYC Department of Education website is not only inaccurate, but there are no directions on how to use it. Here are some tips on using the DOE school search map. Important Note: The NYC DOE map is not updated with this year's school zone changes! However, this is a tutorial on how to use the map for zones that aren't currently in confusion.

If you have an address: Type in the address and the site will show you your zoned school.

If you don't have an address: Since many people want to move into a particular school zone, you need to see a map outlining each school's catchment area. The NYC DOE site actually does this, but it's not clear how to see the catchment areas. To see the school zones, look in the upper right corner of the school search map. You'll see there are boxes that say "Standard," "Neighborhoods", "Districts" and "More." If you hover over the "More" box, it gives you options to show details on the map. One of the options is "School Zones." Click on "School Zones" and zone outlines will appear on the map in blue. You can then search for the school you are interested in, an address or just zoom in on an area to see the particular zoning.
Inside Schools
Inside Schools is a great resource for parents interested in unbiased information about NYC public schools. The site covers all five boroughs, and has school reviews and helpful info about education in NYC. Search the Inside Schools website for the school you are interested in and then look at the profile and you'll find a link for the school zoning map. To Inside School's credit, all outdated maps have been removed, but that just means there is no information for schools that have had recent zoning changes.
Is 311 Accurate?
While the folks at 311 were giving out inaccurate info, once they realized their error they acted quickly to correct the situation. During regular business hours, 311 is currently transferring all calls about school zoning to a DOE-trained specialist as per DNAinfo.
School Zone Maps for Areas with Changes: As long as your school zone hasn't changed recently, the DOE and Inside Schools sites should serve you fine. However, Lower Manhattan, the Upper East Side, Bay Ridge, Bensonhurst, Bath Beach and Sunset Park have had school zone changes for the 2012-2013 school year that are not reflected on those maps.
As per Inside Schools, the schools that have been rezoned are:

Upper East Side: PS 158, PS 290, PS 151 and a new school, PS 527
Lower Manhattan: PS 89, PS 276, PS 397 and the new Peck Slip School
Brooklyn's District 20: PS 180, PS 164, PS 105, PS 69, PS 160, PS 163 and PS 200 PLUS PS 160, PS 105, PS 164, PS 180 and PS 69
If you are looking at any of these areas, we have the updated school zone maps below. Click on the map to open a larger image.
Reminder: Kindergarten applications are due by Friday, March 2. Find out more about the process on the DOE's kindergarten admissions page.

Upper East Side School Zone Map 2012-2013

Lower Manhattan School Zone Map 2012-2013
District 20 Brooklyn School Zone Map 2012-2013
Additional District 20 School Zone Changes

Interactive Puppetsburg Show at Brooklyn Greens
Brooklyn Greens
Submerge: NYC Marine Science Festival
Hudson River Park Pier 84

Cirque-tacular presents 'The Art of Circus'
BMCC Tribeca Performing Arts Center

Sign up for our free
newsletters.
Mommy Poppins is a family activity website that helps people find things to do with kids.
©
2023
MommyPoppins. All Rights Reserved.
mp-prod4-v4.32.99
Click Here to Sign Up!
X
Add a link on your home screen.