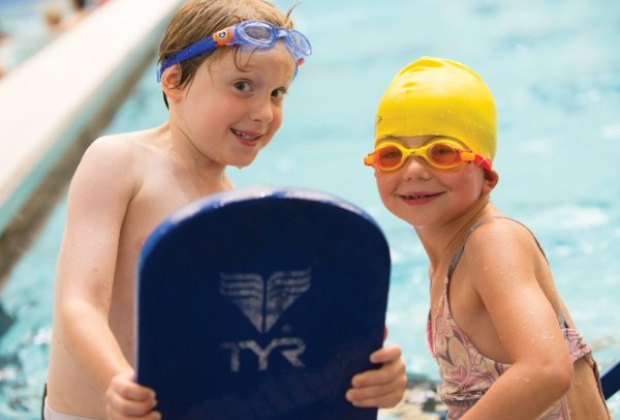 School Closed? These NYC Camps Host Kids on Veterans Day and Other Holidays
Kids love days off from school like Election Day and Veterans Day (Tuesday, November 3 and Wednesday, November 11, respectively). Working parents? Not so much. While there are many wonderful mini-camps to choose from during extended school breaks, it's harder to find coverage for one-off holidays that pop up throughout the academic year.

But we did the research and found a slew of engaging, full-day, drop-off programs on these holidays where kids can enjoy activities like swimming, theater, robotics and chess. So there's no need to take the day off from work or schlep the kids to the office! Send your children to one of these cool holiday camps instead.
All camps below offer full-day coverage on Election Day and Veterans Day unless otherwise noted. Click through to websites for pricing and registration information.
Multiple Locations
Asphalt Green — Upper East Side/Battery Park City
555 East 90th Street between York and East End Avenues
212 North End Avenue between Murray and Warren Streets
Ages 4-12
Veterans Day only
The uptown and downtown athletic center groups campers by age (4-5, 6-7 and 8-12) for a variety of sports including soccer, baseball and basketball, plus swimming in its Olympic-size pool. Day ends at 3:15pm but extended care offered for an extra fee.
New York Kids Club — Manhattan, Brooklyn and Queens
Visit the website for locations.
Ages 3½- 6½
This enrichment center chain offers half-day sessions for tots, and camp until 3pm for ages 4 to 6½. Days are packed with gymnastics, crafts, sports, games and cooking.

Chess NYC — Greenwich Village, Midtown West, Upper East Side and Greenpoint
Zinc, 82 West 3rd Street between Thompson and Sullivan Streets
PS 183, East 67th between York and First Avenues
PS 111, 440 West 53rd Street between Ninth and Tenth Avenues
155 Milton Street between Manhattan Avenue and Franklin Street
This popular chess program runs camps at four NYC locations throughout the school year where kids participate in at least three hours of chess instruction, plus playtime. Note: Not every location hosts camps on every holiday so be careful when signing up!
RELATED: NYC Summer Day Camp Guide
Uptown Manhattan
ACT Holiday Camp — Morningside Heights
Cathedral Church of St. John the Divine, 1047 Amsterdam Avenue at 112th Street
Ages 5-12
One of the best bargains around: $60 per day until 6pm! Enjoy arts and crafts, cooking, reading and playing right underneath the iconic Cathedral (or on the grounds, weather permitting). Campers will also go on field trips to the Brooklyn Museum and the Big Apple Circus on Election Day and Veterans Day, respectively.
The Baseball Center NYC — Upper West Side
202 West 74th Street between Broadway and Amsterdam Avenue
Ages 4-12
Little sluggers can hit this popular baseball spot for camp whenever public schools are closed. Campers hone their skills performing drills and swinging in the batting cages. Half-day options available, full-day pickup is at 3pm.
Chef Toni's Cooking Adventure — Upper West Side
967 Columbus Avenue at West 108th Street
Ages 4-12
Little cooks can spend their school holiday learning a new dish to impress the whole family at this uptown cooking school, which offers half and full-day programs on most vacation days. On Veterans Day, this mini camp will be filled with patriotic fever, including plenty of red, white and blue and a meal cooked for local veterans. A Manhattan downtown location is also available.

Kid's Day Off Camps — Upper West Side
JCC Manhattan, 334 Amsterdam at 76th Street
6-10 years
On Election Day, kids can dive into U.S. history with President for a Day at the Upper West Side's JCC, while Veterans Day brings a behind-the-scenes tour of Madison Square Garden that includes a peek at the locker rooms for the New York Knicks and Rangers. Camps end at 2:45pm.
RoboFun — Upper West Side
2672 Broadway near 102nd Street
Ages 5-12
RoboFun offers half- and full-day programs on most public school holidays. Kids build Lego robots or learn computer coding and video game design. Day ends at 4pm but extended care offered for an extra fee.

RELATED: Summer Sleepaway Camp Guide for NYC Kids
Downtown Manhattan
Brooklyn Robot Foundry — Tribeca
72 Warren Street between Greenwich and West Broadway
Ages 5-10
At this robot building org, kids create a Voting Machine and an LED light project on Election Day, while Veterans Day brings a pair of robot projects. Day ends at 3pm but extended care offered for an extra fee.
The Fashion Class — Midtown West
21 West 39th Street between Fifth and Sixth Avenues
Ages 6-12
Kids get a crash course in sewing and designing, and even walk the runway in their creations at this fashionista camp. Projects change daily making it great for returning campers.

Greenwich House — Greenwich Village
27 Barrow Street near Seventh Avenue South
Ages 5-13
This community institution's camp features artistic activities, field trips, games and sports. Day ends at 4:30pm but extended care offered for an extra fee.
Manhattan Youth: School Holiday Camp — Tribeca
PS 89, 201 Warren Street between North End Avenue and Greenwich Street
Ages 5-11
Open to all kids, not just PS 89 students, this camp offers sports, crafts, theater, swimming and other fun.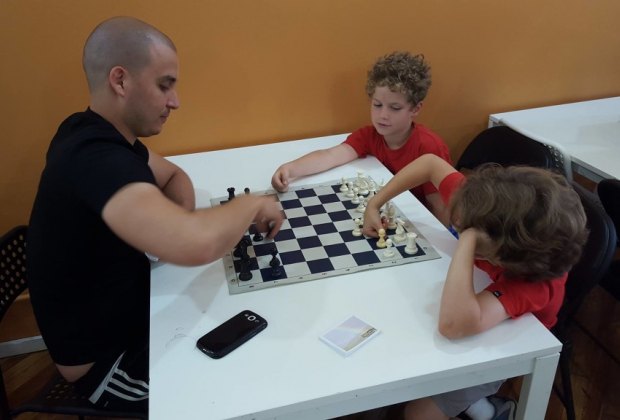 Kids getting their game on at the NYChess Kids Learning Center. Photo courtesy of NYChess Kids.
NYChess Kids Camp — Chelsea
Learning Center, 191 Seventh Avenue between 21st and 22nd Streets
Ages 4 and up
There's a lot more than chess at this camp where kids can also enjoy art, STEM activities and playtime breaks. The organization also offers camp on Thanksgiving (!) and Black Friday, too. Day ends at 4pm but extended care offered for an extra fee.
TADA! Musical Theater Camps — Chelsea
15 West 28th Street between Fifth Avenue and Broadway
Ages 6-11
Broadway babies can explore acting, singing and dancing in TADA's one-day musical theater camps, which are offered on most public school holidays. Each day has a different theme (Election Day is "And the Winner Is," while Veterans Day is "Be My Hero") that kids explore through theater games, improv and dramatic play. Families can even come see what their little stars learned at a climactic mini-performance.
Taste Buds Kitchen — Chelsea
109 West 27th Street, 10 floor at Sixth Avenue
Ages 4-16
Little foodies can get their cook on at this chef camp, which hosts half-day programs for the younger set, including on Veterans Day, the days before and after Thanksgiving, and even week-long sessions over the school winter breaks. Near full-day programs are available for those ages 10 and up. Each day, kids make two to three recipes, while older children will hone their culinary skills.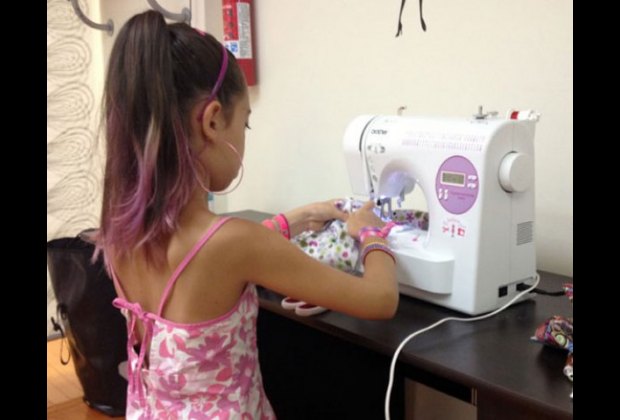 Learning how to design clothing at the Fashion Class. Photo courtesy of the Fashion Class.

Brooklyn
Aviator Sports & Events Center Holiday Break Camps — Marine Park
Floyd Bennett Field, 3159 Flatbush Avenue
Ages 5-13
Kids can have all kinds of athletic fun at this massive Brooklyn facility. Ice-skating, rock climbing, soccer, basketball, gymnastics, crafts and film screenings are just some of what's on tap. Lunch and a light snack are provided. Day ends at 4pm but extended care offered for an extra fee.
Backpacks + Binoculars — Downtown Brooklyn
NY City Explorers, 110 Schermerhorn Street at Boerum Place
Ages 4-10
The brainchild of NY City Explorers, these one-day camps have kids trekking all over town for field trips. Even though campers are back at home base by 4pm, they can opt to stay and romp in the play space until 6pm for no additional fee. On Election Day, kids hit the Queens County Farm Museum, and on Veterans Day, they're off to Roosevelt Island's Four Freedoms Park. Also open on Black Friday and during the winter holiday break.
Brooklyn Acting Lab — Park Slope
1012 8th Avenue at 10th Street
Ages 5-10
This Park Slope theater group hosts dramatic camps for school-age kids during most school holidays, including Election Day, Veterans Day and the week-long winter breaks. Each day carries a theme that kids will explore as they build characters and act out stories led by the organization's teaching artists. Expect music, outdoor play, dance and plenty of dramatic "visual art-making." The day runs 9-5pm, or pay an extra fee for early dropoff and late pickup.
Brooklyn Art Hive — Crown Heights
1201 Dean Street near Nostrand Avenue
Ages 5-8
This children's art program offers themed field trips. On Election Day, campers explore Korean culture at the Children's Museum of Manhattan's Heart and Seoul installation. Activities for Veterans Day to be determined. Although the day officially ends at 3pm, campers are welcome to stay until 6pm for no extra charge.
Brooklyn Robot Foundry — Gowanus
​303 Third Avenue near Carroll Street
Ages 5-10
Just like its Tribeca outpost, this robot building org offers a Voting Machine and an LED light project on Election Day, while Veterans Day brings a pair of robot projects. Day ends at 3pm but extended care offered for an extra fee.

ConstructionKids — Brooklyn Navy Yard
Building 92, Brooklyn Navy Yard, 63 Flushing Avenue near 4th Street
Ages 4-8
This popular after-school, building program offers full-day camps on most public school holidays. On Election Day, kids can build electronic voting machines, while for Veterans Day, campers create Colonial-style flags and drums. Day ends at 4pm but extended care offered for an extra fee.
Created by Kids — Boerum Hill
592 Pacific Street between Flatbush and Fourth Avenues
Ages 5-15
This children's art studio offers creative camps featuring a wide variety of projects like designing puppets, using the potter's wheel and making stop-motion shorts. Day ends at 4pm but extended care offered for an extra fee.

Dutch Total Soccer — Marine Park
Aviator Sports Center, Floyd Bennett Field, 3159 Flatbush Avenue
Ages 7-15
Campers hone their soccer skills using Dutch training methods of strong ball control and tactical development. Day ends at 3pm.
Kings Bay Y Mini Camp — Windsor Terrace
Kings Bay Y at Windsor Terrace, 1224 Prospect Avenue at Vanderbilt Street
Ages 3-13
At this Brooklyn Y, kids can make art, work on greening projects, play music and sports, cook, swim and go on local field trips. Limited seats.
Painted Cloud — Williamsburg
168 Marcy Avenue at South 5th Street
Ages 4-10
This Brooklyn craft spot frequently hosts school holiday camps, including one focused on beading for Veterans Day. The artist teachers here emphasize process over final result, trying to draw creativity out of all its kids, encouraging autonomy and problem solving.
New York Chess & Games — Prospect Heights
192 Flatbush Avenue at Dean Street
Ages 5-12
This Brooklyn chess shop offers coverage on most public school holidays, even Black Friday and Martin Luther King Day. Kids of all skill levels hone their game play, plus enjoy local field trips, board games and outdoor activities, weather permitting.

Pixel Academy — Cobble Hill
163 Pacific Street between Clinton and Court Streets
Ages 7-12
At this Brooklyn maker space, campers can customize Minecraft worlds, experiment with 3D printing, create video games and make comic books. There are breaks for outdoor play and lunch, which is included in tuition. Day ends at 2:30pm but extended care offered for an extra fee.
Queens
82nd Street Academics — Jackson Heights
81-10 35th Avenue between 81st and 82nd Streets
Ages 5-11
This school opens its doors to all during public school breaks for just $45 a day, including meals! Kids enjoy group projects, drama workshops and outdoor play.

Long Island City Kids — Long Island City
5-02 50th Avenue at 5th Street
Ages 4-12
This popular enrichment center offers chaperoned day trips for campers during school breaks. For Election Day, campers visit the Brooklyn Children's Museum, and on Veterans Day, they go ice-skating.
Top photo of campers at the Olympic-size pool at the Upper East Side's Asphalt Green provided courtesy of the venue.