Macy's New Balloons Take Flight Before Thanksgiving Day Parade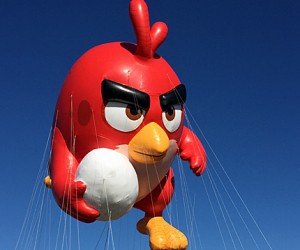 The countdown to Thanksgiving is in full swing and that means the NYC Macy's Thanksgiving Day Parade is looming large on the horizon. We've already given you our insider tips for where to watch the parade and how to manage the crowds at the balloon inflation, but now we're sharing a sneak peek of four of the giant balloons set to join the 89th annual parade on Thursday, November 26, for the very first time—or the first time in a number of years.
Macy's held a test flight Sunday in the Citi Field parking lot so new additions could get a few steps under their wings before the big parade day. Read on to meet the cast of (new) characters.
Angry Birds' Red
Red makes its debut ahead of the The Angry Birds Movie, which will be released in May 2016. Red looks like he's en route to a Thanksgiving football game carrying an egg under his wing. The stout bird is 44-feet long and 45-feet tall, while his eyebrows alone measure 7-feet wide!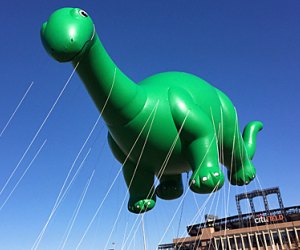 DINO has flown down Broadway before.
DINO by Sinclair Oil
Sinclair Oil has previously sponsored a DINO balloon in the parade, but he was retired 40 years ago! He's back and bigger than ever—DINO is the only life-size balloon in the lineup. An apatosaurus, he measures 72-feet long, 24-feet wide and 36-feet tall.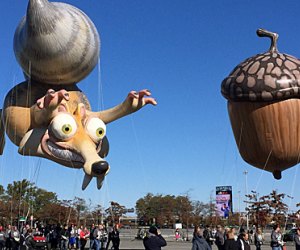 Scrat's tail alone is 41 feet long!
Ice Age's Scrat and his Acorn
Pint-sized moviegoers have grown accustomed to watching Scrat chase his acorn in Ice Age, but the squirrel has his work cut out for him as his chase must now include navigating parade crowds and Manhattan city streets! To give you an idea of scale, Scrat's helium acorn would require 15 million real-lie acorns to fill its volume.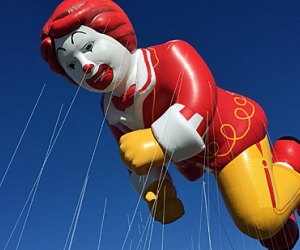 Ronald McDonald's update includes a snappy new sport coat.
Ronald McDonald
Ronald McDonald is no stranger to the Macy's Thanksgiving Day Parade; this is the fourth iteration of the lovable character to fly above the streets of Manhattan. He debuts just in time to celebrate McDonald's 60th anniversary. At nearly 70-feet tall, it's no surprise those red shoes also measure up at 6-feet long.
Returning balloons include Thomas the Tank Engine, Pillsbury, Kool-Aid Man, SpongeBob, Snoopy, Hello Kitty and many others. All told, the parade will feature 17 giant balloons, 27 floats, 12 marching bands and more than 4,000 Macy's employee volunteers. As always, Jolly Old St. Nick will ring in the holiday season from his perch at the parade's finale.
For more ways to celebrate the holiday, visit our Thanksgiving Fun Guide.
All photos provided courtesy of Macy's.