Kid-Friendly Cinco de Mayo Celebrations in Boston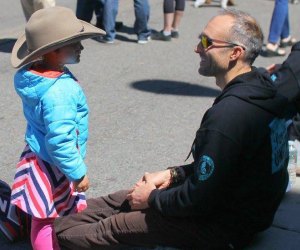 Cinco de Mayo is typically associated with bottomless margaritas and bar crawls, which are not exactly family friendly. But there are ways to celebrate the holiday that don't involve adults-only activities. In fact, it's the perfect time to get a little history and cultural lesson in with a dash of fun—and a great way to welcome spring.
Cinco de Mayo is often mistakenly thought to be Mexico's Independence Day, but it's actually a celebration of the Mexican Army's surprising victory over the French at the Battle of Puebla in 1862. Learn more about the holiday and have some fun celebrating at these five Boston-area kid-friendly Cinco de Mayo events.
Taza Chocolate Annual Cinco de Mayo Block Party
Saturday, April 30 from 1-5pm
One of the most festive and family-friendly Cinco de Mayo celebrations happens every year at Taza Chocolate in Somerville. The free Block Party takes place outside the chocolate factory and includes an afternoon of food from local favorites Empana, Taco Party, The Happy Taco and Tex Mex Eats. There will also be music, lots of chocolate to sample and for the adults, Somerville's Slumbrew and Bantam Cider will be on hand too. In case of rain, the block party moves to Sunday, May 1.
All You Can Eat Taco Party
Wednesday, May 4 from 6-8pm
Head to the Kitchen at the Boston Public Market the day before Cinco de Mayo to celebrate with an All You Can Eat Taco Party. This make your own taco fiesta will feature tortillas and Mexican-inspired taco fillings straight from the market next door. For the adults at the party, there will be a cash bar selling beer, wine and margaritas. Offered in partnership with The Trustees of Reservations, the taco party costs $9 for members and $15 for nonmembers.
Circle Time Passport to Kindergarten
Thursday, May 5 at 10:30am
This isn't strictly a Cinco de Mayo event, but Circle Time Passport to Kindergarten at the Boston Children's Museum is a great way to celebrate the heritage of the day. During the hour-long circle time, kids ages 3-5 years old can enjoy stories, songs and creative activities in Spanish and English, giving them a glimpse into the culture surrounding Cinco de Mayo.
Cinco de Mayo: An ArtsUnion Event
Thursday, May 5 from 6-10pm
This year join the Somerville Arts Council for a free Cinco de Mayo celebration in Union Square. This family-friendly event features Mariachi music, dancers, and kids' activities like making maracas, lucha libre masks and a giant pinata. No Cinco de Mayo fiesta would be complete without Mexican food, so head to one of the local participating restaurants for a festive feast. El Potro and Cantina Mexicana, both in Union Square, are local favorites for an authentic experience.
Cinco de Mayo Cultural Festival
Friday, May 6 from 10am-6pm
Celebrate Cinco de Mayo the day after the holiday with a day-long cultural festival in Lawrence at City Hall Plaza. The free fiesta features entertainment from singers, dancers and musicians as well as festive food. Plus, local craftsmen and businesses will be on hand. This is the first year of Lawrence's family-friendly celebration.
---
Top image courtesy of Taza Chocolate in Somerville