25 Things To Do With Kids in Somerville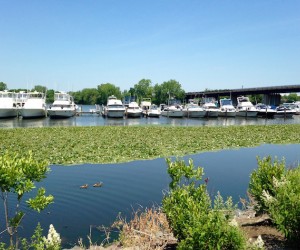 Somerville has been experiencing a renaissance in recent years as young families have opted to stay closer to the city center when they have children. From festival-going to exploring a new neighborhood like LEGOLAND Discovery Center's home at Assembly Row, there's plenty to do with kids of all ages. Here are 25 ideas for family fun, whether you call Somerville home or are just visiting.
1. Play Outside: Many of Somerville's parks and playgrounds have been undergoing renovations in the last few years, making them nicer than ever. One of the local favorites is East Somerville's Chuckie Harris Park, which features a giant slide that kids—and adults—will enjoy.
2. Cool Off: The majority of Somerville's playgrounds also have water features, making them the perfect place to cool down during the warmer months.
3. Bike, Walk or Run: The Somerville Community Path extension opened this year, so the route now runs from Lowell Street through Davis Square, where it eventually connects with the Minuteman Commuter Bikeway. It's the perfect place for a family bike ride, walk or run.
4. Open a Book: Each of the three branches of the Somerville Public Library has a children's room with toys and scheduled activities for kids like sing-a-longs and story time. Bonus: Reserve a museum pass through the library and visit local attractions for a discount!
5. Go Swimming: Somerville has two outdoor pools that are open in the summer, Latta Brothers at Foss Park and Dilboy Memorial, and one indoor pool that's open year-round at the Kennedy School. Latta is free, Dilboy has seasonal family passes and the Kennedy Pool offers lessons and free swim for a variety of prices (Somerville residents get a discount).
6. Play with LEGO: Located in Somerville's Assembly Row neighborhood, LEGOLAND Discovery Center is a fun place to spend a day as a family. Kids ages 3-10 will love the rides, MINILAND of Boston landmarks and colorful play areas.
Inside LEGOLAND Discovery Center Boston
7. Go to Market: Somerville is lucky to host a farmers' market nearly every week of the year. They're a great place to stock up on fresh, local food, and to bring the kids for live music and activities like story time and face painting. Check out individual websites for Assembly, Davis Square, Union Square and the Winter Market for details.
8. Be Entertained: The newly renovated Somerville neighborhood of Assembly Row sits on the bank of the Mystic River—yes, Somerville has a waterfront—and features a riverside playground, amphitheater for live music in the summer and often hosts events for kids.
9. Celebrate the Community: Somerville is home to many fun festivals that are perfect for the whole family. From ArtBeat and HONK! to SomerStreets, each one has activities for kids and is a great way to get outside in the city and participate in the community.
10. Discover a Pop-up Playspace: Knucklebones comes to Somerville several times per year for various events, like the free Local is for Lovers Holiday Market at the Arts at the Armory.
11. Grow Something: The Somerville Community Growing Center, an enchanting garden in Somerville, opens for drop-in playgroups in the summer, holds workshops for budding young farmers and features special events like a Maple Syrup Boil Down in February.
12. Come Inside and Play! Somerville Recreation's indoor playspace is open every day from 9 am-1 pm and caters to kids ages 0-6 with activities in separate themed rooms like arts and crafts, reading and games and movement.
13. Join a Playgroup: Somerville Family Learning Collaborative Playgroups are free-to-Somerville-residents playgroups for children ages birth to 5 years and are held on weekdays at local public schools. Groups are available in English, Spanish, Portuguese and Nepalese and include free play, stories and circle time.
14. Dress on a Dime: Kids grow like weeds, so chances are you're always looking for cute clothes. Look no further than Two Little Monkeys, a Somerville consignment shop with quality items, like clothing for ages 0-10, toys, books and baby gear, for great prices. Plus you can consign your used items there when you're done with them!
15. Be a Sport: If your kids want to learn to play hockey, football soccer or basketball, or participate in activities like Parkour, look no further than Somerville Recreation, which offers sports and other fun for preschoolers on up.
16. Play Inside: Perfect for a day indoors, The PlayPlace offers drop-in/drop-off play, classes and events for kids ages 0-5 in a fun, imaginative space.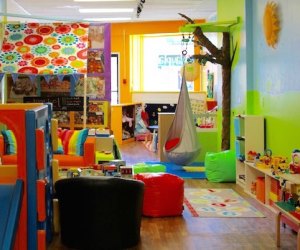 The PlayPlace Somerville
17. Say Namaste: Bow Street Yoga Kids Camp is specially formatted for kids during many school breaks. Little yogis learn postures, breathing and relaxation exercises, get to explore their creativity through crafts and learn cooperation through partner yoga.
18. Make Something: Makerspaces have been gaining in popularity and Parts & Crafts in Somerville is geared specifically to children with school-vacation camps, after-school programs, classes and workshops, open shop hours and special events.
19. Go Ice Skating: Gather the whole family for a fun afternoon of free ice skating at Somerville's Veterans Memorial Rink. Bring your own skates or rent them during one of several open skating sessions held each week.
20. Be Sweet. Union Square Donuts makes delicious doughnuts that are all the rage in Boston, and with good reason: they're fabulous! Take your kids into the Somerville shop for a treat they're sure to love.
21. Choose a Cup or Cone: Somerville is home to several terrific ice cream shops. From the newest, Gracie's Ice Cream in Union Square, to the old school (seasonal) Louie's in East Somerville, there's a flavor for everyone. J.P. Licks has two Somerville locations, you can find Cambridge's coveted Christina's at Q's Nuts outside of Davis Square or customize your frozen yogurt with toppings at Orange Leaf or iYo Cafe in Davis.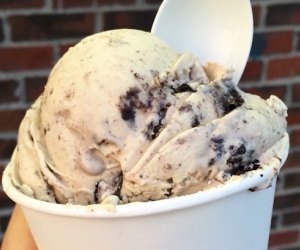 A heaping scoop of ice cream from Louie's in East Somerville
22. Welcome the New Year: Visit Somerville's iconic Prospect Hill on New Year's Day for the Grand Union Flag Raising Celebration complete with a visit from George Washington and a rare chance to climb the tower for stunning views.
23. Go Sledding: One of the most fun things to do with kids in the winter is go sledding and if this winter is anything like last year's, you'll have plenty of opportunities. Head to Powder House/Nathan Tufts Park in Somerville for the perfect local sledding spot.
24. Shop in Style: The little sibling to the original Magpie store, Magpie Kids is a colorful, welcoming place to shop for your kids or to find a present for a baby shower or birthday. The shop regularly hosts events like Jeff Jam sing-a-longs.
25. Sing Along: Local children's musician Jeff Jam plays regularly at several spots in Somerville, like the aforementioned PlayPlace, Somerville Public Library and Magpie Kids. He's also available for parties and teaches classes in Cambridge.
---
What are your favorite things to do with kids in Somerville? We'd love to hear your suggestions!