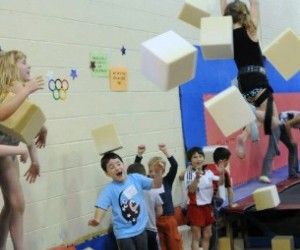 10 Indoor Birthday Party Places for Active Kids West of Boston
What do climbing, skating, swordsmanship, batting, and swimming have in common? They are all great birthday party options for kids who like to keep active. Sure, indoor playspaces are awesome locations for kids' birthday parties, but we've found some unique places west of Boston that kids - and parents - just might want to consider.
Of course, they all come with all the advantages of hosting a party indoors and not in your home - plenty of space, no weather worries, no mess to clean up afterwards, and minimal preparation required for parents. Read on for details about 10 indoor birthday party places west of Boston where you can host a party and be assured that kids will be able to channel their energy and excitement in a safe, entertaining environment. And check out our Birthday Party Guide for more places to have a kid's birthday party in MA, including our roundup of indoor birthday party places for active kids in Boston.
Boston Rock Gym
78G Olympia Avenue, Woburn
781-935-7325
Best for Ages: 5 and up
Average Party Size: 10
Boston Rock Gym's two-hour birthday party package includes 90 minutes of climbing with professional instructors who manage the ropes and encourage the children in a fun and non-competitive environment and 30 minutes in a private party room. The Boston Rock Gym provides climbing harnesses, shoes, and plenty of climbing terrain as well as tablecloths, plates, cups, napkins, and utensils. All you have to do is bring the kids and the cake. Packages begin at $300 for up to 10 kids. Parties are available for booking Sat & Sun 1pm-3pm; 3:30pm-5:30pm, and 6pm-8pm. Book online or call for more information.
---
Burlington Ice Palace
36 Ray Avenue, Burlington
781-272-9517
Ages: 5+
Average Party Size: 15+
An ice skating party includes ice time and use of a party room. Fees include the standard facility ice rental rate ($225 for 50 minutes). Skates can be rented for $5 per pair payable at the arena on the day of the event or $75 for unlimited pairs payable at the time of reservation. There is a special gift for the guest of honor. Burlington Ice Palace has a party room for gifts and cakes, available for rental at $25/45 minutes. Bring your own decorations and food (no candles or pinatas, please). Book at least 2 weeks in advance and be aware that winter weekends book up pretty fast due to youth hockey and high school hockey organizations. Call 888-74-SKATE to reserve.
---
Extra Innings
100 Parker Street, Watertown
617-393-3858
Good for Ages: 7 and up
Average Party Size: 10-15
Extra Innings Indoor Baseball birthday party packages include fun in the batting cages, a large private party room, fresh pizza, sports drinks and all the paper goods and clean up provided by Extra Innings. You just need to bring the cake. Total party time 1 hour & 45 minutes. Call to reserve your party.
---
Exxcel Gymnastics and Climbing
80 Wells Avenue, Newton
617-244-3300
Good for Ages: Gymnastics Party, 3 and up; Climbing Party, 7 and up
Average Party Size: Gymnastics Party, up to 20; Climbing Party, up to 15
Choose from gymnastics- or climbing-themed parties.Exxcel parties include one hour of gym activities and thirty minutes of celebration in a festive party room. All parties include age-appropriate games and activities that are accessible to all levels of ability. No prior gymnastics or climbing experience is needed for your children or their guests. Parties are scheduled on Saturdays and Sundays, and climbing parties are also offered Friday evenings. Call to arrange your party.
---
Frozen Ropes
14 Tech Circle, Natick
508-653-7673 (ROPE); natick@frozenropes.com
Best for Ages: 5 and up
Average Party Size: 15
No, kids won't get cold hands at Frozen Ropes, but rather your "MVP" and "fans" can enjoy a baseball or softball party filled with games and contests. A Frozen Ropes party includes professional instruction; live hitting and throwing contests; speed gun and accuracy contests; fielding and pitching games. The standard 1 1/2-hour party package includes one hour on the field and a 1/2 hour in the party room for cake, food and gifts. Each guest receives a t-shirt, too. Call or visit in person to reserve your party.
---
Guard Up! Family Swordsmanship
103 Terrace Hall Ave, Burlington
781-270-4800
Best for Ages: 4 and up
Average Party Size: 10+
Guard Up! birthday parties (they call them "adventures") are for kids ages 4 and up. Packages include a basic option of an hour of foam sword or Nerf games in the training rooms run by a certified instructor as well as an additional 30 minutes of time in a party room where kids can enjoy cake and presents (provided by the host). Guard Up! provides paper goods and utensils. Some of the many additional options:
Larger adventures (up to 50 participants)
Role-playing adventures where the heroes and staff play characters in an interactive story which changes depending on the heroes' decisions
Themed adventures based on popular video games, books, movies, comics, etc.
"Stilt Monsters," where a trained and costumed staff member on stilts becomes a monster for the heroes to fight in a grand battle
Guard Up! recommends reserving your adventure 1-3 months in advance due to the limited number of adventure spots available. To make your reservation or for more information, please call 781-270-4800.
---
LazerZone
416 Boston Post Road, E, Marlborough
508-303-9900
Best for Ages: Most packages 6 and up; Special package for kids under 6
Average Party Size: 8
My friend's son has had his party here for the last four years, and plans to have it here for the next four! Party package options are numerous and include choices of one or two LazerTag games, the ThrillZone (a climbing structure for kids ages 10 and under), and tokens for the arcade. Party packages include server, table, paper products, pizza, and unlimited soda and popcorn. Packages begin at $139.99, or you can build your own package from a menu of options. Add ons like a private party room, birthday cake, and party favors are also available. Reserve at least 3 to 6 weeks in advance.
---
Little Flippers Swim School
7 Strathmore Road, Natick
508-647-0077; info@littleflippersswim.com
Best for Ages: 5 and up
Average Party Size: up to 14
Party guests take part in supervised pool activities including obstacle courses, games, challenges, and lots of water play. After the fun and play in the water, you'll move to the party room to continue the celebration. Parties are 1.5 hours with 1 hour spent in the pool and wet areas and 30 minutes for time in party room. Parties are now being scheduled for Sunday afternoons, from 1pm-3pm. Reservations accepted 3 months in advance; book your party online.
---
Nashoba Valley Olympia
34 Mass Ave/Route 111, Boxborough
978-263-3020; nvo3@verizon.net
Best for Ages: 5 and up
Average Party Size: 10
We've spent many an hour at these rinks, for both figure skating lessons and hockey games, and have even hosted a party here. Birthday parties are available during the public skating sessions and include an exclusive party area, skating, 3 large pizzas, and a free future skate pass for each child. You provide cake, decorations, paper goods and drinks. Cost: $130 for 10 children; $10 each additional child. Skate rentals are available for $6/pair (note that rentals need to be arranged in advance). Call to arrange your party.
---
Planet Gymnastics
7 Strathmore Road, Natick
508-647-1777
Good for Ages: 2 and up
Average Party Size: 2- to 3-year old party: 15; 4 & up: 18
A Planet Gymnastics party includes private use of the gymnastics room, with supervised gymnastics activity including, obstacle courses, parachute games, trampolines, foam pit fun and more, plus use of the party room for refreshments, cake and pictures. Parties for 2-3 year olds Parties for children turning 2 and 3 years old can currently be scheduled on selective Sunday mornings at 10am, Tuesday afternoons at 12n, and Wednesday afternoons at 12:15pm. Parties for children ages 4 and up are scheduled on Saturday afternoons and all day Sunday. Reservations are accepted 3 months in advance.