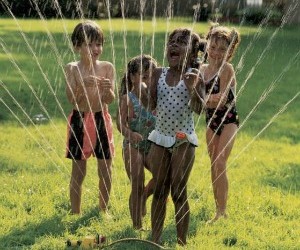 Fun & Free Things to Do with LA Kids this Weekend: Play Together, Sand Castles, and Rocket Fever, Aug 16 - 17
Now more than ever, the world needs to play. Whether you're already in academic mode or eking every last ounce of freedom out of summer vacation, the weekend is all yours. Some of you have been working the Summer of Play from the get go, but it's never too late to start. And I can think of no better way than the ultimate pop-up play attraction designed by Disney Imagineers, (perhaps you're familiar with some of their other work, such as a little spot called Disneyland.)

Whatever your back to school date, summer won't last forever. Like sands in the hourglass, so are the castles on our beach, so you best get to building. The Great Annual Sand Sculpture Contest lets you show your skill with a plastic shovel and bucket. Sand castles in the sand, baby; it's going to be legendary!
Need more inspiration? How about sea-faring robots? Scooby's birthday? A soul icon? We've got rocket revelry and mud madness, a hoe-down, a cleanup and music that goes boom. So much to do, and only two days to squeeze it into.
Keep reading for our most playful picks this weekend ....
ALL WEEKEND
Kaboom! Play Together Tour - Anaheim
Disney Imagineers designed an obstacle course so you can get some serious Summer of Play-worthy play on.

The Quibbling Siblings - Culver City
The free children's theatre ends its summer season this weekend at Carlson Park.

A Midsummer Night's Dream: Friendship is Magic - Culver City
Or you could gather your bronies and trot over to Media Park for some My Little Pony-inspired Shakespeare.

Planes: Fire and Rescue 3D (PG) with Live El Capitan Show - Hollywood
Fly to the El Capitan Theatre for the last weekend of the Planes sequel.

82nd Annual Great Sand Sculpture Contest - Long Beach
Professionals as well as community and corporate teams gather to build incredible works of art at the Great Sand Sculpture Contest.

Family Amphitheater Performances - West LA
On Saturday, Kinetic Theory delights with acrobatic circus arts. Sunday, Birdie's Playhouse entertains with kids music - with a Latin twist.

Free Weekend Screenings from the Paley Center Archive - Beverly Hills
This weekend, kids catch up on the works of Russian animator Genndy Tartakovsky, (Dexter's Laboratory, Samurai Jack) on the big screen at the Paley Center.

Garden Concerts for Kids - West LA
The last Getty closes out its Garden Concert series with one of Boston's premier folk artists, Alastair Moock.

Griffith Park Free Shakespeare Festival 2014 - Griffith Park
A salon discussion on Taming of the Shrew precedes Saturday's performance. Before Sunday's performance, a free family workshop explores the world and language of Twelfth Night.

SATURDAY AUGUST 16

Big!World!Fun! - Hollywood
Versa-Style Dance Company takes kids on a high energy journey through the history of street dance around the world.

Kid-lympics - Santa Monica
Santa Monica Kid-lympics promotes fitness, fun and family for kids in third, fourth and fifth grade. Families can watch the children participate in a running relay, soccer challenge and a basketball competition.

Nothin' But Sand Beach Cleanup - Playa del Rey
This month's cleanup is at Dockweiler State Beach in Playa Del Rey.

Rocket Fever! - Downey
Blast off for a day filled with rocket building and rocket launching at Columbia Memorial Space Center

Storytime with Sarah Maizes - West LA
Sarah Maizes presents an interactive reading of her book On My Way to School at Children's Book World.

Norton Simon Family Day - Pasadena
Families can learn about and create textured sculptures at the Norton Simon Museum.

Aesop's Fables - Topanga
And the moral of the story is… go see Creative Playground's take on Aesop's tales at the Theatricum Botanicum.

Robotics by the Sea - San Pedro
In So Cal even the robots hang out at the beach. Cabrillo Marine Aquarium's annual event looks at robotics used in underwater exploration.

Scooby-Doo Birthday Bash - Glendale
R'uh roh! Scooby's having a birthday with games, an invitation station, a mystery machine bounce house, cupcakes, face painting, temporary tattoos and more, outside Glendale's Party City.

Watson Adventures' Wizard School Scavenger Hunt - West Los Angeles
It's elementary my dear Watson: the Hogwarts-influenced items you seek can be found at the Getty Center in this muggle-friendly scavenger hun

Movies in the Park - Downtown
Don't panic: the sci fi movies at Grand Park have a comedy theme: Hitchhikers Guide to the Galaxy with Spaceballs.

150th Anniversary Celebration & Concert - Wilmington
The Banning Museum celebrates its anniversary with a high-energy hoe-down.

Redondo Beach Summer Music Festival - Redondo Beach
Give Up the Junk! (Not an anti-hoarding statement, but the name of the Funk/Jazz band performing at Redondo Pier.)

Street Food Cinema - Glendale
Marty McFly goes Back to the Future at Glendale Central Park

Marina Del Rey Summer Concert Series: Pop Saturdays - Marina Del Rey
Seriously? A free concert by Roberta Flack? You're killing me! Softly!

Movies on the Green - Woodland Hills
Batter up for a free screening of The Sandlot at Warner Center Park.

Tchaikovsky Spectacular with Fireworks - Hollywood
Tchaikovsky. Fireworks. Hollywood Bowl. 'Nuff said.

Electric Dusk Drive-In - Downtown
Wayne's World! Drive in! Excellent!

SUNDAY AUGUST 17

A Faery Hunt - Tarzana
Where can those faeries be? Perhaps at Tarzana Community and Cultural Center?

Family Flicks: Lassie - Westwood
What's that, Lassie? Timmy is at a free screening of Lassie Come Home at the Hammer Museum?

Mud Mania - Long Beach
It's all good clean fun. In a messy, muddy, bring a change of clothes kind of way.

Kids Run the Bases - Dodgers Home Game - Echo Park
The Dodgers play the Brewers and kids run the bases and get a kids' lunchbox. Talk about a home run!

Kids in the Courtyard: Mask Making - Westwood
Kids create their own masks inspired by the ones on display at the Fowler Museum. A Concert with Dafra Drum follows.

Grand Performances: Sock Puppet Sitcom Theatre presents Jack and the Beanstalk -
Downtown
Sock Puppet Sitcom Theater takes on the classic fairy tale "Jack & the Beanstalk."

And it wouldn't be summer without the free outdoor concerts:

Manhattan Beach Summer Concerts in the Park Manhattan Beach
Scott Whyte plays Polliwog Park Amphitheater.

Jazz on the Lawn - Santa Monica
The Tom Nolan Band's mission is to get folks to dance! At Stewart Street Park

Playa Vista Concert in the Park - Playa Vista
N'DEMAND plays covers of pop hits and dance music by Pink, Maroon 5, Christina Aguilera and others at Playa Vista.

2014 Music in the Park - Laguna Beach
Bluebird Park is filled with the sounds of reggae, with Lesterfari & Kings Music

Concerts on the Green - Woodland Hills
Percussionist Poncho Sanchez performs a mix of jazz, soul, and Latin American and South American melodies and rhythms.

Sierra Madre Concerts in the Park - Sierra Madre
Memorial Park Bandshell's last concert of the season has Sierra Madre Music performing top 40 covers.

LevittLA Summer Concert Series - Children's Concerts in MacArthur Park - Downtown
Silk Road ll performs Korean & Mongolian dance at Levitt Pavilion.

And yes, there are many more activities listed on our daily events calendar. Whatever you choose to do this weekend, we hope you have a joy-filled time. Nanoo nanoo and seize the day!