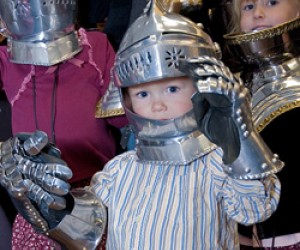 Fun & Free Things to Do with LA Kids this Weekend: Coastal Cleanup, Getty Chivalry and the Spiders' Return, Sept 20 - 21
If you're reading this, it means we made it through the last heat wave (and without the benefit of a fancy name like Heat-maggedon or Hotpocalypse, either!). Lucky us, because this weekend is really too good to miss. It's got lords & ladies, XBox One, trucks for touching, spiders, The Sound of Music, coastal cleanup, Minnie & Mickey, and Thais, Swedes, Koreans, Greeks, Latinos, and lobsters getting all festive. For starters.
In case you're wondering how you're going to power through all these fair skies and good times, never fear: this weekend even comes complete with its own refreshments: BOGO coffee, free coffee, and, if you're willing to show your pirate side, free donuts!
Yup, this weekend it's smooth sailing. Next week, on the other hand... I'm not sure which of these is going to scare you more: a) the heat is coming back or b) we are in countdown mode for Halloween. Aaaaand they run away screaming.

Keep reading for our hottest (oops) picks for this weekend....
ALL WEEKEND
Pasadena Greek Fest - Pasadena
Take a trip to Greece, with dancing, music, a kids' zone, and tons gyros, souvlaki, and moussaka.

Festival of Children - Costa Mesa
The free children's festival continues at South Coast Plaza with live performances throughout the weekend.

LA Korean Festival - Los Angeles
Korean culture and heritage take center stage at this four day fest.

Disney Live! Mickey's Music Festival - Hollywood
Minnie, Mickey, and friends lead kids on a musical good time, with segments from Aladdin, The Little Mermaid, and Toy Story.

Autumn Moon Festival - Santa Ana
Bowers Museum celebrates the tradition of the Autumn Moon Festival with a children's art festival, face painting, moon cakes, art projects, music, and lion dances.

Ticket to the Twenties - City of Industry
It's the bee's knees and the cat's pajamas! The Homestead Museum sends families back to the Roaring 20s in this annual festival.

Free McDonald's Coffee - Multiple Locations
Mmm. Coffee. Free coffee.

Moompetam: Celebrating Coastal Native Americans - Long Beach
Aquarium of the Pacific celebrates the indigenous California Coastal cultures.

LA County Fair - Pomona
Fairgoers can have an encounter with a live stingray, explore the rainforests of China, and enjoy some wild rides before taking in a concert by Martina McBride.

Thousand Oaks Arts Festival - Thousand Oaks
More than 60 visual arts exhibitors, live performances, and children's hands-on artistic and interactive exhibits fill Thousand Oaks Civic Arts Plaza in this free festival. This year's honorary co-chairs are actor Patrick Warburton and his wife, visual artist Catherine Warburton.

SATURDAY SEPTEMBER 20

Coastal Cleanup Day - Multiple locations
What better way to teach kids to appreciate southern California's most beloved natural resource, than to take part in cleaning it up? This is the state's largest volunteer event of the year.

Getty Family Festival: Chivalry - West LA
Little knights and damsels can travel to the age of chivalry in a day-long Family Festival at the Getty Center that celebrates all things noble.
Microsoft Store Grand Opening - Canoga Park
The latest Microsoft retail store opens at Westfield Topanga, with a high energy ribbon cutting ceremony, a chance to play XBox One with hockey player Dustin Brown, and giveaways throughout the day.

Miles Open House - Santa Monica
The Miles Playhouse invites the community for an open house. The fun includes a Princess Pirate Sing-a-long and Parade, a shadow puppet show and puppet-making workshop, and a performance by the Santa Monica String Quartet.

National Seat Check Saturday - Torrance
90% of checked car seats are being used incorrectly. Make sure your child's seat is correctly installed at this free event (appointments strongly advised!).

Family-Friendly Premiere: I AM ELEVEN - West LA
The Zimmer hosts a premiere of this documentary that looks at 11 year-olds around the globe.

Sing-A-Long Sound of Music - Hollywood
Live out your childhood dream of being a Von Trapp at this annual sing-a-long at the Hollywood Bowl.

Southern California Children's Museum's Touch-a-Truck - Arcadia
Touch it - you know you wanna! Kids can climb on dozens of vehicles, plus enjoy the beach ball dump and Cozy Coupe carwash. New this year: a Horn-Free Hour from 9am-10am.

Inland Pacific Ballet Nutcracker Auditions - Montclair
Inland Pacific Ballet holds auditions for the children's roles in its upcoming production of the holiday classic. Young dancers ages six to twenty from any school or studio in southern California are welcome to audition.

Street Food Cinema - Glendale
Coraline screens under the stars in Glendale Central Park, as an adventurous girl finds another world that is a strangely idealized version of her frustrating home, but it has sinister secrets. (The older crowd can catch Aliens in Exposition Park.)

SUNDAY SEPTEMBER 21

Spider Pavilion Opening Day - Exposition Park
It's just like the Butterfly Pavilion, only with spiders. Big hairy spiders. You're not chicken, are ya? (Cause these spiders might swallow a chicken whole, so for your sake we hope you're not.)

Tiny Tot Olympics - Malibu
Who's too little? At the Tiny Tot Olympics in Malibu Bluffs Park, preschoolers can run and jump and dodge their way to the gold.

Scandinavian Autumnfest and Marknad Celebration - Agoura Hills
The Scandinavian festivities in Vasa Park include a huge waterslide, zip lines, train rides, swimming, a kids' rock climbing wall, and other games and activities. (And Swedish meatballs.)

Thai Cultural Day - Los Angeles
The richness of Thai culture and cuisine takes center stage in this day-long festival at Barnsdall Art Park.

Peter Alsop - Topanga
The headliner at Peter Alsop's Kids Koncerts at Theatricum Botanicum is none other than the founder himself, Peter Alsop. The award-winning Alsop sings funny sing-a-long songs loved by kids and parents alike.

Latino Heritage Festival at MOLAA - Long Beach
MOLAA's Latino Heritage Festival celebrates Latin American culture in this free festival through art workshops, live performances, food, unique craft vendors, and gallery tours.

Family Flicks: The Wild Parrots of Telegraph Hill - Westwood
Hammer Museum offers a free screening of this documentary that looks at the tropical parrots who live in San Francisco's Telegraph Hill.
Double Play Baseball Open House - Van Nuys
Batter up! The new state of the art baseball training facility invites ball players of all ages for an open house.

Frozen Party - Los Angeles
It's a party, it's Frozen-themed, and it's in a brand new play space. What else do you need to know?

Zimmer Sunday Family Programs Mid-Wilshire
The Zimmer celebrates International Day of Peace with a "Pinwheels for Peace" craft. (Visualize whirled peace!)

And as always, there are many more activities listed on our daily events calendar. Whatever you choose to do this weekend, we hope you have oodles of fun!