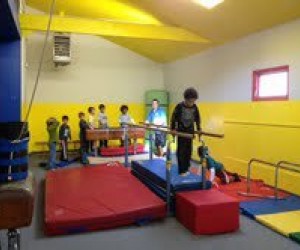 December Vacation Camps for Boston Kids
Wouldn't it be nice if we all had the day off every time the kids got a day off from school? If you're scrambling to find childcare for December vacation, take a look at these camps in and around Boston. You may not have the day off, but you can rest easy, knowing that your kids are safe, staying active and having fun (while you toil away at work).
If you're planning to be home for the holidays and need some fun things to do with the kids during those long school-free days, check out our Holiday Fun Guide for ideas aplenty.
---
Boston JCC – Kid's Choice December School Vacation Program at Leventhal-Sidman JCC
During the Kid's Choice December School Vacation Program at Leventhal-Sidman JCC, kids participate in a daily choice of electives including sports, swimming, arts and crafts, dance, cooking, board games, rock climbing and more. Special highlights include: Kids on Stage theater games, a visit from the Museum of Science, and a New Year's Eve Party. You can sign your child up for 1 day or all of them, and early drop-off and extended day are available. A nice bonus: You can order lunch for your child instead of packing a lunch each day.
Where: Leventhal-Sidman Jewish Community Center, Gosman Jewish Community Campus,
 333 Nahanton Street, Newton, MA 02459.
When: December 23-24, 26-27, and 30-31 from 9 am-4 pm. Early drop off from 8:15-9 am and extended day from 4-6 pm for an additional cost.
Who: Kids in Grades K-6. CIT program for for Grades 7-9 also offered.
How much: $ - $$$ (member discount, early bird pricing for registrations before December 10, and sibling discount available).
This December, Wheelock Family Theater is offering some really great vacation week intensives: An Introduction to Comedy (for ages 6-8), Writing and Performing 5 Minute Plays (ages 9-11), and Shakespeare training for teens in collaboration with Commonwealth Shakespeare Company.
Where: Wheelock College Boston Campus, 
200 The Riverway, Boston, MA 02215. T to Fenway or Longwood on Green Riverside line (D train)
When: December 26, 27, 30 and 31, 2013, 9 am-3:30 pm
Who: Ages 6-8, 9-11 and 12-16
How much: $$-$$$
Viking Sports – December Multi-Sports Camp
At the Viking Sports December Multi-Sports Camp, the emphasis is on fun. Kids get to play a variety of sports, including soccer, basketball, baseball, flag football, dodge ball, capture the flag, and floor hockey. If your goal is to keep your kids active during vacation, this might be just the thing. Sign up for all five days or single days - whatever works for your schedule.
Where: Brookline High School, Main Gym Facility, 66 Tappen Street, Brookline, MA
When: December 23, 26-27, and 30-31, 2013, 9 am to 3 pm. Early Drop Off 8-9 am. Late pick up 3-6 pm.
Who: Kids in Grades K-5
How much: $-$$
Contact: 508-358-5066
---
Gymnastic Academy of Boston - December Vacation Camp
Gymnastic Academy of Boston's December Vacation Camp provides kids with lots of opportunities to be active; playing sports, doing both structured gymnastics and open gym, and playing games that get their bodies moving. Campers will also get some time to relax and create arts and crafts.
Where: Gymnastic Academy of Boston, 128 Smith Place, Cambridge, MA 02138
When: December 23, 2013 - January 3, 2013, 9 am - 3:30 pm. Half day and extended day available.
Who: Ages 3.5 and up, must be potty-trained
How much: $-$$$
Note: We make no guarantees about the availability of space in the camps. Please contact the camps directly for more information and space availability.
Originally published November 28, 2012; updated December 8, 2013