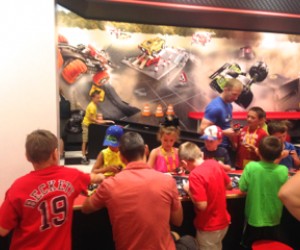 Best Boston Birthday Party Places for Kids Who Love STEM (Science, Technology, Engineering and Math)
If you have a young builder-maker, budding scientist, or technology enthusiast in your house, there are birthday party possibilities around Boston that will thrill you both. You could choose 3D printing at Einstein's Workshop, design challenges at the LEGOLAND Discovery Center, paleontology at the Discovery Museums, nature exploration at the Blue Hills Trailside Museum, or from among many other science, technology, engineering and math (STEM) themes. You'll not only be celebrating your child, you'll be celebrating your child's interests and dreams for the future. Plus, your kid will have a super cool party, which is what it's all about. Here's the lowdown on geektastic parties in and around Boston.
Einstein's Workshop
25 Adams Street, Burlington, MA 01803
781-202-5645 or email: parties@einsteinsworkshop.com
Einstein's Workshop is the place to go if your child is a builder or maker. You can choose a basic building party, where the kids have free reign over the Workshop's Drop-In creative exploration space and exclusive use of a private party room. There are also project-centered parties that focus on a specific project, but also give party goers access to the building space during and after the party. Check out the Premium Parties if your child and her friends are obsessed with Minecraft, want to try out laser cutting or 3D printing, or would love to program a robot. Parties are offered 10am-6pm weekdays and weekends. Get party details here.
---
LEGOLAND Discovery Center
598 Assembly Row, Somerville, MA 02145
617-440-5565
LEGO fanatics will relish a birthday party at the LEGOLAND Discovery Center at Assembly Row in Somerville. In addition to a themed private birthday party room, cake and other extras, packages include unlimited time for young engineers to explore the Discovery Center. This means rides, car design challenges and races, short 4D movies, an earthquake table and building design challenge, karaoke, a play zone, and lots of building with LEGO. The Premium Package also includes a private Master Model Builder Workshop, and the kids get to take home their creations from the workshop. If you want to know more about the LEGOLAND Discovery Center before you decide on a birthday party for your child, get the scoop in my review post.
---
Discovery Museums
177 Main Street, Acton, MA 01720
978-264-4200 ext. 22 or fun@discoverymuseums.org
A birthday party at the Discovery Museums can be both fun and affordable. All parties include time in a private party room and unlimited exploration both the Children's Discovery Museum and the Science Discovery Museum. You can add on science and engineering party activities like LEGO construction, paleontology, a boat engineering challenge, or designing a hook to use for a rescue mission (the fun part). Parties offered weekends and weekdays, but weekday parties are half price (the affordable part).
---
Many of the Mass Audubon wildlife sanctuaries in the area offer birthday parties for kids. Here are some highlights for kids who are into science:
Blue Hills Trailside Museum
1904 Canton Ave, Milton, MA 02186
617-333-0690 | bluehills@massaudubon.org
Blue Hills Trailside Museum is a gem whether you're dropping in, attending a program, or celebrating a birthday. Birthday party packages include admission to the museum and grounds, a naturalist program, and exclusive use of the museum auditorium. Parties are for kids ages 3 and older and are scheduled for two hours on Saturdays or Sundays from 2:30 – 4:30 PM.
Boston Nature Center
500 Walk Hill Street, Mattapan, MA 02126
617-983-8500
Birders are born at the Boston Nature Center, where you can borrow a birding kit and go exploring on the trails. For birthday parties, the naturalist program is based on your child's age and interest, and is followed by an hour of celebration in one of the Center's classrooms. Birthday parties are offered weekends only.
Museum of American Bird Art
963 Washington Street, Canton, MA 02021
781-821-8853 | slee@massaudubon.org
Parties at the Museum of American Bird Art typically include an hour exploration of the wildlife sanctuary with an experienced teacher or a special art project, followed by an hour of cake and games in the Living Room of the Estate House (which has a beautiful garden). Activity choices include pottery, tracking animals, and exploring the field or the vernal pool (seasonal). Parties can be scheduled afternoons Monday-Friday 3-6pm or on weekends year round. To schedule a birthday party or for more information, contact Sharon Lee at 781-821-8853 or slee@massaudubon.org.
Habitat
10 Juniper Road, Belmont, MA 02478
617-489-5050
Habitat is a great place to get outdoors with your family year round. You can choose birthday party topics like growing a garden, Bubble-ology, or making rockets. Whichever party theme you choose will include some time outside. Parties are designed for children turning 6-10 years old and are offered September through June on weekday afternoons and on weekends. Contact Jane Higgins at 617-489-5050, ext. 203, or send an email to jhiggins@massaudubon.org.
---
Photo: LEGOLAND Discovery Center - Boston