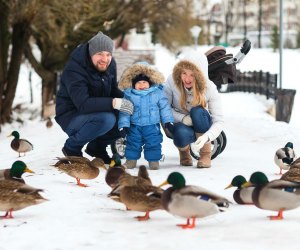 11 Things to Do with Your Boston Baby this Winter
Now that winter has really set in with its frigid temperatures and snowy days, keeping a infant or toddler entertained can be challenging. With a new baby of my own, I'm always looking for reasons to get out of the house for a change of scenery—I find it helps both my little one and me avoid cabin fever. Here are 11 of my favorite ideas for busting boredom and staying sane during these chilly weeks.
1. Make a habit of going to a regular storytime for babies. Taking advantage of the free story hours at libraries, stores, and even farms around the area great way to get out of the house. There are often singalongs and other activities geared for all ages, but even just exploring new books can be a breath of fresh air.
2. Go outside your 'hood to a library that doubles as a great play space for babies. These awesome libraries really cater to littles with quiet toys, games, puzzles and space for crawlers and toddlers to roam. And many libraries provide free or discounted museum passes to members, which leads me to my next suggestion...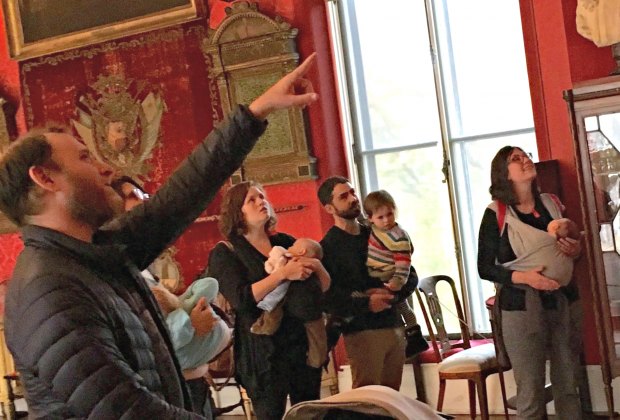 Soak in some culture with baby. Photo courtesy of Parents Tours
3. Take advantage of deep discounts for babies and baby-friendly tours at museums. If your child is really young, bring them to a museum that you like so they can nap in the stroller or carrier while you take in some art. Dozens of museums and attractions around Boston are free for babies. We recently did this with my baby and he loved looking around the Museum of Fine Arts once he woke up (they even have play dates for slightly older kids). The Davis Museum at Wellesley College offers really popular and relaxing stroller tours each month, and Gore Place in Waltham hosts babywearing tours.
4. Bundle up and get out! If the weather isn't too frightful, bundle up and head outside for a breath of fresh air. You can stretch your legs right in your own neighborhood or you can venture to a local walking path or park...spots like the Public Garden (downtown) and Wellesley College's Lake Waban (out in the Metrowest 'burbs) are populated with ducks, geese, and swans (at Lake Waban, they are there year-round!) that babies love to look at. And if it's too cold to stay outside for long, walk indoors at a local mall. It's one of my go-to activities for sneaking in a stroller nap and some exercise now that the ground is so icy.
5. Shop around for a great play place or playgroup. There are tons of indoor play places all over the Greater Boston area that are perfect for your baby, toddler or older kid. Many local cities and towns also have free or inexpensive moms' groups or playgroups that can you can sign up for in advance or drop in to if you're not ready to commit. These are the options in Boston, Cambridge and Somerville.
6. Find out if your local book store that has story times or singalongs. Libraries aren't the only places to hear music or a new book. Many local kids' stores, bookstores and play places also host storytellers and musicians for weekly events that are usually free. Stick around after for playtime or head to a nearby coffee shop with fellow moms to keep the outing going.
7. Go to a babywearing event. Babywearing International hosts regular meetings so you can try on or even borrow baby carriers—and meet other moms, dads and caregivers. Plus the group often gets together for fun activities like brunch at kid-friendly restaurants. Both are great ways to get out and meet other parents and their little ones. You can also get some exercise while babywearing when you attend one of Mama Ballroom's classes.
8. Keep up with—or start—a yoga practice. There are tons of yoga studios in and around Boston that have classes geared toward mom where baby is welcome. In my experience, these have been one of the most fun ways to get out of the house and meet other moms. The classes are helpful for healing postpartum and a fun way to entertain baby in a different environment.
9. Take in the sights and smells (and pick up dinner) of one of Boston's great markets. Cold weather makes me want to eat all the comfort foods, and there are no better places to find delicious treats than the Boston Public Market and Eataly. They are both super kid friendly (BPM even has a children's play area) and the perfect spots to spend a chilly morning or afternoon. And because Eataly is in the Prudential Center, you can walk off your pasta and pizza without ever having to put your coat on.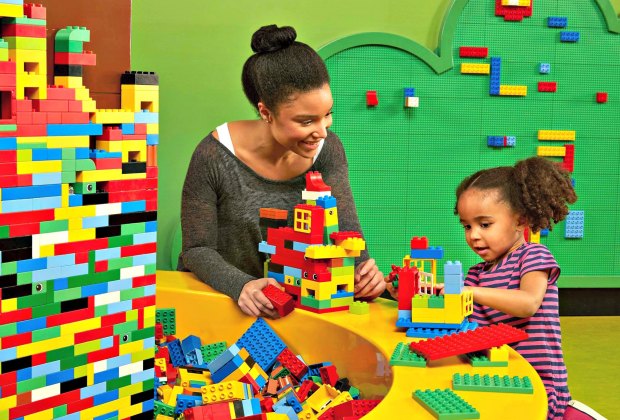 There's a dedicated play area for the littlest builders at Legoland Discovery Center. Photo courtesy of the venue
10. Give in to Lego mania. The Boston outpost of Legoland is actually in Somerville at the new Assembly Row development and its a winning spot to spend a winter day with a toddler. In fact, most second and fourth Tuesdays of the month are Toddler Tuesdays at Legoland. This means there's a special activity and storytime that's age-appropriate for younger kids.
11. Introduce baby to the water before pool season is here. Even if your baby is only a few months old, you can sign up for swimming lessons. There are a ton of places in the Boston area that run programs where babies and toddlers learn to love the water and you learn water safety. Plus, there are plenty of indoor pools with open swim times for families. It's a great way to bond and get out of the house in a warm, indoor location when the weather isn't cooperating.
Originally published in January 2015
Top photo via Bigstock