Guide to Visiting Eataly Boston With Kids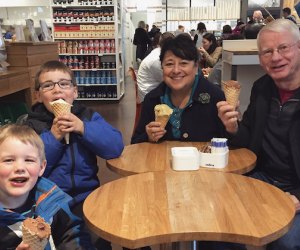 Boston has long been home to public markets where people could shop and gather. Faneuil Hall first opened more than 250 years ago, and Quincy Market followed 75 years later. Now we've also got the Boston Public Market, a marketplace dedicated to food grown and produced in New England that opened in 2015.
The latest—and some might argue, most delicious—addition to the Boston market scene is Eataly, a 45,000-square-foot Italian food emporium in the Prudential Center that started welcoming customers late last year. Because Eataly's sheer size can be intimidating, read on for tips for getting the most out of a visit with kids.
When to Go
Eataly Boston is open seven days a week. The cafes serve food from 7 a.m.-11 p.m. on weekdays and from 9 a.m.-11 p.m. on weekends. The market itself is open from 9 a.m.-11 p.m. every day.
Weekends at Eataly can get very busy, especially in the mid-afternoon. If possible, it's best to visit earlier in the day to avoid large crowds. Visiting during the week is also a great option, as you'll have more room to roam.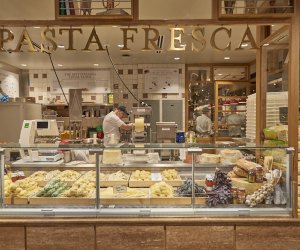 Pick up something fun to cook at home at the pasta counter. Courtesy of Heath Robbins Photography.
How to Get There
Parking in the Back Bay can be really tough—not to mention expensive. But there is a garage at the Prudential Center and Eataly will validate your parking stub, making it a more affordable option. If you think you might like to bring home bags of goodies from the market, driving makes a lot of sense.
If you prefer to take public transit, there are several T stops nearby (Copley, Prudential, Back Bay and Hynes Convention Center). Four commuter rail lines (Framingham/Worcester, Needham, Franklin and Providence/Stoughton) also come into Back Bay Station.
Where to Eat: Restaurants
Eataly Boston has three (soon to be four) full-service restaurants: Il Pesce, La Piazza and La Pizza & La Pasta. Il Pesce is Eataly's fish-focused eatery headed by Boston's renowned chef/restaurateur Barbara Lynch. At La Piazza you'll feel like you were transported to an Italian square where locals meet for drinks and snacks.
Our pick for eating at one of Eataly's restaurants with little ones is definitely La Pizza & La Pasta. It has the most kid-friendly food—what's not to love about fresh pizzas and pastas? And it'll satisfy adults too with a great wine list and menu options that are super unique to Eataly. No matter which restaurant you choose, be sure to get there a little early to put your name in for a table, especially on the weekends. Don't worry about a little wait though, as there's plenty to explore at the market in the meantime.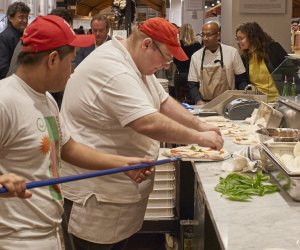 Eataly's fresh pizza is sure to please even the pickiest palate. Courtesy of Heath Robbins Photography.
Where to Eat: Counters & Cafes
In addition to the full-service restaurants, Eataly has several counter-service dining options if you're looking for something more casual. You can grab a slice of thick-crust Roman-style pizza at La Panetteria, order up a healthy salad at La Insalate, enjoy a warm or cold Italian sandwich at I Panini e La Ciabatte, or sample sweet and savory crepes from Pastella Creperia Italiana.
If there's one piece of advice we would share about Eataly, it's to save room for dessert. There's a whole cart dedicated to filling fresh cannolis, a large gelato stand bursting with flavors ranging from simple to exotic, and a pastry counter filled with fine Italian sweets. Parents will want to visit one of two coffee stands to get a delicious Italian coffee to go with their treats.
If you choose to go the counter-service route, there are a few seating areas sprinkled throughout the market. On weekends tables fill up fast, but they also turn over quickly as people get up to do more exploring.
What to Do
Obviously the big draw to Eataly is all of the wonderful food. But there's more to do with kids at Eataly than simply eating a meal. Here are some suggestions:
Explore the market: Eataly's counters, cafes and restaurants are nestled into what's essentially a giant Italian Italian grocery store. Browsing the aisles with kids is the perfect opportunity to teach them about food they may never have encountered before. You can even sample some of the goods at tasting tables and counters around the market.
Shop for and cook a meal together: If your kids are old enough, plan a meal that you can make out of ingredients purchased at the market. Then go home and prepare it together!
Take a cooking class: Occasionally, kids' classes are offered; otherwise, sign up for an adult class together, where you can both learn techniques for making pasta, bread, other delectables. You may learn some Italian phrases, too. Sign up in advance; classes fill up fast.
---
Top image of kids and grandparents enjoying gelato at Eataly courtesy of Ryan Dickey/Flickr.