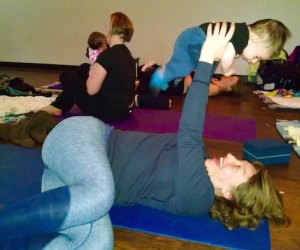 Yoga Classes for Boston Moms and Babies
Pregnancy and the weeks after birth are a special time in the life of a mom and her baby. Many local yoga studios offer classes tailored specifically to new and expectant moms to exercise, relax, and connect with other women who are pregnant or have recently given birth. Classes are offered all over the Boston area, which means there's likely a studio nearby. And if you have older children (anywhere from toddlers to teens) looking to get in on the yoga action, check out our guide to yoga classes and birthday parties just for them.
Boston
Blissful Monkey Yoga Studio: This Jamaica Plain studio offers prenatal yoga, including special partner workshops, as well as classes for mom and baby.
C-Town Studio: Based in Charlestown, C-Town Studio offers prenatal classes, a postnatal boot camp and even has a new mom support group.
Mama & Me: Located in Jamaica Plain, Mama & Me offers prenatal yoga classes as well as mom and baby yoga and Pilates classes.
Radiant Yoga: This South Boston studio offers both prenatal and mom and baby yoga classes, which you can attend with your baby or alone.
Greater Boston
Be. in Union Yoga: Based just outside of Union Square, this Somerville studio offers Momasana, a class for moms-to-be or new moms with small babies (partners, midwives, doulas and friends are welcome too).
Coolidge Corner Yoga: This studio offers a prenatal yoga class that features a workout, time for relaxation and community support.
O2 Yoga: Both the Cambridge and Somerville O2 Yoga studios offer prenatal and mom and baby classes for new moms with babies that are not yet crawling.
Prana Power Yoga: The Cambridge and Winchester locations of Prana Power Yoga offer prenatal classes for women who are pregnant, planning to become pregnant or recovering from childbirth. The studio also sometimes offers postnatal mom and baby classes.
The Breathing Room: With two Cambridge locations, The Breathing Room offers three semi-private prenatal yoga classes each week to help expecting moms through pregnancy and birth.
North of Boston
Green Tea Yoga: This Salem yoga studio has classes that cater to the special needs of expecting moms in its prenatal classes and offers multi-week mommy and baby sessions.
North Shore Yoga Studio: Located in Beverly, North Shore Yoga Studio offers a plethora of options for moms-to-be and new moms, from pre-conception wellness and prenatal yoga to mom and baby yoga and new mom support groups.
South of Boston
Healing Tree Yoga: This Quincy studio has a prenatal class that helps build strength and empower expecting moms while offering support.
Mamas Move: With two locations, one in Norwell and one in Wakefield, moms-to-be and new moms have lots of options for attending Mamas Move yoga classes.
West of Boston
Down Under Yoga: The Newton location of Down Under Yoga offers prenatal yoga classes for all levels that provide helpful information for each trimester.
Inner Strength Studios: Through its Om Births program, this Watertown studio (with a new Sudbury location) offers prenatal classes focused on helping expecting moms through the transition of pregnancy and birth. Mom and baby classes offer postnatal support and the studio often hosts special prenatal workshops.
Spirit Bear Power Yoga: This Natick studio offers weekly prenatal yoga classes and the occasional postnatal class.
---
Image courtesy of Inner Strength Studios