Arcade Age Exhibit Is a Blast From Your Video Game Past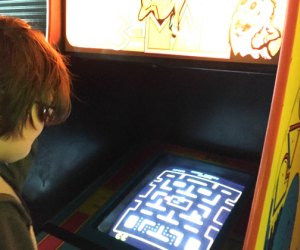 For parents and kids who love video games, there's a new must-do. The Cradle of Aviation Museum in Garden City, Long Island, is now home to a retro video game exhibit where, for a flat fee, you get a 90-minute window to play as much Pac-Man, Donkey Kong and Mortal Kombat II as you can.
The Arcade Age exhibit consists of over 50 authentic video game machines from the 1980s. Atari, Midway and Sega are in heavy rotation here. You'll find popular throwbacks like Dig Dug, Pole Position, Missile Command and Breakout that will defintiely take you back. It's also fun discovering some of the more eclectic games you may have missed and your children certainly have never heard of before now. Read on for more on our recent visit.
The exhibit is housed in its own section of the museum and the darkened hallway definitely gives you the old-school arcade vibe, and the retro soundtrack playing throughout the exhibit will have you humming those high school tunes while you play. I tried not to sing out loud lest I truly mortify my kids.
The highlight for me at Arcade Age, besides getting the top three high scores on Joust, my childhood fave, was Michael Jackson's Moonwalk game. Playing as Michael Jackson, you have to dance your way through a seedy back alley to save children from bad guys. The children call out, "Help me, Michael" and run to you when you free them. Did this seem normal then?
RELATED: 7 NYC Arcades for Kid Video Game Birthday Parties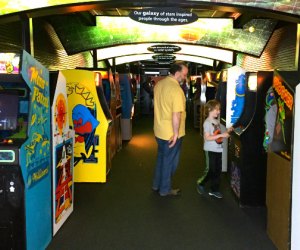 With more than 50 games to choose from, it's hard not to find something that appeals to both kids and nostalgic parents.
What this exhibit has to do with aviation, or if it even really can be called an exhibit, is a bit of a mystery. I think the intent was to demonstrate the history of video games and the "arcade age" as opposed to today's more computer and device-centric gaming. But there really is nothing to bring that message home. Really it just feels like an arcade that you can walk into and start playing. But hey, that's cool by me. Adults and kids had a great time playing on the machines, and it's fun to share your old favorites with your kids. I can actually impress my kids with my arcade skills, which is a rare feat.
Although the educational value of the arcade exhibit may be a bit thin, there's plenty else of value at the museum that is worth seeing and included in your ticket. Make sure to show up up to an hour early, so you can explore the two floors of actual aviation exhibits, which tell the history of flight, paricularly in Long Island. There's also a planetarium, but oddly, the gaming sessions don't align well to do both in one day.
RELATED: 7 Awesome Arcades on Long Island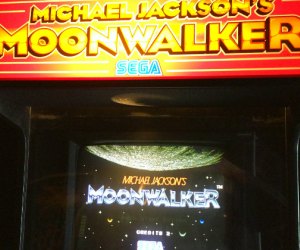 The bizarre Michael Jackson Moonwalker game where you play Jackson saving little kids from bad guys is just one of the offbeat gems.
The Cradle of Aiation Museum is in Garden City's Museum Row, which is one of our favorite Long Island spots. Museum Row also houses the Long Island Children's Museum, the Firefighters Museum and Nunley's Carousel, so you could really spend the whole day here.
The Arcade Age opened earlier this year and will run through summer to Labor Day, September 5, at The Cradle of Aviation Museum in Garden City, Long Island. There are three time slots per day and tickets can be purchased at the museum. Admission is $24 for adults and $20 for kids 2-12. If you really love it, you can also purchase a season pass.
Looking for something closer to NYC? The Museum of Moving Image in Queens will open a similar Arcade Classics playable exhibit in late May with 40 video games from the 1970s to early 1990s. We're having serious flashbacks over here!
All photos by the author.